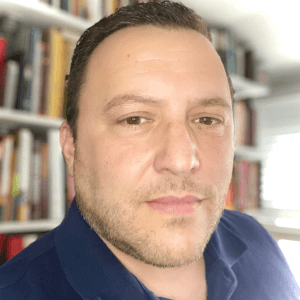 Steven Fusaro joined the Goodwin team in 2021. He has a passion for helping talented professionals find the best next step in their careers. Steven's passion lies in matching the right candidates to the right position. He aims to always try to match the talent, skills, passion, and vision of the employee and the employer. He understands the importance of loving what you do. For when you love what you do, the possibilities are endless.
Steven has been in the hospitality industry for over 20 years as an executive chef. He started as a dishwasher at 13 years old and grew to love everything about the hospitality world. He is experienced in building strong teams and spotting great talent.
Steven's experience ranges from Michelin-starred restaurants to fast casual multi-unit concepts. He was tasked with being a brand advocate at every stage of his career and seeking out the best talent.
Steven lives in the New York City area with his countless number of cookbooks and enjoys a good bourbon on occasion. He is a former professional photographer and producer, and regards his espresso machine as one of his most cherished "friends."
- Executive Search Client
"Honest in their approach"
- Financial Candidate
"One of the BEST experiences I have had"
- Hospitality Candidate
"Rapid delivery of candidates"
- Hospitality Client