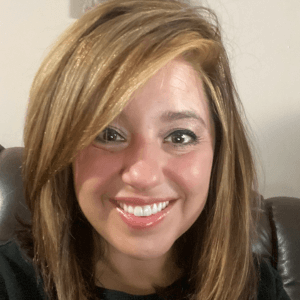 Being in the hospitality industry since 16, I love working and meeting new people on a day-to-day basis. I am a foodie at heart and devoted to helping others. Recruiting gives me a balance of pursuing my passion professionally and personally.
Charilynn McKennedy joined Goodwin Recruiting in January 2016. Charilynn has a strong understanding of what it takes to be a good leader — drive your team, create a family-like culture, and build sales. Her experience has made her extraordinarily successful in recruiting, finding the right fit for our candidates and clients, and building strong, congruent relationships along the way.
Charilynn grew up in a small town called Albion and started her career in the restaurant industry as a busser at the age of 16. She also held full-time positions in grocery, retail, and working with people with intellectual and/or developmental disabilities at the ARC of Genesee Orleans throughout high school.
Charilynn earned her Bachelor's degree from Niagara University. While attending college, she became a Food and Beverage Manager at a Ramada. Charilynn was responsible for large banquets and events while working at the Ramada, including menu planning.
With all of her great experience, something about the hospitality industry became part of Charilynn, and it was clearly the career path for her. She moved to Florida and managed for chains such as Applebee's, Cracker Barrel, Smokey Bones, and Grand Lux Café. At those restaurant chains, Charilynn successfully managed all FOH operations, Bar Management, and became strong in BOH operations.
Charilynn's favorite sport is baseball — Go Yankees! She has 3 wonderful boys under the age of 5 and a husband who supports her in everything she does.
From a young age, Charilynn has had a passion for helping children in need around the world. She has been sponsoring a child in Brazil and a child in Ethiopia through an organization called Compassion for about six years. Working with Goodwin Recruiting has allowed her and her husband an opportunity to pursue fostering children that need a home through 4Kids of South Florida, where they adopted one of their children.
- Executive Search Client
"Honest in their approach"
- Financial Candidate
"One of the BEST experiences I have had"
- Hospitality Candidate
"Rapid delivery of candidates"
- Hospitality Client