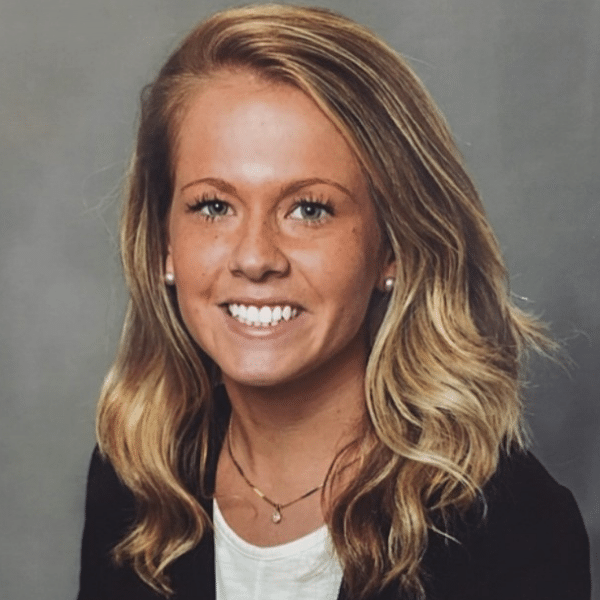 Codi McCommon began her career with Goodwin Recruiting in January 2021. Codi has a strong passion for helping people —and being a past college athlete, she thrives in competitive and team collaborations to make successes happen.
Codi grew up on Long Island, NY, where she attended Molloy College and played Lacrosse. Upon graduation, she moved to Nashville, TN, where she worked in sports for the Nashville Predators at Bridgestone Arena. While at the arena, she was presented with a great opportunity to work for Loews Hotels, where she spent 7 years working in the Luxury 4 Diamond Hotel Sector. Before her move to Goodwin, Codi was the Assistant Director of Finance for Loews Vanderbilt Hotel. She has a strong Accounting and Finance background and great knowledge in procurement, hotel operations, and food and beverage.
At the end of 2020, her fiancé was presented with a fantastic job opportunity in Columbus, OH, where she currently resides (GO BUCKEYES!). Codi and her brother, a West Point graduate (BEAT NAVY), work together in their spare time for a company they created, Early Riser Stays, LLC in Columbus. They enjoy working on real estate deals and short-term rentals together.
Codi has two four-legged best friends, Bailey, a Vizsla, and Hank, a Labradoodle, and enjoys taking them to the park to play and chase birds.
- Executive Search Client
"Honest in their approach"
- Financial Candidate
"One of the BEST experiences I have had"
- Hospitality Candidate
"Rapid delivery of candidates"
- Hospitality Client