How I Started My Recruiting Career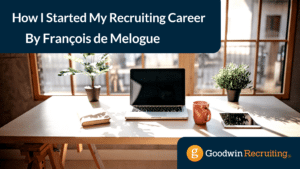 In the wake of Covid's turbulence, my life took unexpected turns. Like countless others, I bid farewell to the secure haven of the reliable paycheck, choosing instead to pursue my heart's desires. This journey led me from a stable career path and income in food sales to the realm of commercial real estate photography. While I relished the autonomy and the freedom to dictate my own hours, after three years, I found myself wanting to return to a steadier, more predictable lifestyle.
One morning, over a cup of coffee, I was browsing LinkedIn in search of a job that combined the flexibility of remote work with more control over my own destiny. I stumbled upon an interesting position at a hospitality recruiting firm and decided to apply.
Keeping an Open Mind
I recalled that my friend Simón de Swaan had transitioned into recruiting after an illustrious career managing various Four Seasons Hotel properties. Curious about his journey, I reached out to gather any insights or pointers and see how recruiting was working out for him.
Simón generously took the time to answer all my questions. I had hired numerous individuals over the years and thought I understood the basic mechanics of recruiting. However, Simón highlighted a crucial difference: hiring for one's own establishment differs greatly from sourcing and hiring for another party. The dynamics, he explained, were distinct.
As our conversation progressed, Simón reflected on his time as a professional recruiter at Goodwin. He spoke with a passion reminiscent of when I first became a cook. Yes, in the beginning, there would be long hours and sacrifices. But with that came opportunity and unlimited earning potential. Your hard work and drive would be rewarded if you followed the proven process. You truly were the creator of your own success.
He then posed a question: "Why not join Goodwin Recruiting instead?"
Become the Creator of Your Own Success
Simón painted a vivid picture of Goodwin's top-notch training program. Eight weeks of rigorous training led by Goodwin's leadership team. The thorough training covered every aspect of recruiting from learning to use the various tools to mastering the best business practices to succeed. Even afterward you would be supported by a committed team of coaches and mentors to help you start making placements quickly without micromanaging.
Trust in the Process
I began at Goodwin Recruiting on May 1st. The training lived up to all the hype. The first few weeks were dedicated to an in-depth study of the recruiting landscape, with comprehensive guidelines provided for every facet. While the learning curve was steep, it fostered greater confidence in my capabilities. In addition to receiving resources such as marketing and branding tools, I was also granted access to robust support mechanisms to establish and sustain a thriving business. Both my training coach, Stacey Balzer, and chief mentor, Troy Bartee, provided invaluable guidance and made sure I understood everything before moving on to the next steps.
Over a span of 8 weeks, I have come to deeply appreciate and trust the recruitment process. Remarkably, within just 3 months of being a recruiter, my earnings have reached what I was previously at after 5 years at a specialty food company. The most compelling advantage is the limitless potential – I am in charge of my own destiny.
Do you have what it takes to be a successful recruiter?
Whether you're just starting your journey in talent acquisition or an experienced recruiter, I encourage you to check out Goodwin's recruiting career opportunities today. And don't hesitate to connect with me directly if you have any questions about becoming a recruiter.