You May Be an Ideal Fit for a Talent Recruiting Career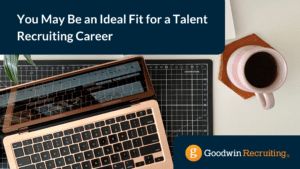 Talent recruitment is a fulfilling, financially rewarding, and sought-after career choice. If you have ever wondered whether your background lends itself to this industry, we have answers that might surprise you. The short answer could be a resounding yes, and better yet, the field is wide open to professionals with a business-owner mindset.  
There's no single recipe for running a successful recruiting business
People from all professional backgrounds find this industry a wholly gratifying career shift with its flexibility and uncapped earning potential. Goodwin Recruiting is a prime and uncommon example. We're a leading talent recruiting firm with hundreds of independent Recruiting Partners who are located from coast to coast. Their backgrounds are from numerous industries, and each bring unique value, insights, and expertise to the talent search and recruiting process. 
What expertise might you bring to the table?
Possibly more than you think! Look at the following career paths, listed in no particular order, to see what skills and know-how you already possess that you can leverage as you transition from your current industry into the lucrative world of talent sourcing and recruiting.  
Keep in mind that this list is not definitive! If you have experience in a field not noted below, don't let it stop you from exploring talent recruiting. Your unique experience is valuable, not only to certain employers looking for new hires, but also to other professionals like you who are seeking new opportunities.  
Sales: Sales professionals often possess strong communication, persuasion, and relationship-building skills, and these are essential in recruiting. Talented sales professionals prove to be adept at identifying and answering employer staffing needs. They're good at attracting talent to fill open roles, who are also a good culture fit. Sales traits make for a smooth transition to a recruiting career.  

Hospitality and Tourism: The hospitality and tourism industry arms people with incomparable skills that transfer to talent recruiting. Professionals in this industry know how to provide exceptional customer service, manage diverse teams, and maintain high standards. Such skills are indispensable in recruiting talent within the same industry or for roles in any industry that require these competencies.   

Marketing and Advertising: Professionals with expertise in marketing and advertising know how to create compelling messages, build brand awareness, and target specific audiences. These skills are quickly and easily transferred to the talent recruiting process to attract and engage job candidates, help companies onboard new hires, and improve employer brands.  

Public Relations: PR professionals excel in building relationships, networking, and managing reputations. These skills are also highly transferable to recruiting and talent acquisition because recruiters are central to establishing connections with clients, the best candidates, and industry professionals alike.

Education: Educators often possess strong interpersonal skills, patience, persistence, and the ability to accurately assess the unique capabilities of an individual. These are extremely valuable and rare qualities that make educators highly effective recruiters, particularly in finding qualified candidates for educational institutions and in many other specialized fields.  

Human Resources: If you have experience in one or more of the vast functionalities within the HR industry, such as talent acquisition, working as a hiring manager or in the hiring process, creating job descriptions, employee relations, workforce planning, building company culture, or other relevant positions, then you already have a foothold in the recruiting business. You can leverage and quickly build on your knowledge and excel in a talent recruiting role.  

Consulting: Consultants are astute in their ability to grasp and understand unique business needs, as well as in problem-solving and providing strategic advice. These skills translate well into talent recruitment, where understanding client requirements and onboarding talent with the right candidate experience are critical to an organization's team members, operations, and success. 

Healthcare: Healthcare professionals, such as nurses, medical administrators, medical device experts, and other industry specialists possess strong communication skills, empathy, and the ability to assess client needs against job seeker qualifications. These skills and qualities make them highly suitable for recruitment roles in the vast healthcare market.
The right firm will help you scale the learning curve
Although your experience in a particular industry can provide a solid foundation for you in transitioning into talent acquisition, you should expect a learning curve. After all, this is true of any career shift, so it will be important to acquire recruiting-specific skills and knowledge to succeed in this field.  
Professional development, networking, and staying up to date on the best recruitment practices will contribute to your success as a recruiter. At Goodwin Recruiting, we're known for our emphasis on helping our Partners succeed through extensive and ongoing training and professional development.  
Learn more about joining our talent recruiting team. We are proud of being ranked as a Glassdoor #1 Best Places to Work organization.