Goodwin Recruiting Recognized as a Forbes Best Recruiting Firm of 2023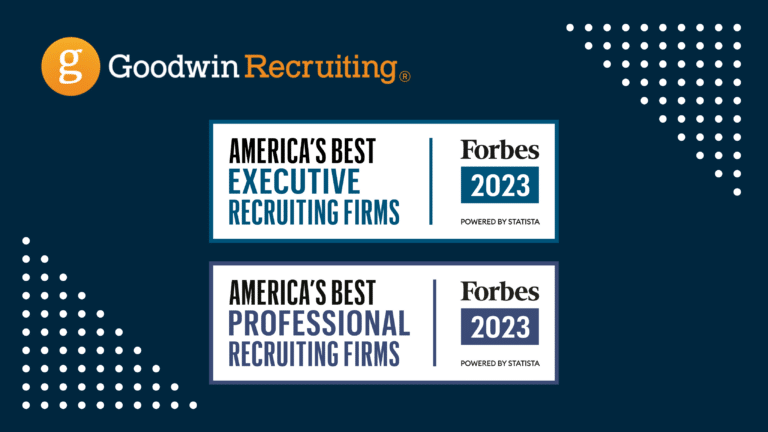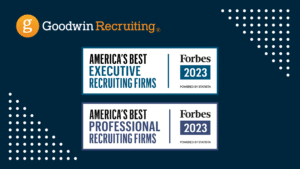 FOR IMMEDIATE RELEASE


Media Contact:
Jillian Tedeschi
Regan Communications
617-833-0507
jtedeschi@regancomm.com
Goodwin Recruiting Recognized for 4th Year in a Row as a
Forbes 'Best Executive Recruiting Firm' and 'Best Professional Recruiting Firm' in America
Exeter, NH (May 25, 2023) – Goodwin Recruiting announced today that the leading recruitment company and job search agency located in Exeter, New Hampshire, has been recognized for the fourth year in a row as one of Forbes 'Best Executive Recruiting Firms in America' and 'America's Best Professional Recruiting Firms'. Forbes selected the top 2023 recruiting companies by surveying over 5,200 external recruiters and HR professionals who recently worked with a recruiting firm. The Forbes Best Executive Recruiting Firms list is comprised of companies that specialize in filling jobs for salary ranges of $100,000 or more. The Forbes Best Professional Recruiting Firms list is a ranking of the companies that specialize in filling jobs for salary ranges less than $100,000.
"It's an honor to receive an increase in ranking for both categories, as we set the bar high when it comes to working with our clients, helping to achieve their goals of finding team members to fit these desired and professional roles," said Eric Goodwin, President and CEO, Goodwin Recruiting. "Year after year, we are excited and thankful to be recognized in receiving these two awards which are voted on by our clients and fellow recruiting industry counterparts. I am beyond appreciative for the hard work and passion that our team at Goodwin Recruiting puts forth and honored to work with such a genuine and talented group of people."
Part of Goodwin Recruiting's success is its focus on core values with each interaction; building strong relationships with candidates and clients is what they do. Since its start in 1999, Goodwin Recruiting has expanded its reach to include a wide variety of industries, offering both contingency and retained searches. No matter the industry, Goodwin Recruiting is positioned as a trusted recruiting expert.
"Recruiting is a unique and dynamic industry. We have a hardworking team that truly cares about our clients and our candidates. Receiving this Forbes recognition for the fourth year in a row speaks to the positive impact we're making each day, and that positive impact is not only on our clients and candidates, but in helping our team reach new heights and improve their lives," said Scott Gaba, Chief Operating Officer, Goodwin Recruiting. "Thank you to everyone who voted; these Forbes awards are a wonderful recognition of our recruiting partners' commitment to excellence and high-quality work and is very much appreciated by our entire company."
About Goodwin Recruiting
Goodwin Recruiting (Forbes America's Best Recruiting Firms 2020, 2021, 2022, and now 2023) is a full-service recruiting agency that was founded in hospitality. Since their start in 1999, they have expanded into recruiting for executive search, financial, industrial, healthcare, senior living, professional services, information technology, and more. It's their commitment to making the right connections that has facilitated their consistent growth. Each day, the Goodwin Recruiting team works to enhance their clients' businesses and change their candidates' lives.