Women Support Women Through Networking: Find Your Own Tribe!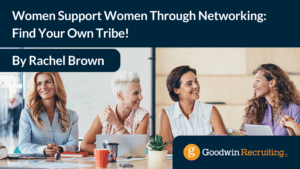 Girls compete with each other.

Women empower one another.  
In honor of American Business Women's Day, celebrated each year in the United States on September 22, I wanted to share details on some amazing networking groups that help to empower women across the country and world, including me.  
When I made the decision to become a talent recruiter five years ago, the career change was scary and daunting. I knew nothing about being an entrepreneur, having spent most of my career in public education – a safe space. I hungered for so much more.  
My journey led me to seek out mentorship from my peers – professional businesswomen – and in doing so, I made quite a discovery. In my local area alone, there existed numerous women's networking groups dedicated to supporting women in their quests to break the glass ceiling.  
Women's networking groups allow us to connect with mentors who have accomplished certain milestones and are willing to help other women succeed by offering their experiences, connections, support, and wisdom. Whether you are looking for a mentor or want to be one for someone else, I encourage you to seek out your own tribe where you can experience or make a difference in your professional life.  
Find a networking group in your area
If you're looking for a new direction or opportunities for a more fulfilling career, let this be the first stop on your journey! Following are several groups and organizations that have a positive impact on professional women's lives. Most have female founders, co-founders, and female leaders. All have support networks and ecosystems built on mentorship.  
Explore them to identify resources that may be interesting and most beneficial for you. Many national and international professional women's groups have regional and local chapters and events.  
Career-specific women's associations
The Wharton School at the University of Pennsylvania ranks these industry-specific resources among their top 11 professional women's organizations.  
Are you in Texas?
If you happen to live and work in Texas like I do, or if working in the Friendship State is on your bucket list, here are some great women's professional organizations to explore.  
Montgomery County Association of Business Women (

MCABW

)

: The MCABW was founded in 2005 with a mission to provide a forum for Montgomery County businesswomen to develop and enhance professional and personal relationships with their peers. Its scholarship program helps young women go to college. I am one of the mentors for the MCABW.

 

Women's Council of Entrepreneurs (

WCE

)

: WCE is a community dedicated to the growth of women entrepreneurs through business development, networking opportunities, workshops, and more. There are many local Texas chapters.

Visit this page

to find a chapter near you.

 

Women's Business Alliance (

WBA

)

: The WBA hosts many events each year, as well as an annual event called Rise to the Top that features compelling, candid conversations from female executives on the challenges and triumphs of succeeding as a woman in today's business environment.  

 
Where all women are valued and welcome
Women's networking groups exist to connect women from all different areas of business and at all levels of their careers to share experiences, brainstorm new initiatives, and grow connections. Don't miss out on this rich opportunity to expand your perspective and professional network! 
Speaking of networking, as a talent recruiter with Goodwin Recruiting, I invite you to connect with me when you're ready to explore the most rewarding opportunities available to you!