Who Should You Watch in This Watershed Year of Entrepreneurship?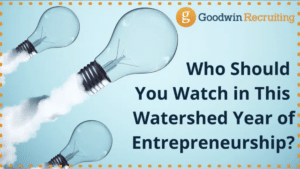 Everybody loves a success story, especially when we see a new player or entity leap from their early stages of development into a flourishing entrepreneur and startup company. There's a whole lot of that going on right now, and new contenders are stepping out each day.   
Which entrepreneurs are making the biggest waves? Who has the most promising concept and future? In which industries and sectors do these bright stars operate, and what contributions are they making that are causing such a stir? The truth is, there is no definitive list!  
You're about to learn that the exploding entrepreneurial landscape is too big and far-reaching to fully assess. And it constantly changes. However! It is nothing short of awe-inspiring to see what is happening today and to look at some of the innovators and startups making a difference in our world with their dazzling ideas and smart approaches to the market. 
2022 is a defining moment in U.S. entrepreneurial history
Globally, the pandemic catapulted tens of millions of people into entrepreneurship. In the United States alone, the numbers are playing out in striking fashion, breaking records year after year. As an aside, thousands of existing U.S. entrepreneurs thrived in a pandemic that was supposed to crush them!  
Here's what has been happening with new entrepreneurs. By the end of 2019, 3.5 million applications had been filed to form new businesses in the United States. In 2020, the year the pandemic hit, the number of new businesses did not shrink as might be expected; instead, they grew to 4.3 million. In 2021, they increased again to a record 5.4 million.   
And in 2022? Wait for it: It is projected that 17 million new businesses will emerge this year! 
Of course, the pandemic is not solely responsible for this record growth. Millions of U.S.-based entrepreneurs and hundreds of millions globally had been incubating and growing their concepts for years prior, and countless others have emerged along the way.   
How many will survive? Who will thrive? 
Failure rates lend enormous credence to startups that are successful
The United States has 32.5 million small businesses comprising 99.9% of all U.S. businesses, and many more start up each month. As of 2019, startup failure rates were around 90%, with 21.5% failing the first year, 30% in the second year, 50% in the fifth year, and 70% in their 10th year. Reasons for failure range from running out of money to poor market planning and research, partnership conflicts, and other pitfalls.  
What does the dramatic failure rate say about entrepreneurs and startups that are successful? It indicates that they have done their research, heeded counsel, and are making wise decisions.   
Experts say the single most common piece of advice for entrepreneurs is three-fold: Find the right product for the right market; Ensure that there are multiple paths to success; Choose one of those paths and leave the rest behind. This advice assumes the new idea (the product or service) holds promise to achieve one or more of the following: 
Improves inefficiencies  

 

Eliminates a pain point  

 

Provides a new way to deliver value

 

Feeds personal passions

 

Creates change

 

Reduces risks

 
Have today's up-and-comers chosen the right paths? Time will tell!
Given that tracking promising entrepreneurs and startups is distributed across an infinite range of organizations, associations, publications, government entities, and industries, we did a quick round-up of people and new companies operating in multiple industries who are doing great things – and getting recognized for it.   
Below, from various sources, you will find some of everybody in the world of entrepreneurs, from the most inspiring to the most daring, creative, resilient, and beyond. Browse around and keep an eye on the ones most compelling to you, your organization, or your career.  
Who is the 2022 entrepreneur of the year from your state? 
You can find out with one click. In April, the U.S. Small Business Administration (SBA) announced 2022's Small Businesspersons of the Year winners from all 50 states. These top entrepreneurs "…are innovators and creators at their core, delivering the products and services we depend on and making our neighborhoods, towns, and cities more vibrant places to live and work. They give their all to achieve their American dream of business ownership and, by doing so, advance America's economy and global competitiveness," said Isabella Casillas Guzman, head of the SBA.  
Top 10 business professionals to look out for in 2022 – from Forbes
We love how Forbes leads off their 2022 Top 10 list: "Good entrepreneurs have the determination, dedication, and drive to make their businesses successful. Great entrepreneurs have a little bit more. They see the opportunity to not only win but change the game to make the world a better place for everyone. They inspire." Forbes' Top 10 list includes business professionals representing a wide range of industries who exhibit a commitment to lead, serve, or share in ways that are transforming culture.  
Top 30 entrepreneurs to look out for in 2022 – from Entrepreneurs Herald
Entrepreneurs Herald is a global resource covering how entrepreneurs are enriching their industries and creating a better, more improved world for innovations, advancements, and developments in their specific areas of work. Their Top 30 list for 2022 presents some of the world's greatest entrepreneurs who are making waves in specific industries.  
Eight innovative entrepreneurs to watch in 2022 – from BoldBusiness.com
Bold Business offers up some impressive profiles and facts on eight entrepreneurs to watch this year who are pursuing their passions through their own companies. Their ideas run the gamut from human resources software to global insurance for digital nomads and remote workers, the latest in CBD offerings, and more.   
100 top startups to watch in 2022 – from Startup Savant
Each year, Startup Savant rounds up a list of new, promising startup companies pulling to the forefront of their industries through innovation, technology, and industry-disrupting business models. Check out the links to view 100 of their 2022 best startups, including their locations and venture-backed funding. While they note that they were not able to cover them all, they believe startup-lovers, investors, and aspiring entrepreneurs alike should follow these companies.  
Startups expected to flourish in 2022
Based on success stories and venture-backed funding received, the cloud hosting platform Cloudways assembled a list of 70 startups to watch in 2022. Discover many more notable movers and shakers in the following 12 sectors. This list is not comprehensive, either, or presented in any ranking order, but the individual stories are impressive and interesting.
Did you know? 
Not all up-and-comers with great ideas and dreams are solo trailblazers. A great many creators are startups launched by two or more entrepreneurs. Regardless of what they are called, they comprise the same landscape and generate remarkable, ever-changing facts and statistics within this exciting environment of invention and innovation.   
For anyone who enjoys watching things change, especially those pondering entrepreneurship, it is just as important to monitor the segment's dynamics as it is the people and startups responsible for creating them.   
Here are just a few of those facts, stats, and trends, and the links lead to many more:  
The United States is the leading country in the number of startups (71,608), followed by India (13,277), the United Kingdom (6,289), and Canada (3,371). Next up are Indonesia (2,359), Germany (2,303), Australia (2,291), France (1,571), Spain (1,406), and Brazil (1,166). Check out this

startup map

to see startup statistics in every country. 
More than

69%

of startup companies started as home businesses.
Although startups worldwide operate in numerous industries, they are most represented in

technological fields

, beginning with FinTech (7.1%), Life Sciences and Healthcare (6.8%), Artificial Intelligence (5%), Gaming (4.7%), AdTech (3.3%), EdTech (2.8%), CleanTech (2.1%), Blockchain (1.5%), Robotics (1.3%), Cybersecurity (0.7%), and AgTech (0.6%).

 
60%

of entrepreneurs believe artificial intelligence is currently the most promising innovative technology and will continue to be for the next decade.
Currently, the

fastest-growing

sectors to start a business are eCommerce, Healthcare, EdTech, Streaming Services, Logistics, and Leisure and Entertainment.

 
Many people don't realize there are four types or models of entrepreneurship. They include Small Business (the vast majority), Scalable Startup, Large Company, and Social Entrepreneurship. You can learn about differences

here

. 
7 traits shared by the world's top entrepreneurs
For more than 45 years, one entity has made it their business to know how and why people are successful in business. That resource is none other than the magazine Entrepreneur. They say successful entrepreneurs spend years refining and practicing their craft and that anybody has the potential to develop the seven traits that the best founders have in common:  
An unwillingness to give up

A deep desire to always question

Long-term vision

An ability to get others behind them

A deep passion for their work

A deep understanding of themselves

They can always adapt
If you think about it, those are essential traits for every leader at every company! Entrepreneur says, "The best entrepreneurs are constantly learning and adapting in order to maintain their ventures' success. They also do so to become better people and leaders, making sure they grow as their companies do."  
Are you an entrepreneur at heart? Become our next recruiting partner! 
As a recruiting partner at Goodwin Recruiting, you can be your own boss, run your own recruiting business, and enjoy limitless earning potential. We are an established and leading national executive recruiting firm that answers the hiring needs of companies of all sizes in multiple industries. Goodwin Recruiting is in tune with the entrepreneurial spirit permeating our country and knows how important each individual and organization is to our economy.   
If you crave the freedom and rewards of managing your own business, this could be an ideal fit for you. Reach out to us today. We would love to meet you and watch you grow!