What Are the Highest-Paying Remote Jobs in 2023?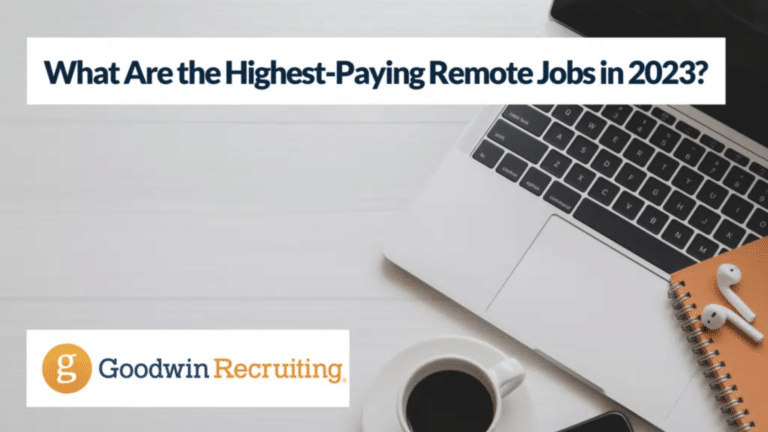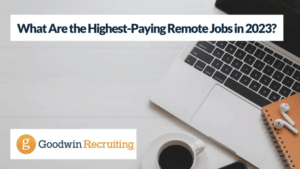 If you're looking for a new job opportunity in 2023 and remote work tops your list of priorities, don't be discouraged by reports that say remote work is over. Quite the contrary! Consider these recently published remote workforce statistics:  
26% of U.S. employees work remotely, as of 2022.

 

There are expected to be 36.2 million American employees working remotely by 2025.

16% of U.S. companies are fully remote.

 
The surge in work-from-home jobs decreased as the pandemic waned and this was to be expected. But that's not the big picture. When you compare the number of remote workers before and after the pandemic hit, it changes everything. Here's what we mean. The current 26% of remote workers is four times what it was pre-pandemic! As you can see, despite return-to-work policies, plenty of employers kept the remote work model intact – some permanently. It's also important to note that many employers are reinstating remote and hybrid options due to persistent challenges in finding and hiring top talent.  
Rest assured that the jobs are there and they're lucrative.  
How do your expectations line up with other candidates and today's top-paying jobs?
Another of your top priorities is likely competitive pay and a future of financial security. After all, this is your life, career, and livelihood. At Goodwin Recruiting, we fully support your priorities. All of them. In fact, we have mad respect for job candidates who know exactly what they want and expect to find it by taking a smart approach to their job search.  
We regularly place candidates in a wide range of remote roles across every industry. These are the top three priorities expressed by our candidates seeking work-from-home jobs:  
The job must offer flexibility to work from a remote location, or at least a hybrid work model.

 

The job must pay well or offer a highly competitive overall compensation package.

 

The employer must have a positive, inclusive, and diverse company culture.

 
With good planning and the right professional connections, you can satisfy all three of those priorities and many more. We recommend that you do some research on your own or work with a recruiter to identify market trends and projections that will help guide your job search and career direction. It could open your eyes to roles you don't know about or never considered.  
What are the most common industries offering remote work? 
Not surprisingly, information technology is the industry that most readily adopted and continues to offer the most remote work opportunities (this also applies to IT jobs across industries that are not in the IT sector). The nature of the work is easily accomplished from anywhere. Other industries where remote work is most prevalent include accounting and finance, customer service, sales, marketing, healthcare and education. There are many more, and companies are hiring both full-time and part-time remote workers.  
Jobs that pay the highest wages for remote workers
Following are multiple roles where remote workers are flourishing, both professionally and financially. If you don't see your desired job title, area of expertise, interest, or work experience, it doesn't mean your options and high-earning potential are limited. On the contrary, remote work is so prevalent right now that it's impossible to list every type of opportunity. We hope this list of the best remote jobs sparks some interesting avenues to pursue and we encourage you to reach out to us to explore more.
Technology:

All organizations rely on technology and professionals are needed to manage their IT portfolios, including computer hardware, software, systems architecture, network connectivity, mobile devices, and platforms that serve the organization, including remote access to internal systems for employees who work off-site. Computer and information systems managers who work remotely today earn a median annual salary of nearly $160,000. These employees go by many titles. Whether they're called IT specialists, IT managers, IT project managers, or IT evangelists, they're essential workers whose roles are similarly defined and highly compensated.

Many other IT roles offer high-end compensation to remote job seekers. They include network architects; software engineers; cloud engineers; data scientists and analysts; information security and cybersecurity specialists; software developers, engineers, and architects; devops and quality assurance engineers; machine learning, robotics, and virtual reality engineers; and many, many others. The median annual salary for such roles can range anywhere from $100,000 to $250,000.

Sales:

Naturally, the roles of sales representative, sales director, and account executive rank among the highest-earning remote job opportunities because there is no earnings cap. The sky is the limit! In addition to commissions, most sales jobs offer a base salary, along with bonus structures and incentives designed to reward high-performing reps when they exceed projected revenue goals. A great attribute of this profession is that it is industry-agnostic, meaning your experience and skills in just about any industry can be easily transferred into a related sales job that gives you the remote work freedom you desire and the ability to generate unlimited income.

Marketing Directors, Marketing Managers, Product Managers, and Online Marketers:

Full-time, on-staff marketing professionals who work remotely can earn an average annual salary ranging from $88,000 to $170,000. And experienced online marketers can rake in $100,000 to $144,000 per year by helping companies increase their visibility and sales through web-based and digital communications and social media marketing.

Talent Acquisition Managers:

This is another profession in which remote work is common, with an average salary of about $122,000 per year. Human resources experience and excellent communication skills are easily demonstrated in today's remote work environment, aided by technology that bridges the gap between job marketing and recruiting processes, virtual interview platforms like Zoom, and virtual onboarding and training platforms for new employees.

Talent Recruiters

: These roles differ from talent acquisition managers in that they're not staff positions with a fixed salary. Instead, talent recruiters are specialized professionals who source talent for multiple organizations and help candidates advance their careers. At Goodwin Recruiting, our Recruiting Partners are independent professionals who run their own businesses – from home or anywhere they choose. Talent recruitment is another career offering unlimited earnings potential. If you enjoy your independence, being your own boss, and love the idea of connecting top talent with great employers,

consider becoming our next Recruiting Partner

!

More high-paying remote jobs:

There are many more remote jobs that pay well and we're happy to help you explore them. You may have skills that lend themselves to lesser-known but high-paying jobs. Some of these common remote jobs include financial managers, accountants, business analysts, actuaries, virtual assistants, video editors, copywriters, online tutors, travel agents, technical support specialists, customer support representatives, business development managers, human resources directors – the list goes on!

 

 
So, you want to love where you live – and not just where you work?
Now you're talking! You know what they say about 'all work and no play,' and how it makes for a dull life! It's true. Where you live can have a dramatic impact on your work life and lifestyle. Since working remotely gives you untethered freedom to work from anywhere, why not explore somewhere new to set down roots for your home office, temporarily or long-term? Go ahead, add a layer of excitement to your job search!  
Here's a place to start. Earth Trekkers recently identified "15 Great Places to Work Remotely in the USA," based on everything from national rankings to beautiful scenery and proximity to the mountains, the ocean, national parks, cultural centers, quick weekend getaways and many other attributes that bring richness to daily life. If you're wondering how to go about finding remote or hybrid work anywhere in the United States, Goodwin Recruiting can help. We have hundreds of Recruiting Partners from coast to coast, with a constant pulse on available and high-paying remote jobs.  
Tips for landing a high-paying remote job
Even though your odds have never been greater than right now for landing a great remote job on the high end of the payscale, keep in mind that it's a competitive landscape. Employers offering remote positions have high expectations, too.  
Think of what you can do to not only stand out among other job applicants, but also ways you can increase your value to a potential employer. For example, invest in yourself by hiring a professional resume writing service. Also, consider classes, skills training courses, or certifications that align with your desired job function. Employers are looking for people who continually strive to improve their skillset because it shows dedication and commitment to the profession. These candidates are the most in-demand among today's hiring companies.  
And remember that when you establish a relationship with an expert recruiter, the support and connections you receive have the power to change your life and career. Reach out to Goodwin Recruiting when you're ready for the next step in your career in remote work.