True Stories About Ageism in the Workplace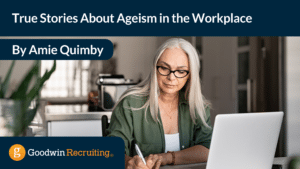 America's workforce is aging and I believe attention and action are overdue on two critical fronts. One, there are too many older professionals experiencing age-related discrimination in the workplace. And two, companies are losing a lot by overlooking older workers. Here's why both issues matter:  
Impact on people

: Research shows that nearly

30%

of U.S. workers say they have felt unfairly treated due to their age at some point in their career. I fully agree with the research findings, in that understanding and addressing age discrimination is essential to fostering inclusive work environments that value employees across all age groups.

 

Impact on employers

: It is critical to consider the vast amount of experience and skills that older professionals have amassed during their careers. Accomplished professionals with years of experience are desperately needed by American companies that intend to grow, prosper, and provide internal conduits of expertise to younger generations of workers. 

 
"People walk out of companies now with an enormous amount of intellectual property in their heads," says Paul Rupert, founder and CEO of Respectful Exits, a nonprofit consulting firm that's raising corporate awareness about age discrimination. "They know things that are essential to the company's success, and if that knowledge is not captured and transmitted to the next generation, that company is losing a tremendous chunk of capital and it'll eventually pay a price."  
As a professional talent recruiter who prioritizes building strong, lasting relationships with career professionals, I have first-hand exposure to my candidates' experiences on the job. I can't think of a better way to convey the caliber of veteran talent that exists than to share a couple of their stories. My hope in sharing these stories is two-fold: 
That hiring companies will become more aware and open to hiring and promoting older job candidates who bring immeasurable value to their table, their teams, and bottom line 

 

That experienced professionals recognize it's never too late to entertain a career or job change, and that opportunities abound with employers who know their worth and are willing to pay for it 

 
Melanie's Story
To protect her identity, I will call her Melanie. Melanie spent her 20s, 30s, and early 40s climbing the corporate ladder. Marketing and advertising were her jam. She made it a priority to maintain her professional relevance by staying current with ever-evolving industry trends, technologies, and best practices. Melanie excelled in her field. She also considered herself above average looking and took pride in keeping up her appearance, knowing that in the competitive world of marketing, one's visage could be a contributor to success.  
Melanie climbed that ladder with unwavering determination. She believed her skills and deep expertise would always be valued. However, when she reached her mid-40s, she started to notice a change in the way she was regarded and treated at work. She found herself slowly being sidelined from important projects and meetings. Her ideas no longer received the attention they deserved. There was a gradual erosion of the recognition she had worked so hard to earn.  
Being a trends expert, Melanie knew what was overshadowing her accomplishments and skills. Despite having great experience and a proven track record, her age was becoming a hurdle to further advancement. Her industry had become obsessed with youth and the notion that fresh ideas were only associated with younger employees. There was also a stereotype that older people are less adaptable to new technologies and industry evolution. These certainly did not apply to Melanie, who was well-versed and extremely effective in marshaling the power of the latest tools and trends. 
The subtle yet undeniable presence of ageism in the workplace was frustrating and disappointing. Melanie could not change her age, and in the industry of "young," she was no longer as shiny as she once was. And then COVID-19 emerged. By now, Melanie was 48. Even though the pandemic impacted businesses globally, to Melanie, it seemed to have provided an excuse for her company to marginalize older employees, a development she felt looming during the previous couple of years. 
Melanie saw younger workers being promoted, often based on potential rather than demonstrated competence. The bias became more evident when she noticed the emphasis on recruiting fresh graduates, bypassing extensive experience and wisdom that she and other experienced candidates brought to the table. While she fully understood the value and need for fresh perspectives and young people, the sting of exclusion and devaluation was intense. She still had so much to offer and was more than capable of keeping up with industry demands and expectations.  
In this ageist workplace, Melanie realized the battle she faced was not just about proving her skills and expertise but also about combatting deeply ingrained stereotypes about older employees. She felt disappointment not only for herself but also for countless other talented individuals who were unjustly overlooked solely because of their age.  
As a candidate, Melanie vowed to stay resilient and challenge prevalent ageism in the workplace. She knew change wouldn't come overnight but hoped that by staying true to her passion and persistence, she could inspire others to break free from the chains of age discrimination and foster an inclusive work environment where talent and competence are valued above all else.  
Melanie landed an amazing job and is enjoying a career revival!  
John's story 
Another professional, who I will call John, spent three decades in a job he once loved but had grown to resent. At 52, he couldn't bear the thought of spending the rest of his working years in a place that made him feel unappreciated due to age bias. With a determined heart, he updated his resume, polished his interview skills, and embarked on the daunting journey of finding a new job and career.  
His first job interview was an eye-opener. The hiring manager, who couldn't have been more than half John's age, raised an eyebrow as he scanned John's resume. Subtle ageism was evident. The interview led nowhere, but John maintained his composure and determination.  
Over the next few months, John faced rejection after rejection. Companies praised his experience but ultimately chose younger people. He felt caught in an endless loop, where his age was a seemingly insurmountable obstacle with hiring managers.  
One job interview invitation came from a tech startup. Hopeful, John put on his best suit and headed to the interview. The two interviewers were in their 30s, and John could sense their skepticism as they glanced at his resume. Sure enough, they asked about his ability to adapt to new technologies, indicating doubt about his proficiency.  
John explained how he had embraced technology throughout his career, staying up to date with the latest advancements. He even shared a story of how he mentored a younger worker in his previous job, helping them develop a groundbreaking software tool – but age-related doubts lingered in the room. As he left the job interview, John couldn't shake the frustration and discouragement of age discrimination.  
Yet, he refused to give up. John knew his worth and believed in the value of his experience. He continued to apply for jobs, network, and build connections in his industry. He was determined to prove that age was just a number and that he had plenty more to offer to the right employer.  
John's determination in the face of ageism brought success, too.  
It pays to champion experience! 
For organizations and human resources leaders ready to take a stand against age discrimination and substantially increase their pool of available talent, Forbes shares the following 12 steps to eliminate ageism (and other isms) in the workplace.  
Explore the full article for details on how to shape a diverse, age-inclusive workplace.  
Include age in bias training and mandate training for all employees.  

Create a diverse, age-inclusive work culture beginning with employee orientation and onboarding.  

Understand what contributes to employee belonging and address behaviors that create exclusion and disengagement.  

Conduct an age equity audit reviewing internal and external policies, processes, and messaging. 

Report age demographics and don't lump older employees into a 40+ category.  

Review your external website for image and language inequities.  

Conduct anonymous employee surveys to measure beliefs about inclusion in your workplace. 

Create and measure the innovation and productivity of age-equitable teams.  

Sponsor an Age Equity employee resource group, a safe place to discuss age-related beliefs and create opportunities to disrupt bias through mentoring and teamwork.  

Leaders should lead by example, and age equity is no exception.  

Set achievable goals around creating a diverse, age-equitable work culture.  

Move workplace strategy under the Chief Strategy Officer, or better yet, create a Chief Longevity Officer.   
Tap into our network of exceptional talent 
Ranked as a Forbes best recruitment company in America for four years in a row, Goodwin Recruiting is known for our nationwide talent pool and expertise in matching talent with opportunity. We're committed to diversity, equity, and inclusion (DEI) in every way, internally and externally. This includes helping companies and job candidates combat ageism and promoting the many reasons it pays to onboard highly experienced professionals and elevate them within an organization.  
If you're looking for the right candidate for an important role, or if you're a professional ready to explore new job opportunities, give me a call or send an email. I am a senior, DEI-certified talent recruiter and would love to lend my expertise and Goodwin Recruiting's vast resources to your search.