Trends in Mixed-Use Design, Construction, and Property Management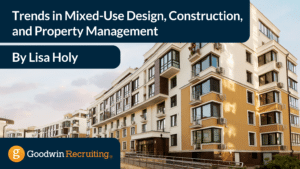 Real estate development is moving in new directions worldwide, with bursts of innovation driven by many factors. As a senior talent recruiter with Goodwin Recruiting, I want to highlight a few fast-evolving areas of the industry, in which there is intense demand for experienced and skilled talent across not only traditional roles that are essential, but also new and evolving ones.  
These areas include mixed-use real estate development, sustainable and eco-friendly design and construction in mixed-use projects, and certainly not least, the all-important need for excellence in property management.  
While the focus of this article is primarily on the dynamics of the mixed-use real estate development market, it's worth noting that these trends are impacting the real estate development and property management markets at large. 
1. Work, shop, live: The status of mixed-use development  
In response to economic, social, environmental, and urban planning challenges, mixed-use real estate development has become popular among landowners, developers, retail operators, investors, cities, environmental protection organizations, and especially the people who benefit most from it – the public. 
It's estimated that 83% of the U.S. population lives in urban areas, but as our population grows, the available physical space of our cities cannot accommodate it. This has created an increase in demand for mixed-use properties in cities across the country. Another factor that has given a positive bump to the mixed-use trend is the rise of remote work, which has greatly increased demand for co-living and co-working spaces offering flexible, collaborative environments for people and businesses.  
Here are some of the features and benefits of mixed-use real estate development and mixed-use buildings and why they have become so popular:  
Makes efficient use of valuable urban land and industrial spaces in high-density areas (for horizontal or vertical mixed-use development), from blighted neighborhoods to abandoned malls, parking lots, and other open spaces or deteriorated public spaces

 

Revitalizes urban areas by converting neglected areas into vibrant places for people and businesses

 

Provides convenience and lifestyle benefits that appeal to people of all ages, accommodating affordable housing to luxury residential units, including townhomes

 

Creates opportunities for social interaction and builds a sense of community among residents

 

Promotes walkable communities and public transportation to reduce auto use and greenhouse gas emissions

 

Reduces commute times and relieves traffic congestion

 

Provides easy access to restaurants, gyms, parks, shops, and entertainment to increase quality of life

 

Makes communities more resilient to economic downturns

 

Incorporates green building practices and energy-efficient systems to meet sustainability goals

 

Generates income streams for real estate developers, municipalities, realtors, entrepreneurs, and other participants in mixed-use development

 
The most common types of mixed-use developments combine residential and office spaces, residential units and other types of commercial spaces, such as retail, restaurants, and hotels. Mixed-use hotels featuring restaurants, gyms, and retail stores are popular and common near airports, transportation hubs, entertainment and tourist attractions, and even healthcare facilities.  
Healthcare itself is increasingly part of the mixed-use landscape. "Mixed-use developments typically involve assembling a large, complicated puzzle, with developers securing housing and retail plans, then partnering with healthcare providers who are looking for dense demographics and easy access to their patient base," said Jill Rasmussen, a principal with Twin Cities-based Davis Health Care Real Estate.  
Many cities and municipalities are revising their land use zoning and planning regulations to encourage mixed-use development, making it easier for developers to pursue these projects. Such projects are growing worldwide with their ability to resolve urban challenges, improve quality of life, and address changing societal demands for more sustainable and convenient urban living.  
This leads to the next area of the industry I'd like to address. 
2. Eco-friendly, renewable building options are the way forward
Sustainable design and construction practices have become a standard in real estate development, and their use in mixed-use development is no exception. Real estate developers and planners are increasingly using renewable energy sources like solar panels and wind turbines in their mixed-use spaces to lower energy costs and environmental impact – and so much more.  
Innovations include green building materials, energy-efficient designs, and the use of many other renewable energy sources. S3DA Design, a California-based Structural & MEP Engineering firm, shares the following sustainability benefits of incorporating renewable energy into mixed-use developments:    
Better energy efficiency and reduced operating costs through on-site renewable energy generation

 

Diversified energy sources to reduce dependency on traditional utility grids and improve resilience

 

Reduced carbon footprint and environmental impact 

 
Green space, or outdoor spaces, is often designed as part of mixed-use developments: This trend preserves natural resources, brings nature back to urban areas, and enhances physical and mental health, which became more important during and post-pandemic. Designers and developers are including parks, rooftop gardens, pools, and other recreational spaces where residents can exercise and enjoy the outdoors.  
Smart cities are spreading: Earlier this year, IoTNOW captured how quickly smart cities are growing, which involves integrating Internet of Things (IoT) devices and sensors into urban infrastructure to improve efficiency, safety, and sustainability. Cheaper, more accurate IoT sensors and 5G networks are accelerating the evolution. The number of smart devices installed in the world's cities is around 50 million and is expected to exceed 75 million by 2025. Through data and real-time analytics and decision-making, IoT is transforming urban sustainability through traffic management, transportation, energy management, water management, and environmental monitoring for air quality and noise pollution.   
Firms are choosing green building certifications and renewable energy options: Increasingly, companies are integrating renewable energy sources into new design and construction and redevelopments to reduce impact on the environment, lower energy costs, and achieve sustainability goals.  
Many companies seek building certifications like LEED (Leadership in Energy and Environmental Design) or BREEAM (Building Research Establishment Environmental Assessment Method) by deploying renewable energy solutions and sustainable building practices. Here is a fairly comprehensive list of the ways companies are using renewable energy in the design and construction of buildings and infrastructure, including through like-minded partnerships:  
Solar power

 

Wind power

 

Geothermal energy

 

Hydropower

 

Biomass energy

 

Energy-efficient design

 

Energy storage

 

Smart building systems

 

Microgrids

 

Energy audits and monitoring:

 

Community-scale renewable projects

 

Green infrastructure 
3. The importance of better property management
Yet another reason for the expansion of mixed-use real estate development is that these properties are known for better property management. With their unique blend of residential accommodations, office space, and diverse commercial offerings, a more sophisticated property management approach is necessary to proficiently accommodate the needs of the full community of residents, commercial tenants, workers, travelers, and other visitors.  
As shared in Forbes, to make mixed-use developments feel authentic, "there needs to be consistency in experience around every corner. But property managers are faced with the extraordinary challenge of managing what is essentially a self-contained micro-city. Presenting across the entire property a consistent staff with backgrounds steeped in hospitality is the best chance at elevating the customer experience. Even office buildings, which traditionally followed a less attentive customer service playbook, are shifting to the hospitality model." 
Find in-demand talent for your mixed-use project
With the continued growth of mixed-use real estate projects comes an increase in demand for great talent to move organizations forward. New solutions and technologies are evolving daily that are transforming how projects are designed, built, and managed. For example, artificial intelligence (AI) algorithms are assisting in the design and planning of development, and advanced property management software is streamlining operations, enhancing tenant experiences, and providing insights into property performance.  
Companies are looking for experienced talent in the following positions and disciplines to meet the future of mixed-use developments:     
Project Engineers  

 

Civil Engineers 

 

Construction Managers  

 

Renewable Energy Project Managers 

 

IT Professionals 

 

Property Managers  

 

Regional Managers  

 

Human Resources Professionals   

 

Marketing Professionals 

 

Finance & Accounting Professionals  

 

Maintenance Technicians    

 
Let us be your talent recruiter of choice: Goodwin Recruiting has been a trusted recruiting partner since 1999. Whether you're a company looking to fill these essential roles for your mixed-use development projects, or a candidate ready to take the next step in your career, reach out to me today for expert support on your journey in talent recruiting.