Top 5 Benefits of Becoming a Recruiter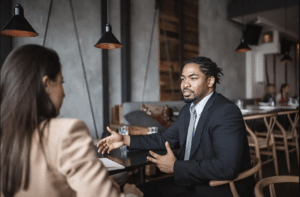 Many professionals have worked with recruiters during their careers. Some have even landed lucrative jobs thanks to recruiting partnerships. The truth is the benefits of becoming a recruiter are many for energetic and hardworking individuals and could be a great career move for you!
Here are five benefits of becoming a recruiter:
1) Career Growth
High-performing recruiters can earn advancement quickly. Some will start as recruiters only to be promoted to account management positions after demonstrating success. Account Managers usually lead teams of recruiters and may earn additional commissions from the efforts of team members.
And the growth doesn't stop there! A great recruiter is often asked to train new hires and may earn a commission based on their collective performance. Some smaller and midsize companies will even make top-tier recruiters partners, which affords company profit sharing.
2) Recruiting Often Includes Work Flexibility
Recruiting is hard work by any measure. Yet, it's often flexible too. Agencies have different policies on remote-work options. But, technically speaking, the job can be completed from just about any location.
A recruiter's tools consist of a mobile phone, WiFi network, a tablet/laptop, and access to cloud-based software. That's all anyone needs to perform recruiting functions once they have developed the skill set!
3) Income Potential as a Recruiter
Some recruiters earn bigger paychecks than their C-suite clients! Successful recruiters typically command a competitive salary along with generous commissions on successful placements. On top of that, they may earn residuals off of contract employees.
4) It Promotes Long-Term Networking 
Anyone who's scanned recruiter profiles on LinkedIn may notice these professionals are somewhat transitional in their employment. That's because a tenured recruiter has a valuable network of candidates that can't be claimed by any one employer.
In this sense, recruiters are like real estate agents or financial advisers. They build a book of business that is largely transferable from company to company. Recruiters may still be bound by non-compete contracts and issues of conflict, but they own their professional network.
5) Recruiting is Exciting Work
When things are good, recruiting can be downright fun. Even when things are bad, recruiting is still exciting. Anyone who hasn't experienced the thrill of earning a large commission can't possibly understand, but it's a bit like winning the lottery multiple times every year!
Are you curious about learning more about the benefits of becoming a recruiter?
Recruiting is often a career that goes unnoticed by many professionals. Job seekers may use the services, but they never think about actually working within the industry. However, the benefits of becoming a recruiter are many. So, enthusiastic, motivated people are wise to take a second look!
If you're an experienced professional interested in working in the exciting world of recruiting, contact Goodwin Recruiting, America's leading recruiting agency today!