My First Three Months as a Goodwin Talent Recruiter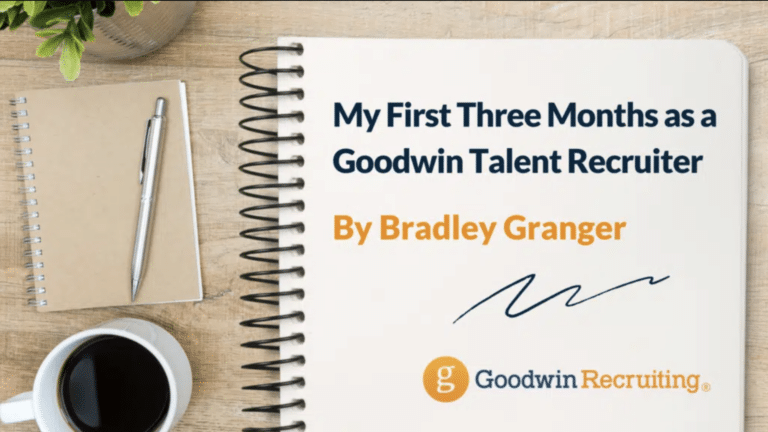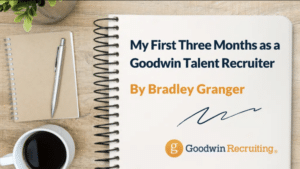 If you're exploring a future in talent acquisition, this article is for you. What you choose for your career path matters, and where you do it matters even more! If it's helpful, I'd like to share my experience as a new recruiter with Goodwin Recruiting.  
After spending any length of time at Goodwin, one realizes that work-life balance is not just talked about. It is lived daily by many of our Recruiting Partners. The ability to make my own schedule and determine what I do and when is a major attractor. While this benefit has been fantastic, the most appealing thing about becoming a Goodwin Recruiting Partner is the company's core value of "Creator of Your Own Success" – which our Partners embrace each day, too.  
Prior to joining Goodwin, I worked for a hotel management company for nine years. While I cannot possibly be more grateful for my time there, as it prepared me for my current role and assisted in developing me into the person I am today, I am thankful for the opportunity to create my own success now.  
I have been fortunate to see great results in my recruiting business during my first few months. This has happened by investing the same amount of time and effort as I did in my previous role. I like to work hard and average a 55- to 60-hour workweek, same as my last job, so the transition to talent acquisition was familiar and comfortable – except that now, I do it from the comfort and convenience of my home!  
Here's what has worked for me in my first three months with a recruiting agency.   
Excellent training and support 
Training at Goodwin covers everything and then some. And for any questions I have had post-training, the Goodwin Recruiting Library is a great resource that houses countless materials that I regularly refer to for talent and client sourcing and associated procedures and best practices. Just as important, I have been really impressed with the 'here to help' mentality of the partners, coaches, regional directors, and more. This is truly a group of professionals who want to see everyone succeed in talent sourcing and they're always ready and happy to help.  
Solid and reliable daily routines increase productivity 
Consistency is important to me. I follow the same general routine each day regarding my work schedule, goals, and initiatives. I start my morning with emails and candidate sourcing, then jump into client sourcing before tackling scheduled calls, interviews, and related communications for the day. I always have a number that I am working toward. If I only uncover five job candidates in the morning and my goal for the day is 10, I work to ensure that I establish strong connections with 10 new candidates by the end of the day.   
Sharing industry experience creates opportunities 
My experience in hotel management has helped me attract some great clients with recruiting needs. Whether I'm prospecting for a general manager, vice president, CEO, or other leadership team members, I have found it important to share my background and experience as quickly and concisely as possible. In turn, they view me as a true business partner in sourcing new hires, as opposed to just any generic recruiter.
This also works in my favor with job seekers in my recruiting efforts. Most of the time, candidates involved in a job search are pursuing more than just the opportunities I bring to their table. Many are seeking mentorship and all are looking for an advocate. By being able to talk shop with them, they value my input and opinion and develop greater trust in me as a true partner and colleague in their job search.  
Checking the stats keeps me on target and motivated
I love to see how I am performing on a weekly basis. Goodwin provides the technologies and resources to check every stat imaginable as they update performance progress in real time. Checking the statistics a few times a week not only holds me accountable when I need to do better, but it is especially rewarding when my performance is going strong. Most important, stats provide guidance and tell me exactly where I need to focus my recruiting efforts.   
Training, freedom, flexibility, support – the four corners of my success
As mentioned, what excites me most about my future with Goodwin Recruiting is creating my own success. Best of all, I have found this sweet spot of success that works for both my personal and professional life. It's a great balance made even better by the flexibility to increase or decrease my work hours to either generate more income or slow down a bit. It's liberating!   
Following the recruitment model provided by Goodwin, adhering to the training they provide their partners, and being surrounded by helpful team members – all of this has been beneficial for me as a new recruiter. I foresee a bright future with a great company that has strong core values. Whether you're just starting your journey in talent acquisition or an experienced recruiter, I encourage you to check out Goodwin's recruiting career opportunities today.