It's Time to Get Back to Basics in Hospitality Industry Recruiting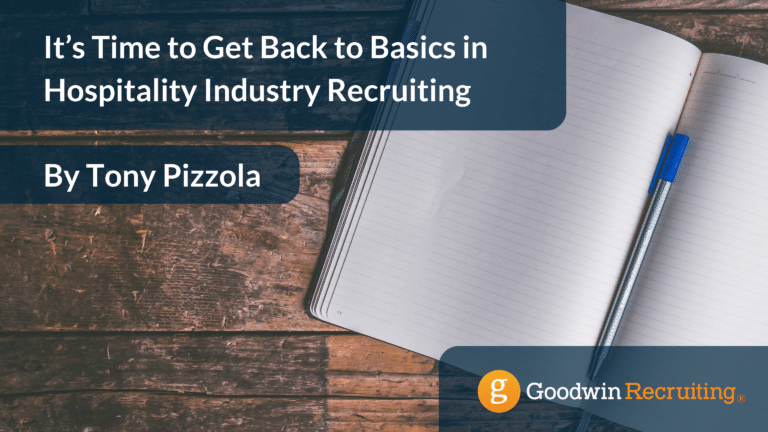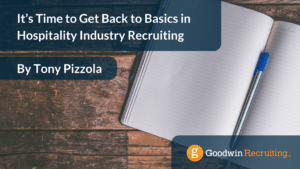 In our post-pandemic world, the hospitality sector has clearly not settled back in as of the first quarter of 2023. Steep challenges lay ahead in hotel management and restaurant management, particularly around talent acquisition and retention. However, I remain confident in the proven, tried-and-true ways of doing business in the hospitality industry that have kept organizations and recruiters ahead of the curve throughout this industry's history. 
For today's talent recruiters, the good and timeless methods for achieving success are about getting back to basics and reconnecting with our most precious resources – our clients.  
Watch this entertaining teaching moment
Here's a perfect example that gives you the whole story in one minute and 11 seconds. You may think the clip is outdated, but it still holds true in 2023, especially in the hospitality business. It's a 1989 commercial from United Airlines called "Leadership Moment – Losing Touch with Your Clients Via Technology." It conveys how we allow client relationships to erode by relying too much on technology. Back then it was faxes. Today it's emails and texting. Regardless, the wisdom was as true then as it is now: We must get back in touch with our clients! 
Of course, there's more to this and here's where I'd like to start. Be honest and ask yourself: Is your client portfolio healthy? Below are ways to find out and recommendations for improving your interactions and success.
Take the time to evaluate and nurture your client relationships 
How often do you connect or interact with clients and most important, how do you do it?

 

Make the effort to reconnect in person…and keep those exchanges alive.

 

Make personal inquiries. Drop by, go for coffee or out to lunch. Just check in periodically to find out how they are doing.

 

Ask about their current challenges and needs. 

 

Find out where you stand and how you can do better in providing them with great job candidates.

 
Ask them the hard questions 
How do they define their organization's culture? Is it healthy and does it attract people of good character?

 

How are their onboarding and training programs? Are they setting up new hires and existing team members for success?

 

Beyond the obvious monetary compensation and bonuses, what programs and plans do they have in place to attract top talent and increase overall talent retention? 

 

Is their hotel or restaurant group adjusting to changes in the hospitality industry that promote diversity, equity, and inclusion (DEI) in the workplace, along with physical and mental health programs and other initiatives that create a positive, inclusive work environment?

 

If this is sounding like an interview process, it is! It's all about getting to know your clients better so you can both benefit from your understanding.

 
Ask yourself the hard questions, too
Have you visited your clients' hotels or restaurants and felt their company culture firsthand? If you do (and you should), is this a place or hospitality industry group that you are proud to serve and represent?

 

Your job candidates trust and rely on you to lead them to the right opportunities. Are you comfortable and confident in sending qualified job seekers to your clients?

 

When was the last time you asked your clients if your recruitment terms are satisfactory and whether they find value in your recruitment efforts and services? 

 

Is it worth your valuable time, energy, and effort to continue services with a non-congruent client? In other words, do you share a true and authentic relationship? If not, making the decision to sever ties can be difficult – but liberating! – freeing you up to concentrate on more mutually beneficial relationships.

 
Staying in touch is the Midas Touch
Successful recruiting is built on a firm foundation of client relationships. This will never change. We are a people business. At Goodwin Recruiting, building congruent relationships is one of our core values and why we repeatedly rank among the nation's top professional and executive recruiting firms.  
In my recruiting business, I rely on client relationships not only for personal and professional success, but to also get new business through referrals from hiring managers, human resources professionals, and the top talent and team members I place in restaurant management and across the hospitality industry. 
Be the instigator! While the talent acquisition and retention outlook for the hospitality sector may be a little uncertain, one thing that's reliable is your relationships with the people and organizations with whom you choose to partner! Start creating open dialogue and do the things that matter most. Engage in person, stay current on client needs and challenges, protect your candidates, let go of fruitless relationships, and focus on creating and improving the best ones. 
Do these things and your recruiting business will soon flourish!  
If you're looking for a more rewarding talent recruiting opportunity, consider becoming an independent Recruiting Partner with Goodwin Recruiting. We are an established national brand that has specialized in the hospitality industry for more than 20 years.