It's Not Retiring – It's Re-Wiring! Come 'Unretire' with Me.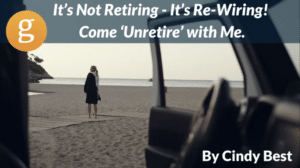 Have you been thinking about retiring but feel you're not quite ready? The labor force is aging, and a lot of people are having the same opposing thoughts. You're not alone! I hope this gives you a new and fresh perspective from someone who has 'been there.'
Making the transition from being a full-time, lifelong contributor to the labor force to a life of freedom and choice takes retirement planning and financial planning. And there are other considerations, like continued healthcare coverage and social security benefits.
This is also an important consideration: It means making personal decisions that will alter not only how you live but also how you will continue to be fulfilled in your daily life.
To retire or rewire – that is the question!
Sure, there are plenty of pros to retiring! It brings the opportunity for older workers to finally sit back, relax, and enjoy the simple things in life, and to travel, spend time with family, and catch up on or pursue things you've been wanting to do.
But for some of us (myself included), what's trending among many older professionals is an itch to stay with it, to keep driving ourselves to find success and fulfillment in the work we do, or in work we would like to do, whether we are at full retirement age or have been pondering early retirement. It's not a bad thing to want to remain a valuable contributor in the labor force!
After all, why retire if…
You just keep getting smarter!
You are more committed and ambitious than ever!
You still feel like a rising star!
The

pandemic

gave many

older workers

a taste of

early retirement
My first try at retirement was short-lived. In one fell swoop, the pandemic put an end to living like I was on a perpetual vacation, and the household income dropped (a story for another day!), so I started searching for meaningful work that I could perform from home.
My criteria? What I didn't want was to answer to a boss. Instead, I wanted to run my own business. I knew I was well qualified to do so and started looking for what might be out there. I explored options, resources, and leads, some related to my experience and some not, some full-time and even part-time jobs that would provide the autonomy I sought or a stepping stone to the right opportunity.
One stone I turned over changed everything!
Rewiring

my direction lit a new fuse of fulfillment
Before I knew it, I stumbled across the perfect opportunity to rewire my life. It was an opening to become a talent recruiter for Goodwin Recruiting – to work from home, be my own boss and run my own business like I wanted to, earn a great income, positively impact clients' businesses, and provide life-changing opportunities for countless job candidates. What more could I ask for?
It's been about two years since I unretired and started my journey as a Goodwin recruiting partner. I'm having a blast, making good money, and have stories upon stories of the positive changes I've made for my clients and candidates. On top of it all, I have more time to do proper retirement planning and financial planning for when I'm truly ready to enter my years of retirement. Right now, remaining a contributor in this way is more rewarding than I ever imagined.
If you find yourself thinking you're not quite ready to retire, consider 'unretiring' with me here at Goodwin Recruiting!