Innovate or Stagnate: The Importance of Creativity in Talent Recruiting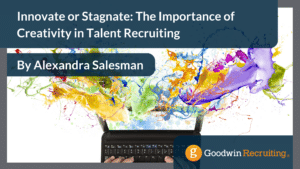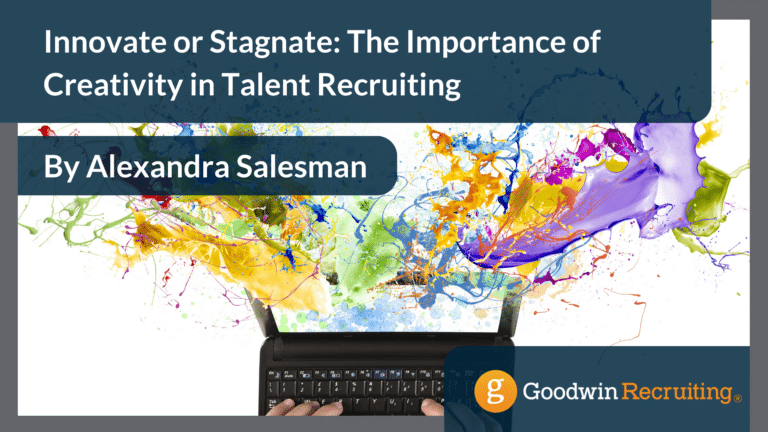 Recruiting top talent is a critical process for any organization to successfully identify, attract, and hire the right people to help the organization achieve its goals. But with today's highly competitive job and hiring markets, standing out from the competition is a growing challenge. The stagnation is causing talent shortages in key positions.  
This is why creativity and innovation have become essential in talent recruiting. I'd like to share some important insights for doing this effectively and with finesse in today's hiring market.  
7 reasons and ways to become creative in talent recruiting
Let's face it. Traditional recruiting methods just don't cut it anymore. Companies that are creative and innovative in their recruiting efforts are far more likely to attract and succeed in onboarding top talent.  
Creative thinking, brainstorming, creative people, and imaginative recruiting strategies are needed. Hiring managers, human resource professionals, and hiring executives must differentiate their companies and brands from the competition, improve the job candidate experience, and help their organizations adapt to ever-changing business needs by building stronger teams.  
Fostering creativity in talent recruiting requires a supportive environment that encourages experimentation and risk-taking. This starts at the top with business leaders and human resource heads who know that effective talent recruiting and retention must be part of the business model.  
Here are some solid reasons and ways to promote creativity in your internal and external recruiting strategies and initiatives.  
1. Attract top talent
Top-tier job candidates with the entrepreneurial spirit, resumes, decision-making ability, problem-solving skills, experience, and other skill sets that companies are looking for today are drawn to companies that offer unique and compelling brands. They want creative and innovative job opportunities. They also want a positive work environment, organizational creativity, and attractive and unique benefits, incentives, and perks, such as flexible work arrangements, professional development and training opportunities, and inspirational team-building activities. All of these assets make a company more attractive to today's job seekers.  
2. Stand out from the competition  
As you already know, in today's job market, competition for the best candidates is fierce. When companies use unique and creative recruiting strategies, they set themselves apart from other companies and are naturally more appealing to job candidates who are looking for unique and exciting job opportunities. 
For example, companies might take the initiative to host hackathons or startup weekends to engage professionals and job seekers. The goal of these and other creative initiatives is to identify key job candidates who possess the talent, creativity, and skill sets the company seeks for current and future roles.
3. Improve the candidate experience  
Ensuring a positive candidate experience during the recruiting process, the interview process, and the hiring process makes all the difference in whether a company is successful in onboarding (and retaining) their choice candidates. By being thoughtful, informative, and respectful in these processes, companies not only improve the candidate experience and get the talent they want and need, but they also improve their reputations in the job market. Word of mouth travels fast and being known for a great candidate experience makes ongoing talent recruitment easier, faster, and more rewarding.
4. Adapt to changing business needs  
Industry and business needs are evolving rapidly and companies need the agility and talent to quickly adapt. Being creative and innovative in talent recruiting ensures that companies have right-fit human capital on board to help the organization transform and grow. For example, if the flow of business requires that a company hire multiple staffers in a short period of time, the more creative and innovative their recruiting strategies, the more successful they will be in quickly attracting the talent they need, when they need it. 
5. Build a stronger team  
Recruiting is not just about finding candidates with the right skills and experience. It's also about finding candidates who fit well within the company culture and share the company's core values. Being creative and innovative in recruiting helps companies identify candidates who are a good fit for the company culture and values. This invariably leads to a stronger, more cohesive team that rallies around shared, common goals.
6. Be inspiring in your use of social media
Social media is an excellent tool for talent recruiting. It can and should be used in diverse ways (video, graphics, animations, compelling copy, and other attention-grabbing ways) to attract candidates. Use social media to showcase the company culture and values, offer unique job opportunities, and connect with potential candidates. 
7. Collaborate with other companies  
Collaborating with other organizations helps hiring companies reach a broader pool of candidates, while also offering unique job opportunities. For example, partnering with a startup or a nonprofit organization can help the company attract candidates who are interested in entrepreneurship or job opportunities that will have a social impact.
Build a creative strategy and they will come!
Companies that prioritize creativity and innovation in their recruiting efforts have a better chance of attracting and retaining their industries' most talented professionals. This starts by creating a supportive internal environment that encourages experimentation, risk-taking, and developing more effective recruiting strategies that answer talent recruiting needs and drive business success and revenue. 
Partner with a leading talent recruiter: This is a smart and results-driven strategy, too. In May 2023, Goodwin Recruiting was recognized for the fourth year in a row by Forbes as one of America's Best Professional Recruiting Firms and one of America's Best Executive Recruiting Firms. Call on us for extra ingenuity, expert recruiters, and access to an expansive, nationwide talent pool to help you succeed in talent recruitment!