5 Job Posting Tips from a Social Media Perspective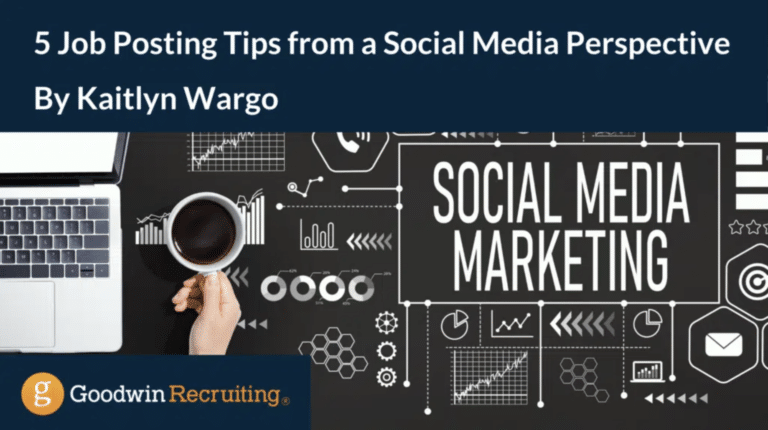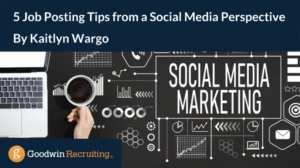 As social media manager for Goodwin Recruiting, I tend to observe online job postings in a different way – a platform-specific way. It's important that job postings include the right details about an open position, but to successfully attract and motivate potential candidates through social media, it's also essential to post a job in a way that's engaging and even fun.  
Take your job postings to the next level in 2023!
If you are a talent recruiter or hiring manager, here are some tips on how to create more engagement with your job postings and reap the full benefits that social media platforms bring to your talent recruiting efforts. 
Applying these tips in your approach to social media recruiting will enhance your recruitment strategy, widen your candidate reach, and increase your chances of finding the top-quality talent you're seeking.  
1. Less is more
I encourage you to experiment with posting some job ads that contain fewer words and only the absolute must-have requirements and qualifications. Why? It has been shown that shorter job posts receive 8.4% more applications from job seekers per view than the average job post. Give this a try on your social media platforms and see what happens! You will have plenty of opportunity to screen the pool of candidates you attract to ensure the job is a good fit for them and your client or company culture. The point is, why not start your talent sourcing process with a greater number of interested, potential candidates?  
2. Pay attention to gender wording
Throughout my time in recruiting, a statistic continually pops up that says male job seekers apply for a job when they meet only 60% of the qualifications, but women apply only if they meet 100% of them. One reason given is that women may be more selective or hesitant, and another is that women are more likely to feel they need to check every box on the requirements listed in a job post or job description. A bias in talent sourcing may also have something to do with this imbalance. LinkedIn data reveals that when recruiters search for candidates, they open men's LinkedIn profiles more frequently, but after reviewing profiles, they find women to be just as qualified for the jobs at hand.  
All of this makes me carefully consider how I word my reach-outs and posts on social media platforms. If you, too, want to attract the most talented, qualified, and ideal candidates, regardless of gender, here's one way that can help you do it. Copy and paste your job posting content into this Gender Decoder. It works to reveal whether your job post content is more masculine- or feminine-leaning, or if the content is neutral. Words matter to job seekers!  
3. Post before you source
Social media, as you already know, is an extremely powerful talent recruitment tool when you tap into its greatest strength – getting the word out. This is a great first step that 'seeds' your talent recruiting efforts before you advance to the next step. More specifically, post your job openings before you begin sourcing individual job candidates. When you let social media's nature take its course, it works organically for you, naturally generating interest and candidate applications while you're working on something else in the flow of your talent recruiting process.  
4. Provide an opportunity for passive job seekers
With social media posts, I also encourage you to think about attracting passive candidates. These highly sought-after professionals include people who are content where they are and are not actively looking for a new job opportunity – but they would consider the right open position or offer. They also include candidates who might feel their current roles are not a good fit anymore but don't have current resumes and are not ready for a job search. 
For these reasons, valuable passive candidates are difficult to identify and reach – unless you speak directly to them in your job postings. My suggestion is to switch up your phrasing in your posts on LinkedIn to include passive candidates that don't have a resume ready to apply. For example, instead of LinkedIn job posts that say, "Send your resume to (name)," or "Apply here (link)" – tweak your phrasing to something more inclusive, such as, "Shoot me an email or give me a call to chat!" – along with, "Connect with me to learn more!" or "Comment below and let's talk about your future!"  
5. Use images and videos
It's no secret that images, animated gifs, and videos drive social media engagement, and this strategy also applies to social media recruiting and job posts. Think of fun ways to incorporate images and videos into your job postings. Use these tactics to illustrate not only your job openings but also your employer's brand and company culture. As a result, instead of scrolling by, potential candidates will be more likely to take a second or deeper look at your content when perusing social networks.  
Take advantage of industry expertise and a large, captive talent pool  
Another tip that will increase your success in finding ideal candidates is to partner with a company like Goodwin Recruiting. We are happy to assist in your talent acquisition and hiring needs. Our nationwide talent network is second to none and it includes an abundance of passive candidates who are open to exploring new job opportunities.  
Or, if you're a recruiter looking for a new career opportunity and can work remotely, consider becoming a Goodwin Recruiting Partner! Send an email to our Internal Recruiting team today and let's explore your options.