A Day in the Life of a Recruiter: Jamaloan Abraham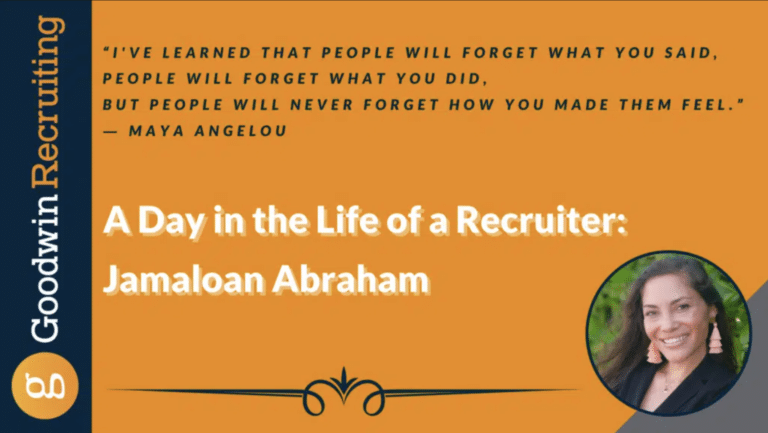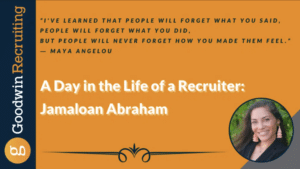 I live in sunny Miami, FL, with my husband, Michael, and our three boys. I began my hospitality journey while in high school at the age of 15, starting as a hostess at a beautiful and upscale sushi restaurant in Islamorada, Florida, called Kaiyo Restaurant. I went on to earn my degree from Florida International University with a Bachelor of Science in Hospitality Management. In college is where I truly fell in love with the hospitality industry. Whether back of house or front of house, I wanted to do it all, learn it all, and accomplish it all! I had a huge passion for serving others and making them feel important. While in college and shortly after graduating, I worked in fine dining restaurants in Miami and traveled to Spain to stage at 3-Star Michelin Restaurant, Martin Berasategui. I loved everything about the culinary experience in Spain but what I loved most was the intention behind every action. I brought this back with me to Miami after my internship in Spain was over, as I started working in hotels in the food and beverage department, then convention services, then onto sales. My passion for the industry was evident amongst all and drew clients to me – and me to my clients! In sales, I learned that if I listened carefully to my client's needs and wants, "we" (our sales, culinary, and catering team) could make magic happen!  
Fast forward to years later, shortly after the pandemic began, when I began my career with Goodwin Recruiting. It was the best decision I ever made! What I love most about being a recruiter is that I am still so involved in the hospitality industry each day. I know I am making a positive impact because I am helping our clients fill important roles. The more challenging the position, the more engaged I become! I love interviewing candidates and learning about them as people. I like to uncover what drives them, why they love this industry so much, and what motivates them to do their work with so much care and passion. This also helps me find them the perfect opportunity where I know they will achieve long-term success! 
5:30 am – 6:30 am: My schedule is somewhat flexible each day. I have three boys, ages 2, 4, and 7. I begin my day from 5:30 am – 6:30 am sourcing for great candidates. I use this time to set up tasks during the day to contact them. 
6:30 am – 8:30 am: I use this time to get my kids ready for school and daycare and then get myself 100% prepared for zoom interviews! 
8:30 am – 12:00 pm: I use this time to interview candidates and take the time to truly explain to my clients why I feel these particular candidates are a good fit for their job / what is unique about them. In today's world, it is so important to really connect with each candidate and listen closely. Goodwin Recruiting believes that if we are not enhancing and changing a candidate's life for the better, we should not do it! If you think about it, we as recruiters have not only the power to change someone's life but also their family's lives, so it is crucial that we dig deep into interviews to make sure the opportunities we present will make all lives better. 
12:00 pm – 12:30 pm: I have a quick lunch break outside in my backyard. I usually eat leftovers from the night before. And then make a delicious espresso right before jumping back on my computer. By the way, I am a coffee lover! To me, coffee is like a great glass of wine. It truly makes me feel centered and connected so I can continue happily with my day! 
12:30 pm – 2:30 pm: This is when I get in touch with my clients. I call and email to follow up on candidates submitted, discuss their thoughts, and review the next steps. This part of my day is why I love my job so much. It's the challenging and exciting part! When a client gives me a job that has been tough for them to fill due to a variety of reasons (such as relocation, cost of living in a particular city, remote destination, multiple languages required, etc.), I get even more excited to go out there and search for the ideal candidate. I know my clients are busy and that when I find that perfect candidate, I am genuinely helping them and saving them time. I also love working with clients that I truly believe in and whose hotels and restaurants I have visited personally. Nothing makes me happier than landing a candidate for a job at a company I love and knowing it's a great culture fit for everyone. I love being able to tell candidates all about the company because I myself believe in them! 
2:30 pm – 3:30 pm: At this time, I pick up my kiddos from school, bring them home, wash their tiny hands, change their clothes, and give them a snack. 
3:30 pm – 5:00 pm: I go through my daily tasks to ensure I don't miss anything. I post new jobs and follow up with candidates regarding the next steps in the process. I follow up with other recruiting partners because we all help each other as much as possible here at Goodwin and are constantly sending great candidates to other recruiters who may have the perfect job for them! This is one of the things I love most about Goodwin Recruiting. Even though I am alone in my office, I constantly speak and partner with other recruiting offices, candidates, and clients! I never feel alone. I always feel connected, and I love that! 
I wish I could tell you each day is perfect and everything goes 100% as planned, but the truth is that with the three little ones, sometimes one of them gets sick, or they have early release, or they have a day off from school, and I have to adjust. The good thing is that I have the flexibility to pivot. Although I loved working on-location at a hotel previously, I had very little flexibility, and sadly my kids always came last. Now I work from my home office, and if my kids need me, I can be present. Sometimes, I'll jump on the computer at night to finish up a few things that I could not get done during the day, but I don't mind at all. In fact, I love that I have that flexibility. Goodwin Recruiting found me, and it has changed my life for the better. I am so thankful for the day I decided to join the team!