5 Reasons Why Candidates Struggle to Find a Job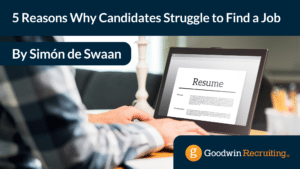 Are you getting discouraged with your job search, or starting to wonder why you're not being hired? I've been in the professional recruiting world since 2019, and wanted to share 5 common reasons I've seen as to why candidates might struggle to find a full-time job.
You Feel Lost in the Crowd
There are tons of job opportunities, and at the same time, tons of candidates to fill those roles. The fact of the matter is it can be tough to differentiate yourself from all of the other job seekers. The name of the game is being the most memorable candidate for all of the right reasons. Think about what value you can add to the company you're applying to, and be prepared when you interview to tell stories about your experience in your work history that paint a picture of how you've handled similar situations that they are dealing with. Potential employers want to hear how you can make a difference in their business, and what sets you apart from all the other candidates they're speaking to.
Your Resume Needs a Boost
Clients are most interested in measurable results, not job descriptions. You of course want to include an overview of your work experience and your skill set, but in addition, include things on your resume that you're proud of; things that will allow you to tell a story that makes you smile. Mention places you've volunteered, local organizations you're involved with, certifications, and awards. When you're able to talk about things you're motivated by during an interview, your enthusiasm will come across in that conversation and help to set you apart in the eyes of the hiring manager. Keep a similar mindset when updating your LinkedIn profile, as well. It could be what helps you land that next job interview. And don't forget to put your current contact details on your resume! If the person hiring cannot contact you, they will move on to the next candidate.
You Have Gaps in Employment
It's okay to have gaps in your employment; life happens. Be it caring for children, caring for spouses and elderly parents, or due to any injury. You may need a break from work, and that's okay. Simply be honest about it and when you return to the workforce, consider taking a less strenuous job in order to give yourself the longer ramp-up you deserve. A good rule of thumb is to proactively explain any reasons for gaps in your employment. More and more, we're finding employers are becoming accepting of gaps on a resume. As a recruiter, I always look to explain to clients that there are endless reasons why someone might have a gap on their resume, and I offer my professional advice to always be kind and open to considering these candidates.
You Need to Build Your Network 
Networking is so important when it comes to finding a job. Go to industry events, join your alumni network, or simply engage on LinkedIn in a supportive and positive voice. Your goal is to engage with people you respect in your chosen field so that they notice you and perhaps they are willing to then speak with you "offline". Another way to build your name within your industry is to write articles or blogs that teach others. The more advice you are able to offer, the more others will recognize you as a specialist in your field of work.
You Haven't Tried Using a Recruiter
Using a recruiter to find a new job in today's job market can be a life-changing decision. Recruiters can find job opportunities that you may not find elsewhere and can help walk you through the application and interview process, from start to finish. They can offer advice on your resume, prep you for interviews, and be a sounding board throughout your job search. More than anything, they'll be right there along with you for the ride and can end up being the difference maker in landing you a job that you love.
If you're ready to explore using a recruiter for your career search, I would be happy to connect with you. We have hundreds of clients across the nation and a team of over 300 recruiting partners all rooting for your success. Reach out today so we can help you achieve the next step in your career.