10 Reasons to Choose Goodwin Recruiting for Your Contingency Talent Search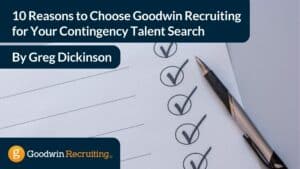 Are you thinking about using a professional talent recruiter to help fill job openings on your team? There are many recruiting firms out there. Finding one that aligns with your company's values and talent acquisition goals is what you're ultimately after. Many employers also want to work with a recruiter known for having an effective contingency search method within its full-service portfolio, where there is only a fee if a candidate is hired. And of course, a recruiting firm's honesty, integrity, and core values matter.  
Here are 10 solid reasons your company should consider using Goodwin Recruiting for your talent search and staffing needs.
1. Great advertising – at no cost
With a clear understanding of your culture, goals, and talent needs, we are genuine brand ambassadors for your company. On your behalf, we serve as professional, positive, and enthusiastic agents in our dealings with job seekers and we get the best candidates excited about your job offering. The meaningful connections we build during the talent search process go a long way in spreading the good word about your team and organization among both active and passive job candidates. 
2. Thorough vetting process and transparent, timely communication
Goodwin Recruiting presents you with thoroughly vetted, experienced, and qualified candidates – not just PDFs of job seeker resumes. We also anticipate questions you may ask when seeing a resume for the first time so that we can provide you with answers at the submittal stage. Likewise, we let you know what's going on with a candidate of interest in the process – and this communication from us extends through the guarantee period after you hire someone. 
Here are some commonly asked questions from clients when staffing searches get underway with us. As you'll see, the ways we prepare and respond are extremely helpful to our clients.  
Is the candidate genuinely interested in our company and job?

We never present a candidate to a client without the job seeker's prior consent and knowledge of the role and company. Candidates are made fully aware of job responsibilities as communicated to us by a client. Job seekers are also informed about the company's internal interview process before meeting a client for the first time. Candidates are there because they want to be.

Would this candidate be a good fit?

We are prepared to communicate to clients 'how' and 'why' a candidate we present aligns with their goals and culture – not just the requirements of the position. To deliver on our commitment as a leading talent recruiting firm, we must feel strongly that a candidate is both a cultural match and qualified for an open position. 

What is their excitement level during the interview process?

We monitor and communicate a candidate's interest and excitement levels throughout the interview process, letting clients know if excitement increases or decreases along the way.

 

Does the candidate have concerns that can be addressed prior to making a job offer?

Goodwin Recruiting experts check in with candidates after every interview and share their feedback or concerns with the client.

 

What level of compensation does the candidate expect?

We disclose a candidate's desired or expected salary range prior to their first meeting with a client. 

 

How reliable is the candidate?

We hold our candidates to high communication standards and create accountability throughout the interview process. This avoids lags in response times and wasted time and frustration for hiring companies. If we have trouble getting in touch with a candidate, we let the client know. The bottom line? Goodwin Recruiting understands that a job seeker who communicates quickly and thoughtfully is among the best candidates and often makes for a great hire! 

Do you check references?

Yes, as

part of our internal talent sourcing service, we absolutely do check candidate references on a client's behalf, saving clients time in making phone calls, writing emails, and awaiting responses. 

 

Do you follow up after placing a candidate with us?

We check in with candidates during our guarantee period after placement with a client and share feedback with clients so that they can address concerns or challenges after the candidate's start date.
3. Time-saving support
We source, vet, and interview job seekers, manage scheduling for job interviews, and even assist clients in compensation negotiations so that they and their hiring managers and human resources teams have more time to focus on operations, customers, training, and mentoring existing staff and leadership.
4. Confidentiality
At all times, Goodwin Recruiting respects and protects the confidentiality of our clients and job seekers during talent searches. This is critical for passive candidates who are not actively seeking new career opportunities but are open to the right offers, and confidentiality is critically important when clients are looking to make a change in leadership.
5. Congruency
We are a value-added recruiting partner by doing more for clients than sourcing the best candidates. We provide clients with salary analytics for their industry and region, suggestions for improving job descriptions, consultation on preparing job offer letters, and much more. By working with a variety of similar companies in a hiring company's area, we not only have local insights but also a global perspective on what other companies offer and what their internal hiring processes are like. 
6. Knowledge
In May 2023, Goodwin Recruiting was recognized for the fourth year in a row by Forbes as one of America's Best Professional Recruiting Firms and one of America's Best Executive Recruiting Firms. Our expert recruiters have diverse industry experience. Many have years of experience in companies like our clients' firms, and in roles that are the same or much like those our clients need to fill. Further, we are trained and certified in best practices for diversity, equity, and inclusion (DEI) and serve as a consultative voice in the changing landscape of today's workplace dynamics. We share resources and expertise with clients as part of our relationship. 
7. Trust
We build trust with job candidates and do not push them toward roles that are not good fits for them. Our goal as a leading talent search firm is to change people's lives and company teams for the better. In doing so, we strive to earn trust by making client-candidate connections that are win-win for both parties. We have been building strong, long-lasting relationships as a recruiting partner for companies and job seekers since 1999. We are difference-makers who are in this for the long term.
8. Concierge services
As mentioned, our recruiting experts handle interview scheduling and confirm with candidates the day before to avoid no-shows and ensure they are properly prepared and professional throughout the interview process. Our clients simply communicate interview dates, times, and locations to us based on a candidate's availability (which we provide), and we do the rest. 
9. Integrity
Goodwin Recruiting experts take pride in what we do, and we stand behind our work and core values. If for some reason a candidate we place with a company does not work out, we will replace the candidate in the same role one time at no additional cost to the client. "Integrity in Everything We Do" means we make every decision with our clients' and candidates' best interests at heart. We look at each decision not as what is most profitable at the moment, but what will bring success in the short and long run for everyone involved.
10. No obligation
For contingency searches, we do not require exclusivity or charge any up-front fees to conduct a talent search. Further, there is no commitment for clients to hire candidates we send for their consideration. With our nationwide network of highly skilled candidates, we're confident that we can source the right person for every position; however, if a client ultimately chooses to hire a candidate they find on their own or make an internal promotion, we remain confident the client will continue to tap our services for future job openings. 
Let us help you build an exceptional team
Goodwin Recruiting is a full-service talent recruiting agency with specialists in hotel and restaurant, finance and accounting, medical and healthcare, manufacturing and engineering, and executive search placements. With each of our talent searches, Goodwin Recruiting aims to exceed the expectations of every client and job seeker.  
When you choose to partner with us as your search firm to fill new job openings, you will always receive the highest levels of dedication, professionalism, and services from our team. 
Are you looking for an honest talent recruiting partner?