Contingency Search Versus Retained Search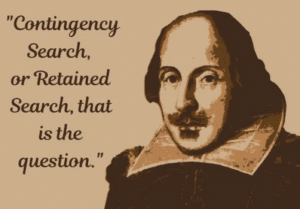 You've got a tough position to fill. The war for attracting talent is real. And recruiting top-performing professionals is not easy.
Recruiting is time-consuming, labor-intensive, and requires certain expertise. Just because you have an HR department or a Talent Acquisition team doesn't necessarily mean they have the specialization or the time to tackle every single job opening within your organization effectively. For this reason, a competent third-party search firm is your best option. But before you jump in and hire a recruitment agency, there are questions that you should ask before partnering with a headhunter. One of the most important questions to ask… "Contingency or Retained?" It's a great question. The answer is, well…it depends. Let's take a look at the differences between a contingency search and a retained search!
Contingency Search 
The majority of firms offer contingency-based recruitment. A contingency search means your company gives a "job order" to one or multiple recruiting agencies in hopes of finding quality candidates to fill your vacancy. You pay nothing unless you hire a candidate from one of the firms. This non-exclusive option works fairly well for most roles. The downside is that working with multiple firms can get a bit confusing, overwhelming, and often creates more work for you. It can also create a competition of sorts among the multiple contingency recruiters and does not always guarantee that the several recruitment firms you've contacted are actually dedicating their time to working on your job order knowing you've given it to several other firms. If you go the contingency route, I recommend working with one recruitment firm — two at most.
Retained Search 
Retained search firms are in the business of providing top-performing candidates in a timely manner. They hunt down the best in the market, not just the best on the market, and deliver the elite 20% of candidates who are effective and are known for delivering 80% of the results. These are generally the passive job seekers who are not posting their resumes on job boards nor actively interviewing. With a retained search model, the client agrees to work with one firm exclusively. This exclusive relationship requires a strong mutual commitment and is well worth the upfront cost of the retainer. As a retained client, you are your recruiter's #1 priority. With this high-touch/high-service option, your recruiter (and their team) searches for and delivers only a select group of elite, qualified candidates to choose from. As a result, the firm devotes a greater amount of time and resources to a retained search than it does for a contingency model.
How does retained search work?
The retained search process is still fairly straightforward. Once you've signed the retained agreement, the initial engagement search fee (1/3 of the estimated total fee) is required to initiate the search. This payment allows the recruiter to focus on you and your needs exclusively and begin building a shortlist of the top-qualified candidates in your market. The remaining 2/3 of the payment is due at agreed-upon stages in the process. It's up to the recruiting agency and the client to iron out the specifics of the payment terms and time frames.
You and your recruiter will then pin down a general time frame for sourcing candidates, presenting candidates, scheduling interviews, etc., delivering a streamlined process that, ideally, ends with the candidate starting on a targeted date. During this process, your recruiter will often meet you and the leadership team in person and tour the organization. This helps your recruiter get a feel for your company, your people, and your culture. Getting to know your organization's culture will ensure your recruiting firm finds the candidate who is the best fit for your team.
How do you choose between a retained search versus contingency?
Due to the level of work and commitment sourcing executive-level roles entails, companies generally engage retained search firms for executive-level and senior-level positions. Hiring managers often need this degree of exclusivity and focus on key business impact roles, not simply every open position.
Contingency recruitment is a great way to test the waters and compare it to what your in-house team can do. The business model is sound since you don't have to pay a fee unless they deliver the results.
Regardless of which model you choose, your search consultant's goal should always be to deliver the best candidates, irrespective of the level of roles. You have the choice to engage in the type of search that best suits your hiring needs at any given time. It often comes down to priority and urgency, whether it is a highly confidential search or for a top priority, business-changing role. If it is for any of the above reasons, then a retained search might be in order.
Choosing to work with a search firm that offers both is ideal. It's nice to have options.
Goodwin offers both retained search and contingency search options.
Recently named one of America's Best Recruiting Firms by Forbes and with over 20 years of experience in the business, Goodwin Recruiting has established a proven track record of helping organizations streamline their recruiting efforts to reduce the time gap between identifying and presenting quality candidates. Built on the foundation of open and transparent communication between candidate and client, Goodwin Recruiting has partnered with companies across all market segments to find talent at varying experience levels.
We invite you to link arms with us to help you locate the very best talent for your organization.