Why Is February the Month We Celebrate Black History?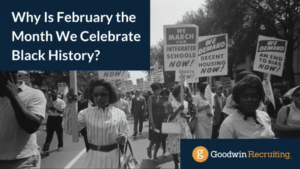 Among the general population in America, so much yet so little is known about the origins of Black History Month in the United States. How did it start and why was February formally designated for this month-long celebration?  
We'd like to answer these questions with historical and interesting facts about two giants among men – one born into slavery, Frederick Douglass, a prominent leader in the abolitionist movement that fought to end slavery – and the other President Abraham Lincoln, the first and one of several U.S. presidents who was strongly influential in the emancipation of slaves.  
The legacies (and birthdays) of these men hold center stage in the evolution of the annual, nationwide month of observance honoring the toils and triumphs of African Americans throughout U.S. history.  
It started the second week of February in 1926
The seeds of National Black History Month were planted in 1915, when historian, journalist, and author Dr. Carter G. Woodson, also born into slavery, founded the Association for the Study of Negro Life and History. The organization is now known as the Association for the Study of African American Life and History (ASALH). So influential was Woodson in his activism and accomplishments that he is known as the Father of Black History.  
Through this organization, Woodson initiated Negro History Week on February 7, 1926. He selected the second week of February because it included the birthdays of Abraham Lincoln (February 12) and Frederick Douglass (February 14), two key figures in the history of Black Americans.  
It's worthy of note that the National Association for the Advancement of Colored People (NAACP) was founded 17 years earlier, also in the second week of February (February 12, 1909), a date marking the 100th anniversary of the birth of Abraham Lincoln. 
After many years of advancement, growth, and nationwide adoption, Negro History Week became Negro History Month and then Black History Month. Since 1976, every U.S. president has officially designated the month of February as Black History Month.  
Ending slavery meant everything to Abraham Lincoln 
The Smithsonian takes a look at Abraham Lincoln's words and actions during his presidential term, which reveal his true sentiments on slavery and racial equality.  
On January 1, 1863, as the United States approached its third year of the Civil War, President Lincoln issued the Emancipation Proclamation, which declared enslaved people in areas under Confederate control to be "forever free." Two years later, he pushed the 13th Amendment through Congress, which permanently abolished slavery in the United States.  
Most African Americans who lived through the Civil War looked to Lincoln with great admiration and respect. He met hundreds of African Americans in Washington, D.C. during the war years, and following their visits to the White House, they often spoke of how Lincoln treated them with dignity and respect. They included Frederick Douglass, who was Lincoln's guest at the White House on several occasions. Lincoln was known to shake hands with Black guests, initiating the physical contact in nearly every instance. The gracious and notable gestures carried great personal meaning for Black visitors, as well as symbolic meaning for all Americans who witnessed or read about the exchanges.  
By August 1864, when Lincoln thought he would lose reelection as president, he was concerned that an incoming administration would reverse all he did to free enslaved people. He invited Frederick Douglass to the White House and the two men devised a plan, if Lincoln lost the election, to urge still-enslaved people to flee to Union lines before Lincoln left office.
Lincoln said, "Douglass, I hate slavery as much as you do, and I want to see it abolished altogether."  
Lincoln's deep-seated moral disdain for slavery was evident, and Douglass left the meeting with a new understanding of the president's intense commitment to emancipation.
Douglass later wrote, "What he said on this day showed a deeper moral conviction against slavery than I had ever seen before in anything spoken or written by him."
Nothing ever came of their plan because the Civil War took a positive turn and Lincoln won reelection in 1864, and he continued his diligent work to expand the rights of African Americans.  
As an aside, have you ever wondered why photographs of Lincoln seem so scarce? If you're a visual person who loves viewing historical images, you'll enjoy scanning these 130 known photographs of Lincoln during his life and tenure as president.  
Frederick Douglass and Abraham Lincoln shared strong convictions
Frederick Douglass, the most photographed American of the 19th century, was an American social reformer, abolitionist, orator, writer, and statesman. After escaping slavery, he became a national leader of the abolitionist movement in Massachusetts and New York. He became famous nationwide and abroad for his speaking prowess and incisive writings on antislavery.  
A central figure in U.S. and African American history, Douglass was born into slavery in 1817. His mother was an enslaved Black woman and his father was believed to be his white master. Douglass escaped slavery in 1838 and evolved into a principal leader and spokesperson for the U.S. abolitionist movement. He also became a towering figure in the U.S. civil rights movement and American politics.  
Douglass understood the significance of Lincoln's open-door policy in welcoming African Americans to the White House as an act of both political courage and risk.
Douglass said shortly after Lincoln's death that, "He knew that he could do nothing which would call down upon him more fiercely the ribaldry of the vulgar than by showing any respect to a colored man. Some men there are who can face death and dangers, but have not the moral courage to contradict a prejudice or face ridicule. In daring to admit, nay in daring to invite a Negro to an audience at the White house, Mr. Lincoln did that which he knew would be offensive to the crowd and excite their ribaldry. It was saying to the country, I am President of the black people as well as the white, and I mean to respect their rights and feelings as men and as citizens."  
Douglass was an agent for the Massachusetts Anti-Slavery Society and the American Anti-Slavery Society, which took him on speaking tours around the country. His work expanded in many directions, from the women's rights movement to helping people on the Underground Railroad (which, led by Douglass, became the first great U.S. civil rights movement), to his support of antislavery political parties.  
As the Civil War progressed and emancipation grew near, Douglass increased the fight for equal citizenship. This was also during the Reconstruction Era, when slavery was abolished, Congress ended the remnants of Confederate secession in the South, and multiple Amendments to the Constitution were ratified. His activism contributed to a series of postwar amendments, including the 13th Amendment, as well as the 14th Amendment (ratified in 1868), which granted national birthright citizenship to all persons "born or naturalized in the United States," including formerly enslaved people, and provided all citizens with "equal protection under the laws." And the 15th Amendment (ratified in 1870) stated that no one could be denied voting rights based on race, skin color, or previous servitude. 
Today, the resulting participation and contributions of African Americans within our electorate are stronger and more vigorous than they have ever been. 
Their words and actions beckon us to learn more 
The inspiring and challenging convictions and history-altering words and actions of Lincoln, Douglass, and countless other heroic figures stand tall not only in the United States but in other countries as well. Canada and the United Kingdom are among other countries that also devote a month to celebrating Black History.  
As we celebrate Black History in February and all year long, it's important to learn more about our nation's history, which is constantly evolving and making the world a better place – despite current movements to curtail African American studies that relate to America's deep history. Visit the National Archives to study more closely the works and legacies of notable men and women in Black History. You might also enjoy reading these 28 important but overlooked facts in Black History.   
They paved the way for leaders in the American workforce
Today, a commonly experienced achievement of historical leaders in Black History is seen and felt in the business world. Black and African American men and women, and people of all ethnicities and creeds, are helping companies grow and succeed, and Black-owned businesses have been thriving for decades.  
At Goodwin Recruiting, we know it's not enough to have personal beliefs that support equality and diverse representation. Our beliefs must also be actionable. This is why we hold a deep commitment to diversity, equity, and inclusion as a core company value. We help organizations find exceptional diverse talent for leadership roles and we equally support the career ambitions of professionals from all backgrounds.  
Contact us for expert assistance in finding your next leader or job opportunity.