Why Does Black History Month Still Matter?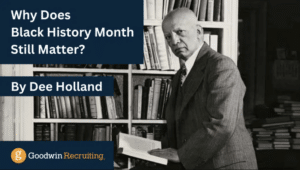 The origins of Black History Month began as Negro History Week in 1926. Scholar and historian Carter G. Woodson, recognized as the father of Black history, chose the second week in February, as it contained the birthdays of Frederick Douglass and Abraham Lincoln, to bring awareness to the role of African Americans in shaping U.S. history. President Gerald Ford decreed Black History Month a national observance in 1976.  
Initially, Black History Month was a way of teaching students and young people about Black and all African American contributions to our country and world. The commemorative month of February remains necessary because racism and bias continue to shape every aspect of life in the United States. It was created to focus attention on the contributions of African Americans to the United States and honor all Black people from all periods of U.S. history, from enslaved people first brought over from Africa to African Americans living in the United States today.   
Such stories in American history and especially the civil rights movement had been largely forgotten and were a neglected part of our national narrative – but none were lost.  
New stories and accessibility are keeping the torch ablaze
This annual celebration is a time of pride, but what does Black History Month mean today in America? Black History Month will always mean honoring the prominent African American figures of our past, but in this time of division and turmoil, we choose to encourage, promote, and reveal Black men and Black women who are becoming new examples of excellence. Because of social media, it is much easier. We have immense access to new information and don't have to rely on textbooks for information about Dr. Martin Luther King Jr., Carter G. Woodson, George Washington Carver, Rosa Parks, U.S. presidents, and so many others who shaped U.S. history.   
It's also a time dedicated to shining a light on Black culture and the achievements of African Americans that are too often ignored year round. Many still ignore Black History Month, but until our society acknowledges the contributions of all cultures, this focused time is essential to highlight our achievements and inspire and educate our youth about this important part of American history.  
New generations of African American leadership are emerging
For Black millennials, the month-long celebration offers an opportunity to reimagine what possibilities lie ahead. Black History Month is a reminder of our duty to be great. It reminds us of the struggles that have been overcome by African Americans and highlights struggles still to conquer on behalf of the Black community and world. It's a remembrance of the strength, wisdom, and courage it took to go from African Americans being the least valued in America's society to being the heads of America's companies, industries, and the nation itself.  
There is an African proverb that says, "Until the lion tells the story, the hunter will always be the hero." In today's political and societal climate, rife with lies of omission, inequity, collusion, intimidation, and alternative facts, celebrating and sharing our stories, our struggles, and our accomplishments has never been more important.   
Why is it important to celebrate Black History Month at work?
February is an opportunity to start conversations about race. These conversations are important to have in the workplace because they support companies' diversity, equity, and inclusion (DEI) initiatives and encourage dialogue about race between all employees. In celebration of Black history, efforts are made by countless people and companies across the nation to teach and learn aspects of U.S. history that have been left out.  
Today, Black History Month is seen as a commemoration of African Americans who have impacted not just the country but the world with their activism and achievements. In the United States, the month-long spotlight in February is an opportunity for people to engage with Black histories, go beyond discussions of racism and slavery, highlight Black leaders and accomplishments, and continue their legacies.   
Reach out to Goodwin Recruiting if you are a hiring company looking for diverse talent, or a professional wanting to work for a company with a strong commitment to diversity and inclusion.