Which Cruise Line Trends Will Sail Into 2024?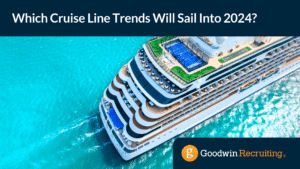 The cruise line industry is gloriously back in business and breaking pre-pandemic records, as reported by the Cruise Lines International Association (CLIA). CLIA forecasts the number of passengers in 2023 will surpass 2019 numbers, with a projected 31.5 million passengers taking cruises this year, compared to 29.7 million in 2019. Despite the industry's year-plus shutdown during the pandemic, the sector has resumed its status as one of the fastest-growing sectors of leisure travel and tourism. 
Goodwin Recruiting is closely watching the cruise industry's new directions and next moves in America, Europe, and worldwide, which are being fueled by growing demand, changing traveler preferences, innovative offerings, technology advancements, sustainability initiatives, new cruise ships, and other factors.  
There's perhaps no better sign of cruise industry confidence in the future than seeing new cruise ships on order and under construction for this year, next year, in 2025 and beyond. New ships are on the books or underway at Norwegian Cruise Line, Carnival Cruise Line, Virgin Voyages, Celebrity Cruises, Princess Cruises, Royal Caribbean, Cunard, Disney Cruise Line, MSC Cruises, and others.  
Far beyond the arrival of new cruise ships, here are some of the most notable trends shaping the cruise industry worldwide and which are certain to continue into 2024 and beyond, bolstered by significant industry investments.  
Satisfying customers with digital transformation 
As in any industry, one of the main things cruise line passengers expect is advanced technology to be part and parcel of their cruise experiences. Cruise lines are rolling out new trip and itinerary planning and onboard technologies to give travelers what they want – and more. Mobile apps provide easy access to information, services, and contactless check-in, and wearable devices, virtual reality (VR) headsets, artificial intelligence (AI)-powered assistants, and Wi-Fi connectivity are growing in cruise line adoption. Some cruise lines are using VR to deliver virtual tours of destinations and augmented reality (AR) for enhanced games and activities. Some are even deploying robotic bartenders. 
While travel booking services are increasingly going online in this segment, offline sales remain the dominant sales channel for the global cruise industry, with just under one-quarter of cruise industry revenue coming from online transactions. Nevertheless, cruise companies are heavily investing in digital transformation to improve marketing and sales performance, promote itineraries, streamline processes, expand distribution networks, enhance the booking experience, and improve communication with passengers.  
Advanced technologies are playing an infinitely larger role in the operations of today's cruise lines, from data analytics to environmental and sustainable processes and much more, as noted below.  
Making waves in sustainability
Due to stricter cruise industry regulations around the world to curb environmental impacts, such as air and water pollution, waste management, and risks imposed on sensitive ecosystems, coupled with cruise passengers' growing interest in cruise lines committed to sustainable practices, cruise lines are investing in cleaner technologies and practices to meet new requirements and appeal to travelers. Technologies that are being harnessed for more efficient, sustainable, and eco-friendly production include artificial intelligence, machine learning, and blockchain.  
In its 2023 State of the Cruise Industry report, CLIA takes a deep dive into developments and statistics surrounding cruise industry sustainability initiatives. Here are a few key stats and points of progress showing what cruise line companies are doing to improve responsible tourism:  
Commitment to the environment is on the rise among cruise travelers and potential new-to-cruise travelers, with 50% of current and potential cruise travelers saying they are more committed to making travel decisions based on environmental impacts than they were three years ago. 

 

Cruise lines are following a path to decarbonization with advancements in technology, infrastructure, and operations. Multiple pilot projects and collaborative initiatives are underway, and new engines and propulsion technologies are being planned and tested for use on cruise ships. 

 

Cruise lines are now using liquified natural gas (LNG) as a transitional fuel while sustainable and renewable marine fuels and propulsion technologies are being explored, such as advanced biofuels, synthetic fuels, methanol, hydrogen, fuel cells, and batteries. 

 

CLIA-member ships being built today through 2028 (except expedition) are scheduled to be fitted with shoreside power capabilities. Currently, 30% of ships, representing 40% of capacity, are plug-in-ready. However, less than 2% of the world's cruise ports have on-shore power, with 3% projected to have shoreside power by 2025. 

 

Overall, there is an acceleration of environmental technologies and practices present on cruise ships as the industry pursues net-zero carbon cruising by 2050. CLIA-member cruise ships and operations become more sustainable and efficient every year. For example, they are using digital technologies to be more energy efficient, from tracking energy use of appliances in a ship's galley to optimally routing ships. Each class of new cruise ship that is launched is around 20% more efficient than the last. 

 

Cruise lines are increasingly offering environmental education and sustainable tour experiences for passengers. As a result, 84% of cruise travelers are more aware of the responsible nature of cruise travel and the importance of the environment. 

 
Step-by-step, the global cruise industry and the infrastructure it depends on are making big investments and progress in sustainability. 
Attracting travelers with new and expanded offerings  
Cruise lines are a great example of a playful, indulging group that says, "How high?" when buyers say "Jump!" Whether the strong cruise travel rebound is due to would-be travelers pent up by the years-long pandemic, or cruise lines creating novel ideas to get travelers back on board, cruise line companies are in overdrive in rolling out new concepts and enhancing traditional ones to entice travelers.  
The cruise industry, which has historically catered to an older demographic, is focused on attracting and retaining younger passengers, families, and even remote workers. Cruise line companies know younger generations are the industry's future, with 88% of Millennials and 86% of Gen-X travelers who have cruised before saying they plan to cruise again. And they're just itching for something new and different.  
Plus, with the staying power of remote work, cruising is another place to work while experiencing leisure travel, and satellite technology is making it possible. Multigenerational families are also taking to the open seas, and cruise lines are catering to them. There's something for everyone in this industry today.  
To satisfy long-time cruise customers and appeal to a newer and larger variety of travelers, cruise line companies are diversifying their portfolios with niche market offerings, while maintaining and enriching traditional offerings. Here's the short list of traditional and new cruise types that are available today:  
Building bigger and bigger ships
In 1987, Royal Caribbean launched the world's first mega-ship. MS Sovereign of the Seas could hold almost 3,000 passengers and became the model for all modern cruise ships as floating resorts. It had five restaurants, nine bars, a spa, four pools, and a casino.  
Competition led to even bigger ships, much like floating cities. Royal Caribbean will make history again in 2024 in launching Icon of the Seas, which will have "eight neighborhoods" with selling points that include 20 decks, a water park, spa, surf simulator, shopping mall, arcade, casino, gym, three theaters, seven pools, 20 dining venues, and 15 bars. At 250,800 gross tons, Icon will be the biggest cruise ship in the world.  
"Big" is being met with strong resistance from ports, cities, and environmentally sensitive maritime areas, which are banning large and mega ships due to over-tourism, limiting the number of ships, and also capping the number of allowed visitors. Many local destinations are overwhelmed, resulting in compromised experiences. Port size is also a limiting factor in some destinations where a port is not deep enough or lacks enough dock space to accommodate large ships.  
Big is not going away, though, with cruise lines taking action to ease port denials and related issues. 
"We're seeing the cruise industry acting much more proactively in collaborating with port managers to better manage visitor flows," said Randy Durband, CEO, Global Sustainable Tourism Council.  
What else are cruise lines and their constituents doing to ease these issues?  
Quite a lot, according to CLIA… 
Collaborative, sustainable, tourism initiatives led by the cruise industry, as well as destinations, ports, community organizations, and other stakeholders, are helping to maximize the benefits of tourism for local communities and achieve mutual objectives to preserve the integrity, cultural heritage, and beauty of the world's most treasured destinations for future generations.

 

Cruise lines are working with organizations to source food responsibly and prioritizing local sourcing of food and other supplies to support local businesses and communities and, as a result, help improve lives and the quality of life at their destinations. 

 

Cruise ships are producing up to 90% of freshwater onboard, and through state-of-the-art systems and practices, they are conserving and repurposing water, rather than drawing from areas where resources are limited.

 

Cruise lines are offering shore excursion programs focused on sustainability, such as trips to national parks, wildlife rehabilitation centers, biodynamic farms, and carbon-free walk, cycle, paddle or sail experiences, rather than coach tours. Excursions are locally sourced, creating local jobs. This involves sustainable tour excursion certification with respected conservation organizations and other groups based on the Global Sustainable Tourism Council's Industry Standard criteria. 

 

Cruise lines have a range of programs for ocean and marine life protection, such as coral reef restoration, advanced wastewater treatment systems that rival land-based systems, agreements to avoid or voluntarily reduce vessel speed in sensitive areas or when marine life is observed, partnerships with research and ocean and marine life protection organizations, and on-board scientists to support research for the benefit of ocean and marine life. 

 
Let Goodwin Recruiting find top talent for your cruise line 
Along with this dramatic evolution and growth comes a strong demand for experienced and specialized talent to move cruise line companies forward. More than ever, the cruise industry is a people-powered business, and enduring success will be enjoyed by cruise lines that prioritize hiring the right talent to ensure their ships operate efficiently and that passengers' full experiences are as satisfying and rewarding as promised.  
Goodwin Recruiting is an industry specialist with 24 years of talent recruiting expertise in the hospitality, travel, and tourism industries. Let us help you build a world-class cruise line team. Or, if you are a professional looking for a new opportunity, we can help you embark on the next journey in your career.