What Are the Strongest Human Resources Trends in 2023?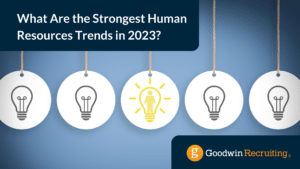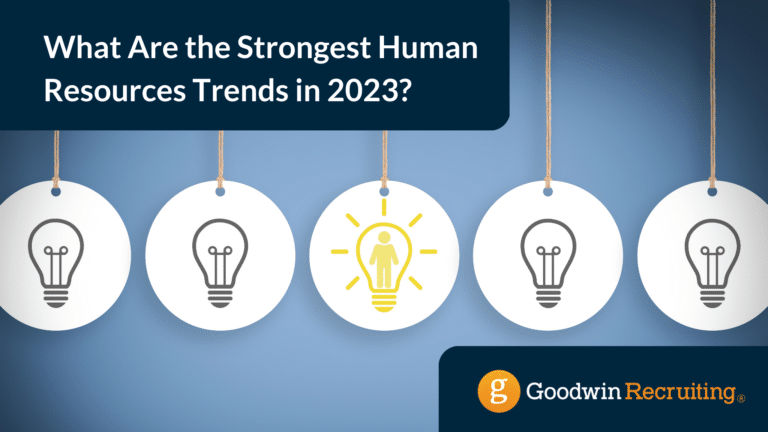 We've watched the world of human resource management change more in the last few years than in the previous 30. Some of the most significant trends can be attributed to generational shifts in the workforce and labor market, which gained a lot of momentum during and post-pandemic.  
There are vast opinions about where HR is headed in 2023, with compelling research to back them up. Which trends will become business as usual this year? As you will see, projections reach far and wide, from increased automation to new hiring strategies, but one HR initiative towers above the rest: Going forward, prioritizing the employee is non-negotiable in the big picture of organization and human resource management.   
Let's look at what some experts, researchers, HR professionals, and business leaders have to say about critical HR trends for 2023. 
Gartner weighs in on this year's top five HR priorities
Gartner, the global technological research and consulting firm, conducted an annual survey of more than 800 HR leaders to identify the top five HR priorities for 2023:  
Priority 1 – Leader and manager effectiveness:

As organizations and society evolve, so do the expectations for what leaders are responsible for, making their roles increasingly complex. Today's work environment requires leaders to be more authentic, empathetic, and adaptive. 

 

Priority 2 – Organizational design and change management

: Digital transformation, economic uncertainty, and political tensions have led to disruption and change, and change fatigue has ramifications. HR leaders must help employees navigate and mitigate the impact of change on their work and well-being. 

 

Priority 3 – Employee experience

: Many HR leaders do not believe their organizations offer compelling career paths. This was echoed in a recent Gartner survey on employee career preferences. Just one in four employees voiced confidence about their career and three of four are looking for new roles. It is imperative that HR leaders create best-fit careers. 

 

Priority 4 – Recruiting

: Half of the organizations surveyed expect the competition for talent to increase, with many saying their sourcing strategies are insufficient for finding the skills they need. Recruiting leaders must reprioritize recruiting strategies to align with current business needs.

 

Priority 5 – The future of work

: The

future of work

remains synonymous with a remote and hybrid workforce, but this is only part of the equation. Workforce planning – anticipating future talent needs – is at the epicenter of a future of work strategy. 

 

 
HR Exchange Network shines a light on 2023's top 10 HR trends
We want to share the following individual perspectives from HR and business leaders because they characterize a large body of research data on current HR developments. These top 10 HR trends are shared by HR Exchange Network, a trusted online news source for more than 270,000 human resources professionals and thought leaders:  
Bring it with gamification

: Gamification involves the use of game-like elements in non-game contexts, such as using points, badges, and leaderboards to encourage employees to achieve their goals, and pick up new skills or knowledge. 

 

Become the great communicator

: A big question for leaders is what they can do about staff pay in response to inflation, utility prices, and potential recessions. For those that can't raise salaries, benefits are important; however, employers may not need to add new benefits, but rather communicate better about existing ones.

 

Meet in the metaverse

: According to 

Gartner

, 25% of people will spend at least one hour daily in the metaverse by 2026. Some initiatives, such as virtual events, employee onboarding, career fairs, and meetings, will be launched by large companies in 2023 to reimagine a creative, collaborative, and productive world without being restricted by physical conventions. 

 

Put out the fire to end burnout

: Employee wellness is one factor that applicants prioritize when looking for a job. If you want to hire quality talent, you must attract them with quality compensation, which is why wellness programs that prioritize health, happiness, and contentment are growing. 

 

Get your people to stay

: Companies are recognizing that it is more cost-effective to invest in talent retention than to constantly recruit and train new people. Strategies include employee development and engagement programs, as well as creating a positive working environment and competitive employee benefits packages.

 

Make it the year of flexibility

: One leader's opinion reflects a large trend focused on creating policies and procedures that make it easy for remote work and hybrid work employees to perform well and ensure that communication and collaboration tools are up to date so that everyone can stay connected. 

 

Invest in self-care

: To address the burnout dilemma caused by workplace stress and financial insecurity, HR must first address its own stresses and mental health by putting on their own oxygen masks first, and then take a more proactive approach to resilience and well-being with an employee welfare strategy that gives priority to financial, physical, and mental well-being. 

 

Promote from within

: Companies are investing in people, reskilling and upskilling employees to prepare them for more extensive and technical roles and better meet employee expectations. Doing so promotes internal mobility, allows employees to progress while building team growth and professional satisfaction, improves employee well-being, and makes organizations more successful. 

 

Be more transparent about pay

: Keeping pay behind closed doors is going to become increasingly difficult, but there are upsides to doing it. Becoming more transparent increases equitability for employees, promotes employee buy-in, makes the recruiting process more efficient, and attracts more talent within designated pay ranges.

 

Rely more on advanced technology

: Experts project that the majority of HR departments will start relying on

algorithmic HR

, an artificial intelligence (AI) approach to decision-making in HR management processes. With the vast incorporation of AI, associated metrics, and people analytics into HR functions, such as hiring and firing, growing the candidate pool, and facilitating employee engagement in the workplace, HR technology is the boost today's companies need.

 
Greater focus on diversity, equity, and inclusion (DEI)
Not to be outpaced by any other significant development in the world of HR is "a much-needed overhaul of the way businesses address representation and inclusion in the workplace." Study after study reveals that organizations with diverse, inclusive workforces are far more productive and profitable than less diverse organizations, and have a much larger talent pool for onboarding new employees. DEI will continue moving toward critical mass throughout 2023 with refined employee relations programs and new hiring strategies.  
Indeed, this is not so much a trend as an imperative that, to be effective, must be embraced by a company's leadership. What's needed is a holistic and intentional approach designed to elevate employee awareness, attract top talent, and build an inclusive internal company culture where people want to work – and stay. Check out these six examples of diverse and inclusive companies.  
Recruiters are helping firms meet the moment
Goodwin Recruiting is an agent of change in today's talent acquisition and career-building landscape. We are helping today's HR teams, CHROs, and other executives, and hiring managers find right-fit talent for essential roles and ensuring our candidates land ideally suited jobs where they can make a difference. Our values, integrity, and decades-long focus on helping businesses and professionals succeed are at the core of everything we do.  
Contact us today to find the top talent you need – or your next career opportunity with a leading employer. Our expert recruiters are ready to help.