Virtual Happy Hour – Wine Not?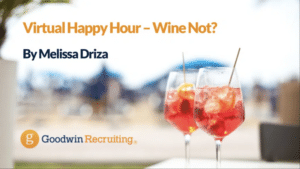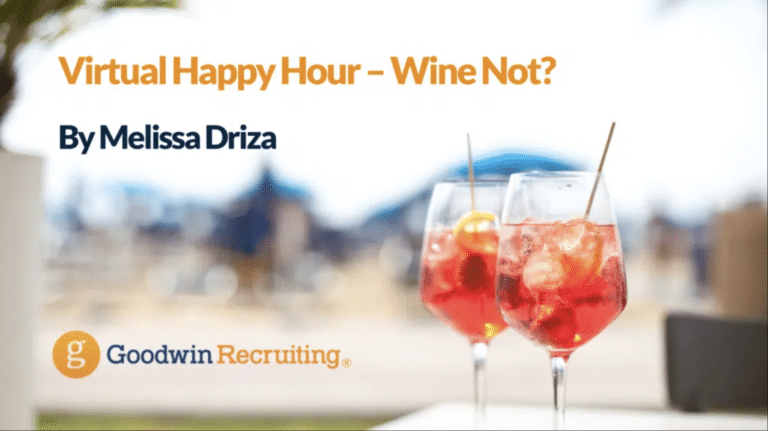 I look forward to every other "Thirsty Thursday" when my calendar reminds me it's time to wrap up the work day and join our Zoom virtual happy hour (or hours on some occasions). It's just a small group of four of us who started our training and talent recruiting careers at Goodwin Recruiting at the same time. We wanted to stay connected after we launched our businesses. These virtual events on Zoom are perfect for that and the rewards have been big.  
None of us really knew the value it would bring to us professionally and personally when we decided to grab a glass of wine and catch up every couple of weeks. We get deals done together, share technical tips, support each other by listening and collaborating, and of course, we get to meet and regularly see each other's four-legged friends.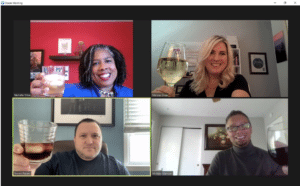 I hope this article inspires you to start your own virtual happy hours! Here's how having a biweekly happy hour and facetime video chats with colleagues has been beneficial for the success of my business – and theirs!  
Distance is never a barrier to virtual events
Our little group logs on to Zoom from Illinois, New York, Texas, and Florida, and two of us have been able to connect in person over the past year. These virtual happy hours are just one of the amazing perks of being a recruiter and working from anywhere that has an internet connection! And because we are busy professionals, virtual events make it possible and convenient for us to gather for our highly anticipated video calls.  
We learn from each other
Before I became a talent recruiter, my professional world was the hospitality industry, where I was surrounded in person by my team members, co-workers, and guests each day. I think I can speak for my fellow recruiters who I trained with that Zooming from your home office and traveling to visit clients and candidates across the country was a whole different lifestyle.  
At first, it took some time to adjust and our 'bubble' has been a great space for us to be open, learn about ourselves, and gain invaluable perspectives from each other. We have no agenda. We are good listeners and this makes us great recruiters. We are a diverse group of folks and appreciate the different points of view from our individual lenses through which we experience things. Virtual team building is just as effective as any in-person exercise. 
We all have our little foibles and fears to overcome as humans and the opportunity to collaborate has taught me even more about myself. These exchanges have increased my potential and made me more efficient (I tend to overthink things). Listening to my partners share strategies on how they tackle their days led me to some interesting research on Pareto's 80/20 rule, which states that 80% of the results come from just 20% of the action. By applying this principle, I've gained more time back in my days.  
Healthy competition fuels our productivity
Our founder at Goodwin Recruiting, Eric Goodwin, has a saying that stays with me: "If you're not growing on the vine, you're dying on the vine."  
So true! Talent recruiting is a competitive world and it's all about nurturing relationships with our clients and our candidates to make smart matches and move businesses and careers forward in a positive direction. Taking time to network with each other and having healthy competition has inspired me to do my best and is crucial to a thriving business. We have also become increasingly inquisitive with one another in wanting to know details ("How did you do it?!").  
Steven Fusaro set the bar for our group when he made Senior Recruiter in just over four months! His drive and accomplishment drove all of us to push harder and level up to our own senior status. Nichelle Ritter landed a HUGE nationwide client. Michael Markson signed eight fee agreements in one month – a Goodwin record. And yours truly (me!) closed $72k in sales in a single month this past summer. Yowza! Our group is awesome!  
Transparent communication keeps us focused
As mentioned above, I came from a hospitality work environment and feedback was the breakfast of champions. We had lots of open and transparent conversations and we did it the old-fashioned way, in person. My colleagues were likeminded: We all wanted to constantly grow, improve, and become more efficient. I was a little nervous when I started my new career with Goodwin. Working remotely, how would I be able to fill my cup again in that sense? Our virtual happy hours provided the answer.  
I've always believed that real friends and colleagues care enough to be honest and tell it like it is. Whether it's "You have spinach in your teeth," or "Get to the point already and stop rambling," (I'm known to go down a rabbit hole on occasion) – I want them to tell me, and they do! Our group shares situations we encounter, or are about to encounter, and we role play or ask for advice on how another would have handled it. We ask questions, such as, "Could I have phrased that another way or added information that might have changed the desired outcome?" Again, like any good team building activities, sharing open and honest perspectives helps us grow.  
We work hard and have fun 
I think it was Groucho Marx who said if you are not having fun, you are doing something wrong. I agree, and our virtual happy hour events have definitely been fun. Some of my most favorite virtual events where I really decompress are when we get on topics like, "If money were no object, what is your dream destination to retire?" Michael would be down under in Australia. Nichelle would be chilling in Spain. Steven would be in Italy because, of course, the first thing we all think about in Italy is amazing food. As for me, I'd head to France – hello champagne!  
Recently, we shared ideas for our client and candidate holiday cards and gifts. We salivated over Steven's collection of bourbon creams – which, in case you didn't know, go delightfully well on top of whipped cream and pumpkin pie! Who knows – maybe one day we will do a game of trivia on happy hour night, or a favorite secret swear-by recipe swap. Whatever we do, it's just nice to continue gathering, unwinding, and supporting each other. I think we can all say cheers to that!  
Here are some of our partners' happy hour quotes…    
"So, our first virtual happy hour was September 23, 2021, and we're still going strong! Sometimes we get so caught up and busy, it's nice to take a minute to raise a glass with friends, share what we've been up to, and get honest feedback in a safe space. It helps me to remember that even though I work from home, I am not isolated. Our happy hours always come at the perfect time, and I look forward to the day when we can raise a glass together in person!" – Nichelle Ritter, Dallas, Texas   

"I feel like we're peers in the truest sense. Because we all trained at the same time and were all pretty clueless in the beginning, we've all grown into this job at the same pace. We all discovered new things and made mistakes together. And because of that, we're not hesitant, shy, or embarrassed to ask each other anything. Training is a lot to absorb and can be stressful, challenging, and sometimes make you feel like there's no way you can do this. There's a familial type of bond that you have with people you've shared so much with. To not embrace that connection and let it help you grow would be foolish." — Steven Fusaro, Long Island, New York   

"Almost nothing has been as valuable to my career growth as this biweekly meeting with my friends and colleagues. Having all started in the same class, they are exactly where I am in my career. This has been an amazing place to learn, grow, broker deals, and sometimes just vent for a few minutes in a safe space where everyone around you just gets it. Other than Steven Fusaro's never-ending quest for the perfect Zoom background, I have nothing bad to say about it." — Michael Markson, Peoria, Illinois   
Start your own happy hour, a career in talent recruiting – or both!  
This article barely scratches the surface of what collaborating with colleagues can do for your career and life in general. You do can it the good old-fashioned in-person way or virtually like we do. And whether you break bread together over wine, cocktails, mocktails (non-alcoholic drinks), or some other libation, these events are great icebreakers! Start learning and growing together!
And if being your own boss, running your own business, and unlimited earning potential are appealing to you, consider becoming a Goodwin Recruiting Partner. This is a great company and one of Forbes' best executive and professional recruiting firms in America.