Veterinarian Jobs Are Abundant Across the Pet Healthcare Market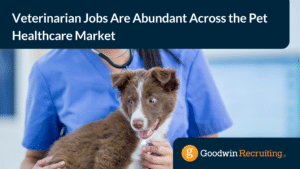 Becoming a licensed veterinarian is a monumental achievement. It's an even more substantial feat for practitioners who specialize and become board-certified. Most choose this profession out of deep passion and compassion for animals, animal health, animal welfare, and associated disciplines – but pragmatism is equally top of mind. Rarely will someone invest this much time, money, and academic fortitude into a veterinary career path without the promise of job security and financial reward.  
Job security for a Doctor of Veterinary Medicine (DVM) is as sound as ever and the field is brimming with new developments that are highly appealing to veterinary job candidates. Open positions are abundant for both large and small animal veterinarians, veterinary technicians/technologists and nurses, lab technicians, and many other specialists, such as veterinary pathologists and those who work in the animal pharmaceutical industry, the pet health insurance industry, animal reproduction, nutrition, radiology, wildlife and exotic animal care, and many other disciplines.  
Major industry growth and positive changes are afoot
Fortunately, for veterinarians of all types and specialties, jobs will grow by 19% between 2021 and 2031, according to the September 2022 U.S. Bureau of Labor Statistics (BLS) Occupational Outlook Handbook – a growth rate much faster than the average for all occupations. About 4,800 job openings for veterinarians are projected on average each year over the noted decade.  
Veterinarians are in full command of today's competitive hiring market and are enjoying the emergence of unique job opportunities and attractive talent recruitment and acquisition strategies. Employers are offering more perks, higher wages, sign-on bonuses, and even stock options to attract talent. The amount of paid time off (PTO) is also growing, and the workweek for full-time vets is trending from five to four days a week. Employers are also offering financial assistance in continuing education and helping vets and staff earn industry certifications.  
From our vantage point as a leading U.S. talent recruiter, veterinarians and specialized animal hospital staff are fortunate candidates in one of the most lucrative hiring markets across all industries.  
What is driving pet industry growth?
A new report from Bloomberg Intelligence (BI) reveals that the pet industry is poised to swell from $320 billion today to almost $500 billion by 2030, boosted by a growing global pet population and the premiumization of pet food and services, including and especially healthcare.  
BI's report finds the United States positioned to remain the largest pet market, with sales approaching $200 billion by the end of the decade, driven by increases in spending on pet-related veterinary care, diagnostics, and pharmaceuticals that increase pet lifespans. Research shows that in the last four decades, people have increasingly been spending more on healthcare for pets in general, taking them to the vet more and bringing them to specialists. This has been a boon to the veterinary profession. 
The landscape of industry participants is evolving, too. After a long run of consolidations and acquisitions of veterinary clinics and emergency animal hospitals nationwide and worldwide, including the diversification of major pet industry companies entering the healthcare market, several start-up practices have appeared on the mergers and acquisitions scene, creating and expanding their networks while giving larger healthcare conglomerates a run for their money.  
Multiple animal health industry developments are creating innovative jobs for veterinarians:  
Advanced pet healthcare technologies

, combined with pets living longer lives, are driving demand for modern veterinary specialists. From new cancer treatments to regenerative medicine and better therapies and treatments for osteoarthritis, research and trials are continually under way and new technologies are already here that require veterinary professionals, researchers, and statisticians with cutting-edge knowledge and skills.

 

Mobile veterinary practices are in growing demand

, with pet owners paying a premium for these services. This business model is attractive to many practitioners, particularly recent graduates and older vets, with start-up costs lower compared to brick-and-mortar veterinary clinics and greater work-life balance, with the flexibility to control the number of daily appointments with pet owners. Mobile practices are also good for society, enabling veterinarians to bring critical large and small animal services to clients who are unable to travel great distances with their animals to traditional clinics. In addition to having vehicles that are fully equipped with exam rooms, surgical amenities, and lab equipment, mobile veterinarians build successful practices by providing a more personalized experience for pet owners and clients who own farm animals.

 

Remote veterinary services are expanding

, just like human healthcare services, helping clinics and vets bring telehealth services to clients for a more efficient experience. According to Jess Trimble, chief veterinary officer at Anipanion, "The technology will start to catch up, we'll have more veterinarians who are comfortable with it, and the platforms will be ready to support all those clinics." Trimble said new technology is available to improve telehealth sessions, such as AI facial recognition tools for cats that indicate if a cat is in pain, and new pet collars are capable of relaying vital signs, including temperature, pulse, and respiration.

 

Nutrition is center stage

. As mentioned, the premiumization of pet food is a driving factor behind massive U.S. pet industry growth. But what's driving the premiumization of pet food? Pet owners! People are extremely vigilant in how and what their pets are fed, wanting to provide the healthiest diets. This trend has expanded the already prominent role of board-certified

Veterinary Nutritionists

®, who work in vet schools, pet food and drug companies, government agencies, and private hospitals. Some run their own private practices. Nutrition has been a board-certified veterinary specialty for more than 30 years through the American College of Veterinary Nutrition, with nearly 100 Diplomates now in the United States. In fact, nutrition recently became the

American College of Veterinary Internal Medicine's (ACVIM) sixth specialty

, along with small animal internal medicine, large animal internal medicine, cardiology, neurology, and oncology.  

 
The shortage of veterinary professionals: How big is it?
Like many pet healthcare industry participants, Mars Veterinary Health sees that the industry is facing a chronic shortage of veterinary professionals. To understand the scope, they enlisted the help of a researcher to quantify the shortage as it relates to companion animal veterinarians, veterinary technicians, and veterinary specialists. Their study found that by 2030, based on expected needs, there will need to be about 41,000 additional veterinarians in the workforce; however, it's expected that there will be a shortage of about 15,000 vets. Mars and its family of veterinary practices are helping to tackle the shortage in several ways:  
Building a bigger talent pipeline and strengthening career pathways

 

Innovating care delivery to reach more pets

 

Doubling down on supporting the health and wellbeing of veterinary professionals

 

Investing in equity, inclusion, and diversity initiatives

 

Offering student debt relief to Associates 

 
If you're interested in exploring areas of the United States that are experiencing a veterinarian services shortage, the U.S. Department of Agriculture maintains a map showing veterinary services shortages in all U.S. states and territories.  
Looking for a great vet job? We can help!  
The present and future hold unprecedented promise and new opportunities for veterinarians and all animal care professionals in the fast-evolving field of veterinary care. Let us be your advocate in finding the right opportunity for you in veterinary medicine.