Vacation Time: What's the Magic Number of Days?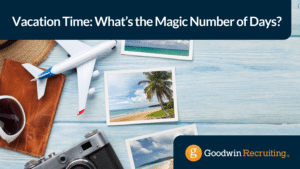 If you're considering or reassessing how much vacation time to offer employees and job candidates in today's highly competitive hiring market, you're not alone. Corporate America's administrative policies and employee benefits packages have dramatically evolved in recent years in response to the growing demands and expectations of today's workforce.  
Among today's workers and job candidates, the number of paid vacation days offered and other paid time off (PTO) are right up there with flexible working hours, remote or hybrid work options, career development programs, and other benefits and perks when deciding where they want to work. As a result, work-life balance and the role it plays in employee satisfaction, recruitment, and retention has captured the attention of U.S. employers, with many choosing to offer more paid vacation days.  
Is your organization competitive with your paid vacation days policy? Could your current practice be helping or hurting employee satisfaction or your talent recruitment and hiring efforts?  
Since the number of paid vacations days (as well as paid sick days) has become an influential factor in job choice for employees and job seekers, it's worth exploring to see where you stand in the spectrum. This article may help you arrive at the right, better, or best number. Goodwin Recruiting experts can give you insights into what other companies like yours are doing, based on your industry, location, and company size.  
A macro view of U.S. paid vacation policies
In March 2021, the U.S. Bureau of Labor Statistics reported the percentage of private industry workers in America with the number of annual paid vacation days by service requirement: 
While U.S. employers and lawmakers at large have a long way to go in creating work cultures that acknowledge the importance of sufficient paid time off for employees, there is a widespread counterculture among employees in America who, for various reasons, do not take advantage of paid vacation days as they should.  
According to a survey by Forbes, 55% of Americans reported having unused vacation days. Some employees feel guilty about taking time off. Others feel pressured by bosses and managers to either not take the vacation days they need and are entitled to, or they work when they do take time off. Whatever an employee's reason for avoiding vacation days, employers should take this into consideration in their paid vacation policies. Employees should not feel they can't step away and disconnect from work without negative internal or external pressures.  
On that last note, we did our own research: At Goodwin Recruiting, we polled our audience of HR professionals, recruiters, decision makers, and job candidates – not to see how much vacation time people have, but what they actually use. 
Results were interesting, with the majority (37%) of more than 840 survey respondents saying they take three weeks of vacation time each year…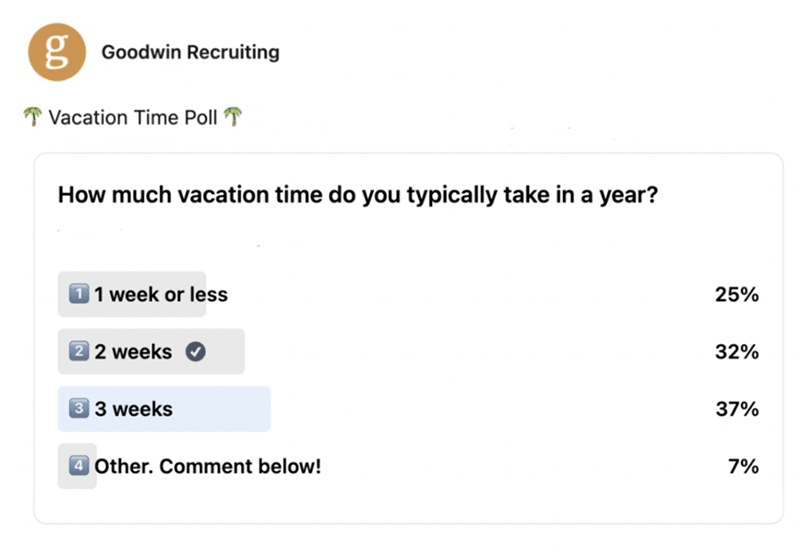 Knowing these results, if your vacation policy is sitting at just one or two weeks, it may be time to shift it up to become more attractive and competitive in the market. There are many well-known benefits in granting employees sufficient paid vacation time, including:    
Enhanced productivity, and personal and professional growth

: An 

Ernst & Young study

 showed that for every additional 10 hours of vacation time employees took, year-end performance improved 8%, and 

another study

 showed that using all vacation time increases an employee's chances of getting a promotion or a raise. Vacation time allows employees to travel and have new experiences, which increases their perspectives and helps them create new ideas for their organizations.

 

Less stress and improved mental and physical health

: The same Ernst & Young report above noted that a study released by the American Psychological Association concluded that vacations reduce stress by removing people from stressful activities and environments. When employees benefit mentally, physically, and spiritually from vacation time, employers benefit, too. 

 

Positive team morale

: By offering, promoting, and encouraging employees to fully use paid time off, employers see increased loyalty, positive job outlooks, and higher employee morale and motivation on the job. A more content and positive-minded workforce creates

better results for team members and their organizations

. 

 
Can there be too much of a good thing? 
On one hand, the United States of America is the world's only advanced economy that doesn't guarantee workers paid vacation days or paid holidays. Shocking as it is, 28 million Americans don't get either of these. This means employees can work for months or years with no breaks, lacking the work-life balance that is important for their physical and mental well-being.  
At the other end of the spectrum, some companies are extremely generous in their vacation policies. If this describes your policy and you're finding that excessive paid time off leads to negative impacts on the business or employee productivity, or if certain employees are out too often, placing an unfair workload on other team members, it may be time to adjust vacation days downward.  
There's a relatively new structure out there called Unlimited Paid Time Off or unlimited vacation time. If you're not familiar with it, check it out, because the pros and cons have similar implications for policies that are too generous.  
What's the magic number for your organization?
Business owners and HR professionals have a lot to consider in formalizing or updating paid vacation policies. For example, some paid time off practices have legal parameters, depending on where you operate. These laws vary by state.  
Your goal is to create the best paid vacation solution that offers enough time for your team members to stay productive while keeping everyone energized and ready to approach and tackle the tasks each day brings. 
Keep in mind that there are viable alternatives to changing the amount of time you give employees for paid vacations. For example, if your organization is unable to increase the number of paid vacation days for employees, all is not lost. There are many new and creative solutions today's companies are introducing to attract and retain people in a competitive hiring market.  
Get insights into your industry's vacation policies
Reach out to the experts at Goodwin Recruiting if you're interested in learning what similar companies may be offering in their geographic locations and what paid time off solution might work best for your company and team. We're here to support you with hiring advice and to find the right candidates for all your hiring needs.