Top 5 Ways to Attract the Best Talent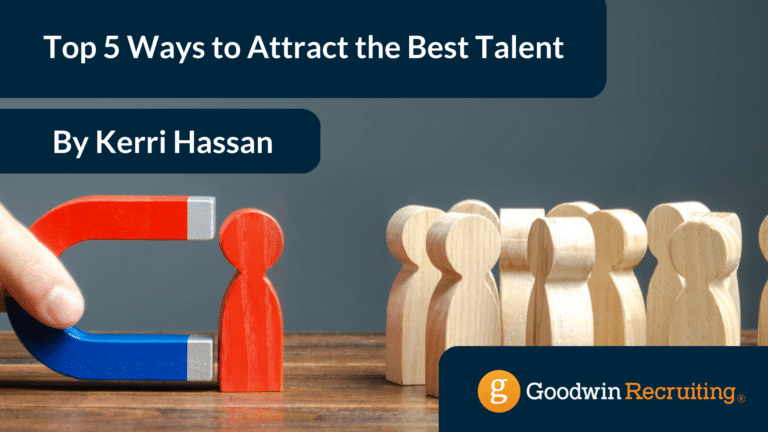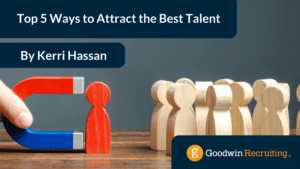 Is your company struggling to bring in top talent? If so, you're not alone. The hiring and job markets have been extremely competitive and may remain so for the foreseeable future. To experience solid success in talent acquisition, today's hiring managers and executives must differentiate themselves and their brands from their competitors.  
This is accomplished by boldly showcasing your attributes and strengths in job ads and postings, and making a compelling case for job candidates to choose what you offer to new and current team members. 
I am a DEI-certified senior recruiter with Goodwin Recruiting and would like to share some recruitment strategies that companies are using to turn the heads of the most talented job seekers. Here are my top five ways to attract exceptional talent and potential hires:   
1. Create an effective job description
Keep job descriptions clear, concise, and to the point so that job seekers can easily and quickly understand the responsibilities and requirements that your role encompasses. 
2. Promote what sets you and your roles apart
Does your organization utilize the latest and greatest technologies available to your industry? Is your team working on an exciting new project or initiative? Are you known for supporting professional development and career paths? In your job ads and through social media, advertise the interesting opportunities and activities in which job candidates will have the opportunity to perform as contributors in your new positions.  
3. Sell your perks, incentives, benefits, and company culture
Do you offer a competitive salary structure, a 401k contribution match, paid family leave, or 100% paid health, vision, and dental insurance? What about a flexible work schedule that supports work-life balance? And what team member perks and incentives do you offer? If your benefits package meets or ideally exceeds industry standards, be sure to market these offerings in your job postings. And remember that compensation and benefits aren't everything for many of today's job candidates. They also want to work for organizations that have a positive work environment and strong company values. Promote these to draw top talent to your brand and company culture. 
4. Deliver a great experience for job candidates
Respond promptly when candidates submit applications for your open roles. They want to know you received their application and what to expect next in your recruitment process. Selected candidates will want to know the details of your hiring process. The best practice is to communicate well and clearly with job seekers during every step of the interview process and make every effort to simplify and streamline your interview processes. Be aware that today's best candidates are actively interviewing and that expecting them to endure multiple rounds of interviews is both off-putting and challenging. To eliminate this issue, some companies create panels that combine multiple rounds of interviews into one day and they dedicate one-on-one interviews to more in-depth discovery with select candidates. 
5. Partner with an expert recruiter who knows your industry
When you work with a recruiter, you have access to select talent, as well as an advocate who promotes your brand to job candidates. Many of my clients keep the lines of communication open, always looking for top talent rather than reacting and scrambling to find great people for unexpected and time-sensitive job openings. Through me, they have a talent pipeline of active job seekers, and also passive job candidates who aren't looking but are willing to consider the right job offers. Find a recruiter. Start building a strong, trusting relationship. Educate them about your organization, your culture, and your talent acquisition goals. Doing this will pay off when you need it most.  
At Goodwin Recruiting, I specialize in sourcing manager to executive-level talent for marketing, finance, and luxury hospitality roles; however, I work with companies in all industries across the country to help them identify and attract exceptional employees. If you'd like to establish a relationship with a recruiter you can trust, contact me and let's start talking about how we can work together to build your dream team with the right talent!