Top 5 Things to Look for When Hiring a Cannabis Executive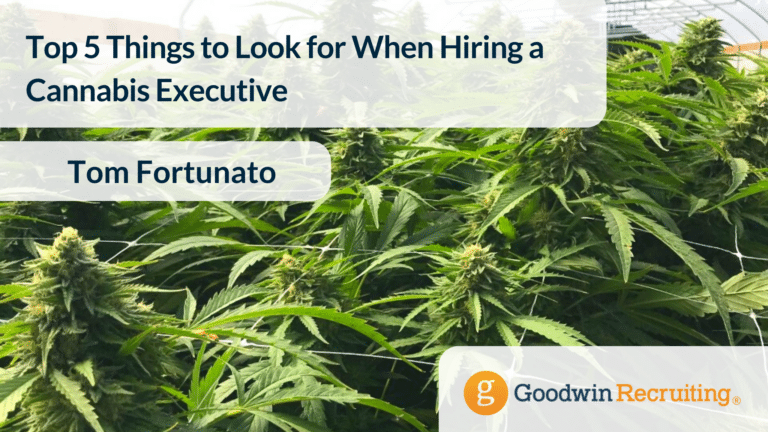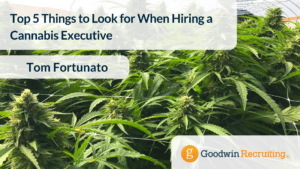 The cannabis business is an emerging marketplace that is going through a reshaping of the way business is conducted. This is based on a combination of dynamics, both internal and external, that need to be recognized and addressed in a company's general behavior.  
Internal examples of things driving change:  
More, bigger, and better competition

 

A genuine desire to improve and be better at what you do

 

Strategic planning that enables improvement 

 
External factors that are driving change:  
Old and remaining local government changes in perspective and direction

 

New laws and regulations

 

Market trends

 

Social media

 

Mother nature 

 
Building an effective executive team is essential  
Below are several variables that I believe are important in 2023 in terms of filling executive cannabis jobs and leading a company through disruption and opportunity. All of these are specific to hiring and the requirement to build a team of qualified leaders for cannabis industry jobs who are truly capable of managing a cannabis company in today's growing business segment. It's all about focus, attention to detail, and supporting teams and strategic planning efforts focused on improvement and growth.  
1. Proven leadership qualities and demonstrated success
It is important that executive job candidates in the cannabis space have successfully led teams at previous organizations. There are several reasons for this. First, leadership is about much more than just success. Whether an executive candidate is hired at an existing cannabis company or a startup, there are qualities that great leaders must possess and demonstrate every day to achieve and sustain success.  
As a talent recruiter for the cannabis industry, I thoroughly screen and interview candidates before presenting them to a client. When I vet candidates, I need to see evidence of consistency in performance, based on a plan and focused on continuous improvement. If a candidate's team improved, I want them to talk to me about it so I can gain an understanding of why or how the team improved. What changes did the candidate make to assist in those improvements? How specifically did they help the team and company prosper?  
In cannabis, people work in an environment that continuously changes. Some of the biggest challenges are when crops fail, state governments add new laws or change existing ones, and when industry partnerships fail or switch teams. Many of these challenges are out of an executive and company's control. This is why demonstrated leadership is a requirement for organizations to be consistent in performance, especially when they can't control all aspects of the business. No excuses! Experience and proven leadership qualities build confidence and belief and inspire teams to perform and excel in an evolving industry.  
2. Ability to deal with ambiguity 
The cannabis industry is full of ambiguity, or uncertainty, because this is relatively new territory. Cannabis products are still a Schedule 1 drug (substances or chemicals with no currently accepted medical use and a high potential for abuse). It is illegal in 11 states and has significant restrictions in 29 other states. So, cannabis industry leaders must be aware of the facts and understand what they can and cannot control. This is a challenging job for executives who need every detail nailed down. On the other hand, executives who thrive in the cannabis business are those who are flexible and can adapt, and who are involved, aware, and part of the activities of their teams, the business, and the marketplace.  
At least for now, ambiguity is part of this business and understanding it and remaining engaged and aware of all changes and developments provide the ability to consistently perform well.  
3. Knowledge and homework on the industry, verticals, and specifics of the role
It is important that executive job candidates have completed in-depth homework on the cannabis industry in general and taken deeper dives into verticals they're trying to join. My opinion used to be that companies should only hire people for executive roles who have some cannabis experience (emphasis on some). I changed my mind. Job descriptions are changing as we start to see larger, vertically integrated companies that are also major management services organizations (MSO). Executive candidates need clarity on the industry right now and as it grows, expands, and becomes more regulated.  
In other words, constant learning and more and different skill sets are becoming required. This, coupled with growing market segments for cannabis beyond flower touching (e.g., purpose-built software for POS, ERP, or logistics) requires different skills. Leadership candidates should be fully aware of the industry they are entering and the challenges they face. In cannabis job interviews, they must be prepared to answer questions about why they fit, the skills they possess, and the overall value they will provide a cannabis company and their teams. 
4. Real-life connections, relationships, and experience with people in the community
The cannabis industry community has always been open to new people joining and is very accommodating. It's one of today's few emerging working environments that allow people to change their lives, vocations, and career directions. Clarity and understanding of this community are important and so is a real desire among candidates to participate when joining cannabis companies.  
In my opinion, the best way to gain this knowledge and perspective is by knowing or engaging someone who has been through it or is engaged in it every day. It is equally important for cannabis job candidates to reject the rumor of a green rush or that this is the next get-rich-quick scheme. Cannabis is hard work and one of today's most challenging business environments – and success is earned. Knowing people in the community helps newcomers develop the right mindset and set realistic expectations. In a nutshell, exposure to real-life experience tempers exuberance and enthusiasm.  
5. A desire to be part of the community, be fully engaged, and give back
Some of the most enjoyable aspects of the cannabis business are also the industry's most challenging. Since this is an evolving community of cannabis companies and professionals, it needs to be thought of as such. Candidates  who do well embrace learning and are open to different ideas and approaches. So much is learned every day about the cannabis plant and its ability to heal or provide relief, as well as how to manage a cannabis company or dispensary, build company culture, work with growers, navigate the supply chain, and maintain a staff of top talent . It is unlike any other industry in which I have been involved.  
A genuine desire to be part of this community, participating in continual discovery, and wanting to contribute to the industry's success are essential leadership traits. Many of today's existing cannabis companies are likely a mixed bag of skill sets, experience, and success. This is not true for new and purpose-built cannabis companies. The new generation of leaders must have a sincere desire to teach, educate, and mentor people, increase skill sets in themselves and others, improve processes, and find different and better ways of doing things. Hiring companies are encouraged to look for candidates with the ability to articulate what and who they can help as part of their desire to participate in the company and the industry. 
Use these tips and our expertise to find ideal, broad-minded candidates  
The right leadership ensures cannabis organizations gain solid footing and maximum growth opportunities, and we can help with your new hires. Goodwin Recruiting serves three major purposes in this industry. First, it is critical that an executive search firm know this business. Our recruiters are cannabis industry experts. This is how we connect companies with the right people for executive roles, and why we maintain a thriving, growing, national network of professionals with the skills, experience, and desire to propel the industry forward.  
Contact us today to find your cannabis executive candidates – or your next job opportunity in this exciting market.