Tips for Attracting and Retaining Manufacturing Industry Talent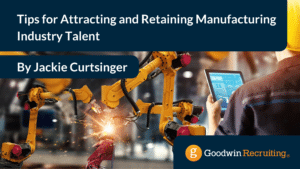 Today's manufacturing companies are acutely aware of the ongoing shortage of talented workers with the right skills for their open jobs. This persistent reality, particularly surrounding skills gaps, leaves companies scrambling to fill crucial manufacturing jobs. Vacant positions that are key to sustaining business and supply chain continuity wreak havoc on production timelines, compromise quality, delay delivery, and negatively impact sales performance.  
Yet even in these challenging times, some manufacturers are overcoming talent shortages and easily onboarding new hires, and they're making it happen in an efficient and timely manner. How are they doing it? Here are answers that are working in the industry.  
First things first: Offer competitive wages and benefits
To successfully attract and retain skilled workers today, it has become imperative to ensure your company offers wages and company benefits that are on par with or more competitive than those offered by other manufacturers. This applies to both existing team members and job seekers.  
In fact, paying higher wages can actually increase your profits. A study by Harvard Business School showed that companies that paid higher wages experienced lower turnover rates and higher productivity levels. By investing in your workforce, you create a motivated team that delivers superior results, not only for your company but also for your customers. 
When you structure wages and benefits to become more competitive, be sure to share these attributes in your job postings, on job boards, and on your social media platforms. Let your attractive offerings be known and you will experience two things. You will receive higher and faster response rates to your job postings and you will get more responses from top-tier candidates.  
Next up: Invest in training and development
Proactive manufacturers recognize the need to invest in job training, retraining, and upskilling existing and new team members. They're heeding the call with newly instituted training programs that are solid investments in their present and future operations and in attracting top talent.  
As a result, their team members are experiencing more attractive work environments and company cultures. Frontline workers are more productive. Quality control is improving. Succession planning is becoming easier through leadership development programs. And the companies are experiencing higher rates of talent retention. 
A recent Manufacturing Institute study found that 75% of respondents said upskilling workers helped to improve productivity, promotion opportunities, and morale.  
These factors contribute to higher revenue, so why not give your team members the tools they need to succeed in your industry and company? By nurturing their skills and advancement, you'll not only improve their performance but also foster loyalty and dedication. Always remember the power of a positive work environment. Let team members know they're valued and appreciated. A little recognition goes a long way in boosting morale and keeping teams motivated.  
Secret weapon: Team up with an industry recruiter
Talent acquisition is easier when you partner with an industry expert. Goodwin Recruiting understands the hiring landscape and the types of skills and talent manufacturers need to succeed in today's technology-driven business environment.  
Expand your talent pool today: We maintain a nationwide manufacturing talent pipeline and our recruitment experts are decentralized from coast-to-coast as well. We can help you find ideal candidates for your open positions and assist you in creating a customized recruiting strategy that aligns with your unique hiring requirements.  
Leverage our expertise to find top-notch candidates who are great fits for your jobs and culture. Streamline your recruitment process and hiring process. And take your team and company performance to the next level. Together, we'll find the talent that will drive your manufacturing success.