The Top 3 Skills Employers Want in Today's Job Candidates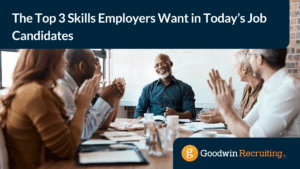 Hard skills, soft skills, leadership skills, transferable skills, project management skills, self-management skills…there are many types of proficiencies that can be of specific interest to an employer when you apply for a job, depending on the nature of the position. Is there some overlap in those categories? Sure, but for the most part, they are distinct groups of professional and personal attributes.  
Searching for your ideal job or planning your next career move involves yet another skill set that can have a huge impact on your success in landing a job. This key competency is your ability to strategically market your well-defined capabilities to a prospective employer – through your resume, cover letters, and job interviews. More on this later!  
For now, let's assume you possess the required work experience, knowledge, education, or other qualifications for a new job opportunity. Beyond those, what are the top skills that hiring companies are looking for in today's job seekers? Of course, these are going to vary by industry and job, but there are some mission-critical capabilities, and for a growing number of companies, they are non-negotiable.  
Soft skills rule the day
No one operates in a silo in today's rapidly changing business environment. Companies are downsizing headcounts, operating as lean as possible, and every employee's ability to excel matters to the whole. Regardless of our roles, we are all interconnected with other team members. And as the saying goes, our collective performance is only as strong as our weakest link.  
Leading companies know that building great teams requires more than hiring people with the right job knowledge and skills. What's equally important to them is hiring individuals with the ability to effectively collaborate with co-workers and colleagues. These traits are widely recognized as soft skills. Many experts also refer to them as emotional intelligence. While they represent a wide range of characteristics and attributes, we're going to focus on what we believe are the top three.  
Communication Skills

: Effective communication is essential in today's fast-paced workplaces. Employers are looking for job candidates who prioritize active listening, clearly articulate their thoughts and ideas, and demonstrate the ability to convey information in a concise and compelling manner. Strong written and verbal communication skills are the stuff of productive collaboration, persuasion, decision-making, and positive relationships with co-workers, colleagues, business partners, and especially customers.

 

 

Critical Thinking and Problem-Solving Skills

: Employers are placing a premium on job candidates who have the mindset and ability to grasp and analyze complex situations, think on their feet, come up with solutions to challenges, and devise ways to seize opportunities. Critical thinking involves objectively assessing information, considering a situation from multiple perspectives, and arriving at sound decisions. Problem-solving involves the ability to identify problems and issues, collect and evaluate surrounding information, and then offer viable ideas to create better ways of doing things. Companies focused on continuous improvement – and that's every smart company – must have critical thinkers and problem solvers on their teams to succeed and grow. They know it, and it shows in their hiring practices.

 

Adaptability and Flexibility

: These traits are all about resilience and open-mindedness in today's dynamic work environments, where operating procedures, productivity tools, and company objectives can change on a dime. Gone are the days of "I'm not doing that because it's not in my job description." Companies are onboarding candidates who are ready, willing, and able to adapt to frequent change and embrace new technologies, processes, and ever-changing job responsibilities. A flexible, broad-minded approach to the job allows professionals on a career track to navigate shifting company priorities, manage unexpected situations, and quickly learn new skills in the face of evolving business needs. It's the way of the future!

 
The complete bridge to jobs in leadership 
We mentioned earlier the many types of skills that are scrutinized by employers when hiring new team members – and how there is some overlap. Here is one example.  
Soft skills and leadership skills are synonymous. Soft skills are essential for anyone in a position of leadership, at least for those who hope to succeed in building teams and company success, and for those who aspire to become leaders at any level of an organization. Soft skills are right up there with the most critical skills of decisiveness, integrity, creativity, innovation, negotiation, conflict management, accountability, and other leadership traits. One begets the other!  
How to acquire or hone these in-demand skills
Yes, soft skills can be learned! If you'd like to more fully explore them, check out this article. It goes into detail on the many attributes they include, how important they are in today's hiring market and business world, and how you can improve yours. Here are the CliffsNotes to spark your interest in learning how to do it:  
Be open to feedback

 

Communicate often

 

Emphasize teamwork

 

Build positive relationships

 

Get outside of your comfort zone

 

Get ready to learn

 

Adapt to workplace changes

 

Observe others

 

Work through conflict

 

Take on a leadership role

 

Arrive at work on time 

 
Let an expert help you market your strengths
We also mentioned earlier how important it is to know how to market yourself to a prospective employer. The last thing you want is to miss out on a great opportunity in the job market due to a resume that doesn't do you justice or a muddled performance during a job interview. Let us help you strengthen your pitch!  
Goodwin Recruiting is a leading talent recruiter that prioritizes career development and success for our job candidates. We know that properly marketing all your relevant skills and experience to hiring managers can be a complex undertaking.  
Meet our expert talent recruiters and reach out for seasoned objectivity and guidance on how to position yourself during your job search, including in your resume, cover letters, and job interviews. We're located nationwide and so are excellent job opportunities we offer that may be perfect for your next career move!