The Many Benefits of Hiring a Private Chef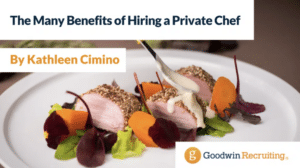 When you're busy with work, family, commitments, and life in general, the thought of having someone prepare all of your meals probably never occurs to you – except maybe in your dreams. Am I right? For many of us, hiring a private chef (also known as a personal chef) has never been a traditional train of thought or way of living. Dining out and carry-out are often the answer due to lack of time to prepare healthy meals. 
Today, however, I think I can speak on behalf of professionals everywhere in saying that we would welcome the opportunity with open arms to sit back and have high-quality, delicious food prepped and ready in our own homes. In addition to saving all kinds of time, we might even spend less money doing it. 
Set your reservations aside!
Stay with me here because this could change your life in big ways. Whether you're a successful businessperson, professional athlete, celebrity, doctor, lawyer, or a member of any other demanding and time-consuming profession, hiring a private chef can be a much-needed solution to enhance your work life, lifestyle, work-life balance, and family and household routines.  
Just look at some of the benefits of hiring a private chef. You'll see that they reach beyond the kitchen and outside the box in improving your life in ways that may not be obvious.   
1. Create a solid, reliable, and customized routine  
Meals are ready when they're needed.

 

You can arrange for breakfast, lunch, and dinner (and dinner parties and special occasions, too).

 

Never miss meals and the sustenance you need to maintain top performance in every area of your life.

 
2. Hit your goals, no matter what they are  
Your private chef makes it easier for you to reach health and fitness goals.

 

You can fit more priorities into your workday with the extra time you gain.

 

Your lifestyle is simplified so that you can finally prioritize your personal goals. 

 
3. Time is a commodity. Make the most of it by focusing on your dynamic schedule.  
Increase quality time with family and friends by sharing great, healthy meals together. Many private chefs also take care of clean up.

 

Traveling? No problem! In addition to preparing meals in your household, your private chef can go with you – on your vacation, a yacht, a camping trip, and even short or extended business trips where your accommodations have kitchenettes.

 

Give more of yourself and your time to activities outside of work.

 
4. Take more daily decisions off your plate  
No more 'what's for dinner' questions! Plus, you can have a whole new dining experience.

 

Enjoy abundantly more menu options instead of the same weekly meals on rotation.

 

Give your chef some thoughts and let them do the rest, from meal planning to grocery shopping, prepping, chopping, and cooking and baking.

 
5. Prioritize whole-body nutrition  
Proper nutrition should never be sacrificed, but it happens a lot because busy professionals simply lack the time. Your private chef sustains this priority by customizing meals based on your dietary needs and preferences and consistently prepares the wholesome meals you need to stay healthy and fit.

 

Your individual tastes and dietary restrictions or goals drive your chef's creation of uniquely customized menus.  

 
Invite an expert into your kitchen
If you're looking for a skilled private chef – or for a new opportunity as a private chef – reach out to our experienced recruiting team today. Goodwin Recruiting has been matching the right talent with the right opportunities since 1999 – and nothing makes us happier than enhancing our clients' lives and businesses and advancing our candidates' careers. We look forward to hearing from you!