September is National Suicide Prevention Month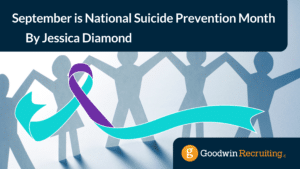 Pressure  
We are living in a world where there is constant pressure from every angle. Pressure to work harder, work less, be a better parent/spouse/friend, be thinner, eat healthier, exercise more, or be more confident in who you are as you are. We feel it at work, at home, in our community, from social media, in sports, in the movies, television, podcasts, and news that we consume, and the list goes on and on. With continued advances in technology, coupled with the ability to have information and visibility of other people's lives at our fingertips in an ever-increasing way, there is no alleviation of this pressure in sight. It is likely to only grow.
Many people can filter through all this messaging to identify what matters most to them and act accordingly. It may be challenging and cause undue worry, but most people can balance it.
Imagine not having something in your toolkit to handle the pressure. Being challenged is a part of life yet not everyone has the tools to deal with adversity through their nature, nurture, or their chemical make-up. Sometimes those without this ability are people close to us and we don't even realize it and their mental health is suffering on a daily basis in ways we cannot understand.
Staggering Statistics
Suicide is the 11th leading cause of death in the United States and affects various demographics differently with middle aged-white men having the highest rate of suicide. As recently as February 2023, US News and World Report shared that minorities have the highest increase in suicide rates according to research from the US Centers for Disease Control and Prevention, specifically with younger minorities. The most staggering statistic from 2022 conducted by The Harris Poll states that 94% of adults believe that suicide can be prevented at least sometimes and that 75% say that most people who die by suicide usually show some signs beforehand.
Suicide Prevention Efforts
The CDC put together a Resource Guide to help communities and companies do their part in preventing suicide, outlining the following strategies and approaches:
Strengthen economic supports
Create protective environments
Improve access and delivery of suicide care
Promote healthy connections
Teach coping and problem-solving skills
Identify and support people at risk
Lessen harms and prevent future risk
With September being Suicide Prevention Month, recognizing these statistics and considering the way our lives have been affected by suicide should remind us all how important it is to support those we come into contact with. A simple phone call to a loved one, a smile, a reminder of how much you appreciate someone… take the time. Before it's too late and there isn't time left.
If you or someone you know is at risk of suicide or having suicidal thoughts, call 988 or text TALK to 741741. The 988 Suicide & Crisis Lifeline (formerly known as the National Suicide Prevention Lifeline) provides free and confidential emotional support to people in suicidal crisis or emotional distress 24 hours a day, 7 days a week, across the United States. The Lifeline is comprised of a national network of over 200 local crisis centers, combining custom local care and resources with national standards and best practices. Learn more at 988lifeline.org.