Second Chance Hiring Is Good for Business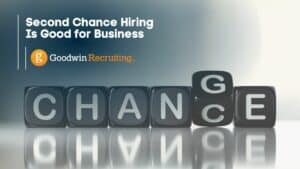 Second Chance Hiring, also called 2nd Chance Hiring and Fair Chance Hiring, is a growing initiative among companies, other organizations, the White House, and U.S. Congress to promote the hiring of individuals with criminal records. These individuals face steep barriers in trying to get jobs, despite their significant contributions to the workforce, commensurate skills and training, employer loyalty, and documented low turnover rates.  
Second Chance Hiring allows previously incarcerated people the opportunity to get a fresh start and prove they can be dedicated, hard-working employees who add value to their teams and companies.  
The benefits of Second Chance Hiring
Second Chance employment practices have proven to be a beneficial talent strategy for employers across industries. Research from the Society for Human Resource Management (SHRM) Foundation reveals that 85% of human resource (HR) professionals and 81% of business leaders report that individuals with criminal records perform the same as, or better than, employees without criminal records. Further, 82% of managers and 67% of HR professionals report that the value Second Chance employees bring to their organization is as high as, or higher than, that of workers without records.  
If you're considering Second Chance Hiring for your business, here are more major benefits to propel you into a fast-growing camp of forward-thinking companies:    
Expanded talent pool

: You'll have access to many additional candidates who might have the perfect qualifications and skills for your job opening. 

 

Dedicated and loyal employees

: In being willing to hire people with a criminal record, you may find your generosity reciprocated by those you hire. Data shows that

Second Chance hires tend to stay longer at their jobs than employees with no criminal record

while being just as – if not more – productive. As an example, after completing a five-year study with nearly 500 hires with criminal records, the Johns Hopkins Hospital System found that in comparison with traditional hires,

those with criminal records experienced lower turnover

in the first 40 months.

 

Increased creativity:

Studies have shown that having

a more diverse group of employees leads to higher levels of creativity

and innovation. 

 

Lower recruitment costs and faster time to hire:

By considering qualified candidates who may have difficulty finding employment elsewhere, employers reduce recruitment and job advertising costs and fill job openings at a faster rate – both major benefits in today's competitive hiring market.

 

 

Desire for skills development and training:

Many individuals with criminal records are not only open but eager to take advantage of skills development and training opportunities. Corporations large and small are investing in their professional development to create more skilled and agile workforces.

 

 

Improved company image:

Second Chance Hiring benefits all parties. Employers enjoy productive and engaged employees and an improved public image by changing lives for the better in giving people a chance to rebuild their lives. Companies demonstrating this commitment to social responsibility enhance their reputation and attract socially conscious customers and talent.

 

 

Easier legal compliance:

Second Chance Hiring not only helps companies comply with employment laws, but it also goes a long way in mitigating bias in the hiring process. Most U.S. states, counties, and cities nationwide have what are known as

Ban-the-Box Laws

 that bar employers from asking about a job applicant's criminal history or arrest record on a job application, and more specifically, not until later in the hiring process. The laws ensure employers can evaluate a job applicant's qualifications first, without a criminal record influencing their consideration.

 

Tax benefits and incentives:

Many jurisdictions offer tax incentives or credits for employers who hire people with criminal records, providing financial advantages in this hiring initiative.  

 

Community engagement:

Second Chance Hiring is a way for companies to engage with and contribute to the community, including and especially through partnerships with other like-minded organizations and stakeholders.

 

 

A more inclusive workplace culture:

Embracing diversity, equity, and inclusion (DEI) through Second Chance Hiring creates a more inclusive company culture, leading to improved employee morale, more cohesive teams, and better performance.




"While DE&I is typically focused on factors like race, gender, disability status, military service, and the LGBTQIA+ communities, true inclusion requires us to go a step further to include those with a criminal background as well," says Michelle Cirocco, chief social responsibility officer for Televerde. Cirocco notes that "the U.S. Chamber of Commerce estimates that the country has lost up to $87B in GDP due to excluding job seekers impacted by incarceration. It's no longer about individual companies or industries; the U.S. economy can't afford to exclude formerly incarcerated workers." 

Nan Gibson, executive director of the JPMorgan Chase PolicyCenter, says, "We have too many people on the sidelines because they have some type of criminal record that is keeping them from being able to get their foot in the door for a job, find stable housing, or even get an education that will help them get a better job. We've changed our own business practices to make hiring people with criminal records part of our inclusive hiring strategy."   
Fair Chance Hiring is a growing movement 
Businesses of all sizes across every industry are partnering with other organizations, their communities, and the U.S. government to implement hiring programs inclusive of people with previous convictions – and the movement is expanding.   
Success stories in Second Chance Hiring
There are countless real-world examples of the successes and benefits that companies – and job candidates – have experienced through Second Chance Hiring. Here are some that stand out to us:  
1. Piper Kerman: In a recent U.S. Chamber of Commerce Foundation Special Report, Piper, a best-selling author, shared her compelling story…

"Like millions of Americans, I have a criminal record. I served 13 months in federal prison for a drug offense and was released in 2005," she said. "While I was locked up, Dan Hoffman, a friend who headed a technology company that delivered VoIP phone service, would visit me and he would say, 'Hurry up and get out of here, the marketing department needs you!' A week after I was released from prison, Dan and his executive team – and all my coworkers – gave me a second chance. We have all needed second chances in our lives. We all know what it feels like when we need someone to see us for who we really are and not punish us indefinitely for our bad decisions. We need to create pathways back to being members in good standing in every community. Innovative businesses can make this progress happen on a much larger scale so that individuals, companies, and our American economy can reach their full potential. We simply must find the will to make that opportunity a reality for all people after they have done their time." 
2. The Bojangles restaurant chain employs more than 70 people through its partnership with the Charlotte, North Carolina-based Center for Community Transitions (CCT). Since Bojangles' initiative began in 2019, the company reports a 75% lower turnover rate among Second Chance employees than the company average, with 14% of these employees having been promoted into management positions. 
3. Jabarre Jarrett: Two months after he was released from prison, Jabarre entered the Persevere program that trains students for careers in software development, in which graduates possess indispensable hard skills for the jobs of the future. In his first six months, he earned a front-end developer certification and in the second, a back-end certification, making him a full-stack web developer. Jabarre started out instructing youth on web development and now teaches life skills. He goes inside juvenile facilities and speaks with children, visits state prisons to talk with those behind bars, and has been a speaker at a high school. He hopes to get a degree specializing in mental health.
"It makes me want to keep going every day knowing I'm helping somebody change their life," Jabarre said.
According to Persevere, "In spite of the stigma associated with this population, ex-offenders are generally more trustworthy, loyal, and hardworking than the average employee." 
4. Union Pacific: In 2021, The Manufacturing Institute, the workforce development and education partner of the National Association of Manufacturers, began collaborating with Union Pacific to build a Second Chance hiring program to expand candidate pools to be more inclusive of those with criminal records. Union Pacific made its first hires through the Second Chance initiative in March 2022. After the success of its hiring pilot program in Houston, Union Pacific began expanding its impact, bringing this model to new markets across the United States. The full engagement is shared in a case study and offers three essential components of a successful program:
Companies that use Second Chance Hiring need to update their own hiring practices and remove potential barriers for otherwise qualified candidates.

Successful initiatives are strengthened by strong relationships with vetted community partners.

Pilot initiatives in high-demand markets can help encourage learning, adoption, and replication across the company, and sharing experiences helps peer employers follow suit.

 
Take a second to learn more and get access to great talent
Reach out to our talent recruiting experts at Goodwin Recruiting if you're considering Second Chance Hiring as a solution for adding much-needed human capital to your ranks. As a leading talent recruiting agency committed to DEI as a core value, we offer advice on including this valuable talent pool in your hiring strategy and how to help the job candidates you hire find long-term success in their new roles.   
Additional Resources from the U.S. Chamber of Commerce  
Three Opportunities for Employers to Engage Second Chance Hires:  
Recoup wages through tax credits.

 

Take advantage of bonding opportunities.

 

Partner with organizations participating in grant programs.

 
The Business Case for Criminal Justice Reform: Second Chance Hiring