Quick Guide to Building Effective Property Management Teams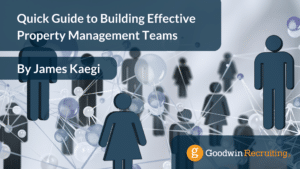 As a talent recruiting specialist, one of my areas of focus is helping companies in the property management industry fortify their teams. This often includes sourcing talent for tough-to-fill positions and job vacancies at property management companies, real estate firms (including real estate investment firms), commercial and residential rental properties, investment properties, commercial property management firms, leasing agent firms…you name it.  
Property management is a complex, fast-moving industry, in which managing and sustaining strong teams can be challenging. Every day I see property management firms and associated providers struggle with ineffective team performance. Issues range from talent acquisition to effective onboarding and retention and ongoing team development and management.  
What is the answer? There must be a strategy to achieve success in these essential areas of a property management business. My aim is to help companies find that strategy with this quick guide to building a successful and well-rounded property management team.  
With the following quick guide, property management executives, real estate professionals, and property managers can seize more and better opportunities and minimize the challenges of the industry.  
Start using these five tips and strategies today. They will equip your firm and your team for the road ahead, from identifying key candidate skills and experience to interviewing and hiring top talent, fostering a positive and collaborative work environment, and much more.     
     1) The importance of building strong, effective teams  
First and foremost, adopt a leadership mindset! You do this with your business plan, and it must be done with your teams, too. Having a strong and good property management team must be a guiding principle. This mindset is essential for the success of any real estate or property management business – regardless of the size or scale of operations.  
Remember that each member of a property management team plays a crucial role in streamlining operations, minimizing costs, and maximizing profits, from the director of operations and regional managers to accountants and maintenance technicians. Next up in this post are key elements of building an effective property management team, with proven tips for property management companies to identify, hire, and manage top talent.   
     2) What key skills and experience do you need?
To hire the best talent, identify candidates with excellent communication and organizational skills, as well as experience in property management or a related field. Also, expanding your pool of talent can lead to more diverse perspectives and innovative solutions. I don't mean to imply that industry beginners should be overlooked. Many of them are quick studies and rising stars for property management organizations willing to give them a shot. 
Property management companies can enlarge their talent pools by partnering with an experienced recruiter to access a much larger network of qualified candidates, including passive candidates who are not actively seeking jobs.  
Hiring an executive and professional recruiter saves time and money because they manage the entire recruitment process and provide expertise in identifying and selecting top-tier job candidates with the right experience and skills. Recruiters thoroughly vet job candidates, check professional references, assess whether a candidate is a good cultural fit for a specific property management company, perform background checks, and ensure confidentiality for sensitive property management positions. 
     3) How to attract and interview talent and keep them on board  
When interviewing, evaluating, and making job offers to top talent in the property management industry, it is essential to conduct effective interviews and thoroughly vet a candidate's experience, skills, track record, and leadership traits.  
How do you attract them in the first place? Being proactive in the market is part of a culture that attracts the best candidates and retains them after the hire. Your marketing strategy and social media efforts should be fine-tuned to promote how your property management company is a great place to work and grow careers. And when you're ready to hire, it is crucial to make competitive job offers and be open to negotiating with leading candidates.  
After the hire, keep that proactive momentum going! Provide thorough training and set clear expectations for new hires. This ensures your people are equipped with strategies, skills, and knowledge to succeed within their new organization and demonstrate effective performance in the world of property management, real estate, or related fields.   
     4) Key components of a positive, collaborative workplace 
Fostering a positive and collaborative work environment is essential to the entire organization and especially in building a successful property management team. Measurable success is found in a company culture that rallies around values.  
The main components of a positive work culture include respect, teamwork, and a focus on results. Building a positive team culture around these and other values promotes effective communication and collaboration – and these operating results are imperative in today's fast-paced property management industry.   
     5) Invest in property management team development   
'Invest' means creating intentional initiatives that improve individual and team performance. Continually work to develop and more effectively manage your property management leaders and teams. This is what leads to and sustains long-term success.  
This can be achieved by providing ongoing training and development opportunities, even for the most tenured team members. These initiatives can be used to keep all team members up to date on industry regulations and best practices, which are constantly evolving. It is also important to identify, monitor, and address performance issues, provide growth opportunities, and accelerate career paths to keep team members motivated and engaged.   
Become a more competitive force in the market  
Building an effective property management team first requires an intentional focus on building team strengths. It involves identifying, interviewing, evaluating, and onboarding top candidates with strong communications and organizational skills and relevant experience – and last but certainly not least, fostering a positive and collaborative work environment, and developing and effectively managing the team over time.  
By implementing these strategies, property management executives, real estate professionals, and property managers can build teams that make an impact in the market and in the firm's bottom line.  
Let us help you grow and succeed. When you need access to experienced property management talent, or if you are an industry professional looking an opportunity with a leading property management firm, get in touch with Goodwin Recruiting. Our talent search experts are ready to move your forward.