Our Core Values: Transparent Communication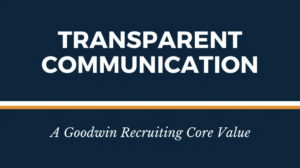 Whether you are on a job search for yourself or need to fill a position to complete your team, it can be stressful. The last thing you need is someone who is supposed to be in your corner giving you the runaround or acting in their best interests instead of yours. You need transparency! 
Candidates:
Our recruiters want to get to know you. The good, the bad, and the ugly. In acting as your agent, we aren't here to just paint a pretty picture. How can we match you with your ideal employer if we don't really know who you are and what you're looking for? 
What is motivating you to make a career change? 
What are the most important things to you in the next job you take? 
Is there anything you are nervous about discussing with potential employers? 
Are there any absolute deal breakers for the next company you join?  
Your recruiter craves an open and honest exchange with no surprises for either side. From tips to how to improve your resume, to letting you know straight up if we've exhausted all the possibilities within our client base, we'll keep you posted with timely communication, and never ghost you or leave you wondering where things stand. Even if we are successful in securing a position for you, the transparent relationship continues. We still care and want to make sure you are happy where you landed!  
Clients:
We aren't looking to be a 3rd party vendor, a mindless order-taker, or some outsourced function. Finding the right people for your team is too important, and we want to be there as a partner and a consultant, every step of the way! Our communication is a two-way street – we want ALL the nitty-gritty details from you, and with every candidate submitted, we'll tell you precisely why we think they are a match. If they don't check every box, we'll let you know upfront. If we are struggling to find candidates to submit, we'll share what we think the obstacles are. And if there are issues with the process, we want to talk through that, too. 
Are other companies winning the candidates because of better compensation packages? 
Are your criteria details too stringent and keeping good candidates from being considered? 
Are there roadblocks to timely communication that are making things too chaotic? 
Did a candidate share feedback that's beneficial for you to know – during the interview OR after they are hired? 
The best partnership comes from open dialogue with no hidden agendas, full clarity on how the process will work, and trust that we have the same shared goal – filling your open positions with the right people who will last in their roles with your company for the long term.  
Let your Goodwin recruiter provide the pathway for transparent communication to build lasting partnerships for one and all.