Our Core Values: Extensive Support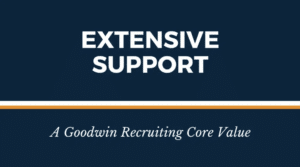 Providing the deepest level of support to our clients, candidates, and partners is what creates a successful venture. Anyone can talk the talk – but here's how we walk the walk:   
Clients:  
We conduct regular business reviews to candidly talk through all aspects of our partnership. Where are things going great? Where can things improve? These meaningful conversations allow the opportunity to work together towards achieving our common goal of finding the right candidates for you. In addition, we offer industry insights. Competitive salaries for a new market you're moving into? Honest candidate feedback? Guidance on how to improve diversity, equity, and inclusion? Check, check, and check. Our extensive support allows us to help with all of this and more. 
Candidates:  
We provide a wealth of knowledge to our candidates, working hard to be a resource in helping each individual with their next career move. Tips for what to expect in an upcoming interview? What types of things are important in their next job? We look to establish an ongoing relationship throughout the process and even after the job begins.   
Recruiting Partners:  
We offer top-notch training for our recruiting partners. And not just the initial training, but an ongoing system of support, encouragement, and recruiting tools and resources. Whether it's marketing, social media, client relations, technology upgrades, or any other area of support – these are invaluable items for us to invest in for everyone's success. When you have people who have been here 15+ years, that speaks volumes. Every individual is unique, and we work to support each person at the level that works best for them. 
These are some of many examples of the impact our extensive support provides. Our support structure allows us to build strong partnerships, and that's what it's all about. Take a moment to meet the people who have made Goodwin Recruiting the leading recruiting firm it is today.