Our Core Values: Congruent Relationships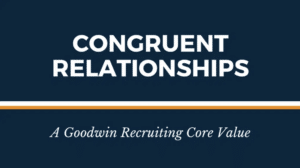 Congruent Relationships is one of our Core Values because our business is ultimately about people and relationships – all day, every day. It's important that in every partnership we have, we create a true connection.  
Our clients

are searching for the right person for their team – nothing is more valuable than this asset. To find success in a recruiting relationship, it takes engaged conversations, a meeting of the minds, and 100% alignment in the shared efforts of the end goal – finding the right person to move our clients' businesses forward. 

 

Our candidates

are searching for someone who believes in them and has their back – after all, a job change can be one of the most stressful things in life. They need a straightforward partner who will tell them like it is, while showing empathy and kindness. 

 

Our recruiting partners

work as a team, bonded together through a commitment to our Core Values. Their genuine desire to help others is the final piece of congruency in our symphony of networks and relationships that makes our recruiting business the best it can be. 

 
Congruent Relationships is about authenticity. It's about working with people you can be yourself with, where communication is a two-way street. And where you have the trust and confidence that someone is there to help you achieve your goals.
Let our Goodwin Team be those people for you. We'll be standing right by your side, celebrating you, when those connections come together to create a beautiful harmony of success.  
Our team thrives on strong relationships, and we are always honored to hear about the many positive experiences our Candidates, Clients, and Recruiting Partners have to share.