On This Martin Luther King Jr. Day, Be the Change You Want to See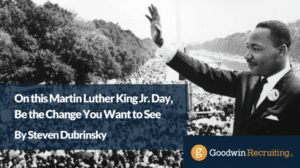 My mother always told me to say thank you when someone says or does something nice. Heading into this MLK weekend, however, I have to say more than a mere thank you.   
As I think about the upcoming Martin Luther King, Jr. Day and reflect on all that he accomplished, it makes me want to do more to share who he was, how he changed the world, and keep his motivational words and actions alive.
This coming Monday, January 16, 2023, is MLK Day – the annual King Holiday Observance in the United States. It is a time to celebrate and commemorate the birth, life, and legacy of Dr. Martin Luther King, Jr. This day is marked every year on the third Monday in January. The federal holiday was established in 1983 and by the year 2000, all 50 U.S. states had made it a state government holiday.  
Summarizing his life is impossible for me to do in this short article, so I am sharing an excerpt from britannica.com to highlight Dr. King's major achievements:  
Martin Luther King, Jr., was a religious leader and social activist who led the civil rights movement in the United States from the mid-1950s until his assassination in 1968. His leadership was fundamental to that movement's success in ending the legal segregation of African Americans in the South and other parts of the United States. He helped establish the Southern Christian Leadership Conference, an organization dedicated to full equality of African Americans in all aspects of American life. He promoted nonviolent tactics to achieve civil rights and led a number of peaceful protests, such as the famous March on Washington in 1963. He was awarded the Nobel Peace Prize in 1964.  
Dr. King's legacy lives on in "I Have a Dream"
Even if you have seen it before, it's always a good time to watch MLK's "I Have a Dream" speech. On August 28, 1963, more than a quarter of a million people participated in the March on Washington for Jobs and Freedom. More than 3,000 members of the news media covered this historic march, and MLK's speech has since been heralded as a defining moment of the civil rights movement and among the most iconic speeches in American history. MLK delivered the speech on the steps of the Lincoln Memorial in Washington, D.C., calling for civil and economic rights and an end to racism in the United States.
His motivational words are actions to live by. Here is one of my favorite MLK quotes. 
"Make a career of humanity. Commit yourself to the noble struggle for equal rights. You will make a better person of yourself, a greater nation of your country, and a finer world to live in." – Martin Luther King, Jr.    
As I reflect on what Dr. King was able to accomplish – without the internet, money, or even media support – it's quite astounding. With the resources we have available today, each one of us can be the positive change we want to see in this world.
The King Center is a great place to learn and get involved
The Martin Luther King, Jr. Center for Nonviolent Social Change ("The King Center") was established in 1968 by MLK's wife, Mrs. Coretta Scott King. The Center carries the torch of The Beloved Community, MLK's global vision in which racism, discrimination, bigotry, and prejudice are replaced by an all-inclusive spirit of sisterhood and brotherhood. He believed this is a realistic and achievable goal that can be attained by a critical mass of people committed to and trained in the philosophy and methods of nonviolence. The King Center offers education, training, programs, and year-round events for people of all ages and backgrounds. Learn more about The King Center and consider what role you might play, large or small, in helping to make our world a better place.
On MLK Day, and every day, let's do more than just say thank you for Dr. King's life of service and deep love for human progress, human rights, social change, and social justice. Let's strive to be as genuine and selfless as he was, to sacrifice for those we don't know, to donate our time and energy, and to always take a chance on speaking out for what is right and just.