May Is Older Americans Month in the USA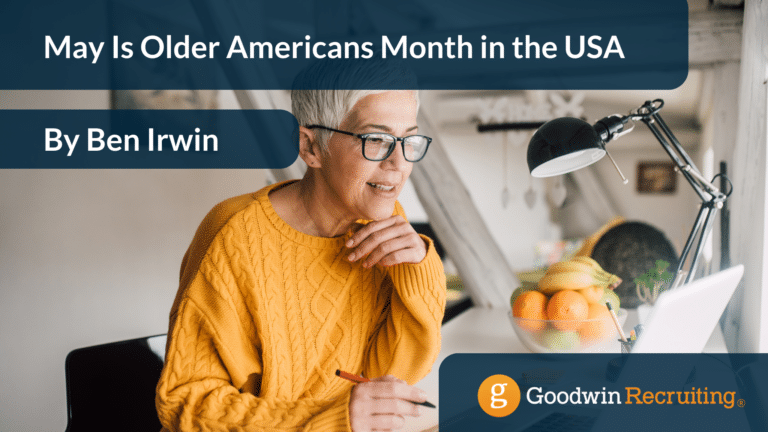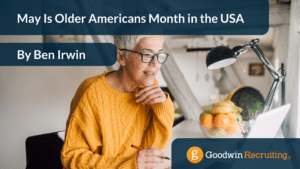 As an aging professional and business owner, I feel the best that I have felt in years and remain optimistic about my business and future. Like it or not, we are all getting older. In fact, we are living longer than our predecessors, due in large part to people engaging in healthier aging practices, as well as modern medicine. The median age in the United States in 2023 is 38.5 years, compared to the median age in 1963, which was roughly 28.6 years.  
I cite the 1963 statistic because of its significance to this topic. Formal, nationwide recognition of older Americans took flight in 1963, when President John F. Kennedy and members of the National Council of Senior Citizens worked together to create Senior Citizens Month. It was designated for the month of May. The monthlong recognition and celebration later became known as Older Americans Month (OAM).  
Look at how demographics have changed since then!  
In 1963, only 17+ million living Americans had reached or surpassed their 65th birthday.

 

In 2023, 55+ million Americans are 65 or older.

 

By 2040, it is estimated that 80+ million Americans will be 65 or older. 

 
Older Americans Month is growing in significance. Every President since Kennedy has issued a formal proclamation asking that the entire nation pay tribute to older persons in our communities with ceremonies, events, fairs, and other activities. Our country and community members respond by celebrating senior citizens each May, acknowledging those who have made contributions to our country and created communities of strength, past and present, especially those who have served in the armed forces.  
This year's theme for OAM is Aging Unbound
Every May, the U.S. Administration for Community Living (ACL) leads the nation's observance of Older Americans Month. The 2023 theme, Aging Unbound, offers an opportunity to explore diverse aging experiences and how communities can combat stereotypes (more on this below).  
One of the goals every year is to encourage conversations about aging to create a more inclusive workforce when it comes to our older Americans and to help us understand how we all benefit when older adults remain active, engaged, independent, and included.   
Yes, we are living longer, and many of us choose to do one of two things – retire earlier or work longer. I'm not sure I'm wired to retire early, so I think I'll just settle on working longer. Like many Americans, I want to continue to make an impact, stay engaged, and keep busy. A certain man I know, let's call him "Doc," has the same drive. He became a certified lifeguard for his local YMCA at the age of 76 and now works two or three days a week. Doc and I are far from alone in our quests to keep on contributing. 
Another telling statistic: The average retirement age is 64 years old in the United States, as of 2022. This is three years older than the average retirement age in 2010. 
We must embrace our country's emerging realities
I am concerned about some things as our country's population grows older.  
One of those is ageism and its impact on our society and workforce

. The World Health Organization (WHO)

defines ageism this way

: "Ageism refers to the stereotypes (how we think), prejudice (how we feel), and discrimination (how we act) toward others or oneself based on age."

As a

talent recruiter and trainer

for a nationwide talent recruitment firm, I'm very concerned about ageism in the workforce, which happens regardless of a person's color, creed, or ethnicity. It affects us all equally. The problem is that most of us don't see or experience the impact until after it happens. Ageism can be subtle and hard to recognize, as described by Tracey Gendron, author of 

Ageism Unmasked.

I help job candidates and hiring companies find each other. You might say I'm a brand ambassador, helping to support and introduce people who want to work with companies who need people. If a company looking to hire stigmatizes people of a certain age, they lose out on experience, wisdom, mentorship, and potentially, good old-fashioned work ethic. We need to remember that discrimination based on age is an illegal hiring practice, but unfortunately, it still happens and is usually dressed up as something else.
Dropping birth rates are a concern as our population ages

. This means our workforce is shrinking. We must find ways to attract and retain our aging workforce to not only keep them engaged but also leverage their invaluable skills, experience, and expertise in developing the next generation of workers. Every industry needs people. We can't afford to turn a blind eye to more experienced people based on their age.

 
As stated in President Joe Biden's 2023 U.S. Proclamation on Older Americans Month, "Older Americans are the pillars of our community, and we owe it to them to value their wisdom, celebrate their contributions, and champion their well-being… This month and beyond, I call upon all Americans to celebrate older adults for their contributions, support their independence, and recognize their unparalleled value to our nation."  
I wholeheartedly agree! Let's stop stereotyping older Americans as people who live in senior centers and nursing homes and rely on Medicare for income and have greater health care needs. It's essential that we open our eyes and minds to the reality that millions upon millions of older Americans are thriving individuals and professionals who still serve – or still want to serve – as major contributors to our communities and workforces. 
Join me in elevating older Americans this month – and all year long
If you're looking for an exceptionally talented and tenured professional for a key position at your company, or if you're a tenured professional looking for the right company and role, reach out to me at Goodwin Recruiting. We match talent with opportunities nationwide and are extremely successful in enhancing our clients' businesses and changing our candidates' lives.