Living and Working in the Cayman Islands: What You Need to Know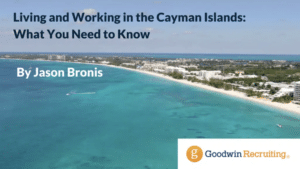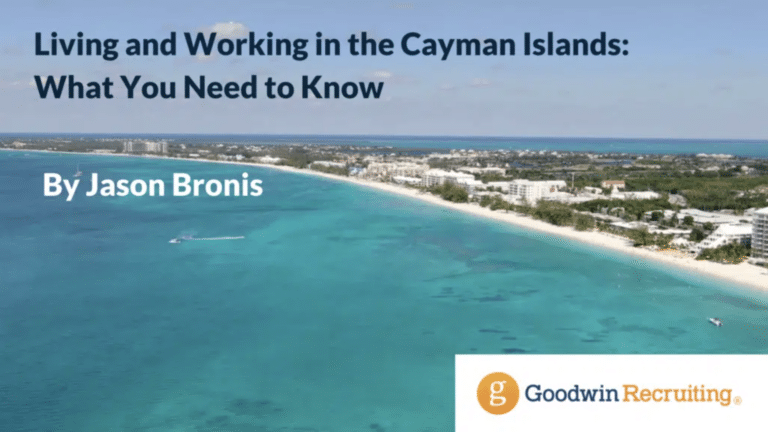 One of my areas of focus as a talent recruiter is working with businesses in the Caribbean in a wide range of industries that need to attract professionals to their open positions.  
As a former resident and business owner in the Caribbean, I am a knowledgeable and trusted resource for job candidates, as well as businesses with hiring challenges. Following is some helpful information for job seekers who are interested in starting a new life in the Cayman Islands.  
Tips and insights for relocating to Grand Cayman
Geography and environment

:

The Cayman Islands are a British Overseas Territory that comprises three islands in the western Caribbean zone. Nestled in the Caribbean Sea, the Cayman Islands are about 230 miles south of Cuba and 270 miles west of Jamaica. The largest island is Grand Cayman, which combines tranquil, world-class, white-sand beaches and blue waters, along with touches of sophistication and culture that are not often found in a Caribbean destination. The quality of life and standard of living offer a lot of variety to anyone who loves the island environment, including a laidback lifestyle, water sports, snorkeling, scuba diving, and more.

 

 

The community and top work opportunities

:

Caymanians – or permanent residents of the Cayman Islands – are known for being very welcoming. Newcomers often notice the strong, high-quality sense of community that exists across the island. This makes it a particularly attractive destination for expats. Robust tourism and the finance and legal industries provide greater opportunities for employment than some smaller island nations in the Caribbean.

 

Accessibility

:

It is very easy to travel to Grand Cayman with nonstop flights from several U.S. cities aboard major airlines or Cayman Airways, the Cayman Islands flag carrier. Grand Cayman is less than two hours' flight time from Miami.

 

Work permits

: Anyone seeking to work in the Cayman Islands must obtain government authorization in the form of a work permit. Temporary and permanent work permits are issued by the Cayman Islands Department of Immigration. In general, obtaining a work permit in the Cayman Islands is not as difficult as in some other Caribbean jurisdictions. Often, employers will sponsor qualified job candidates for work permits upon their acceptance of an offer of employment. The Department of Immigration also grants work permits to self-employed individuals with proper documentation.

 

Taxes

: There is no individual income tax in the Cayman Islands! This is one of the reasons it is such an attractive place to work. Job seekers should be aware of this when evaluating salaries of positions on the island. Initially, salaries may seem slightly lower than those of similar jobs in the United States, so it's important to remember the absence of tax withholding.

 

Pension plans

:

Employers in the Cayman Islands must provide pension plans for employees under law and there is a compulsory contribution that employees must make to a pension plan. This can provide significant benefits upon retirement.

 

Health insurance:

Regarding healthcare, employers also provide medical insurance to employees as Cayman law requires all residents to hold medical insurance.

 

Cost of living

:

Cost of living can be more expensive compared to major U.S. metropolitan areas, particularly when it comes to the cost of housing and real estate. A single individual should budget anywhere from USD$3,000 to USD$4,000 for all monthly expenses, including housing.

 

Vehicles

: A vehicle is recommended for transportation. However, there is a lot of traffic on island roadways. For this reason, and to save money, many people choose to use a bicycle or moped to get around the island. The entire island is only 22 miles long, with most activity within three or four miles of the capital city of George Town on the western end of the island. The major tourist center is also on the west end of the island at Seven Mile Beach.

 

Families

: The Cayman Islands are well suited for children and many expats enjoy raising their kids in the island environment. The public school system on the island is generally considered excellent across the board. Private schools are also an option. 

 

Pets

: Pets can be brought to the Cayman Islands; however, a permit must be obtained and the process can be lengthy. The island is free of rabies and the government takes significant precautions to keep the disease out. The process of importing a pet to the Cayman Islands can take up to two months.
Take advantage of a well-connected recruiter
If you are interested in learning more about relocating to Grand Cayman, or if your Cayman Islands-based business is facing hiring challenges, a great way to achieve your goals is to develop a relationship with an experienced, professional recruiter like the partners at Goodwin Recruiting. Get in touch today to discuss how we can help.
More Tips: The Definitive Guide to Living & Working in the Cayman Islands