How to Successfully Work from Home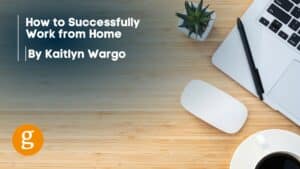 I have been working remotely for almost a year as social media manager for Goodwin Recruiting, and I quickly realized it can be quite an adjustment from working in an office. Some of the ways I have successfully transitioned from an office environment to working from home include having a dedicated workspace, setting a daily routine, and planning out my workdays.  
If you find yourself going through a similar transition, or if you're wanting to make the switch to full-time remote work, I'd like to offer some great tips on how you can really thrive in your work-from-home job.  
I will preface this by saying that good habits and routines are the keys to success in working from home!  
Stay true to your normal schedule
It's important to keep your usual morning routine in place when working from home, just as you would if you had to commute to the office and clock in each day. Why?

 

Even though you're saving a lot of time in the morning by not having to commute to work, continue to wake up a couple of hours early so you can make and eat a good breakfast and mentally prepare for the day. 

 

This routine is extremely beneficial for your mental health. You're able to start each day without pressure or stress, which lets you begin your working hours with a calm and productive mindset. 

 
Get dressed for the workday 
During the pandemic, remote employees began to blend work and home attire. According to

recent research

, when remote workers wore more casual clothing not normally worn in the office, they felt more authentic and engaged with their work. On the other hand, remote workers who wore suits or business attire felt less authentic but more powerful. So, clothing choices do have a psychological impact. What remote workers wear can affect how they think or feel during the day. I can personally vouch for this.

 

My advice echoes the researchers' advice: Bring your best self to work by wearing clothing that fits where your work is being completed. But I have a few caveats…

 

Don't roll out of bed and go to work in your pajamas. Make clothing choices part of your daily routine. Wear fresh, clean clothing to work – you'll look and feel better! And keep the day's activities in mind. For example, video calls and check-ins with managers or team members may call for office attire or at least something less casual. 

 
Make sure to work in your dedicated office space
A survey of 2,000 people who work mostly or entirely remotely explored

how working from home has evolved

over the last few years. More than a third of those surveyed (35%) said that if they had to use the same home-office setup they had when they first started working remotely, they would not even be able to do their job today.

 

In terms of what prompted survey respondents to set up a dedicated home-office space, most people did it to help make working easier or more efficient (63%) or because they needed a more comfortable workspace (52%). Additionally, 43% of respondents needed to remove distractions from their environment and another 37% needed more space to do their work.

 

Some remote workers have trouble separating work life from home life. After all, both happen in the same place. This is why having a dedicated workspace is so critical. If you share your home with family members or other people and need more control over interruptions or noise in your work environment, consider investing in some noise-canceling headphones.

 

As for me, I'm fully on board with this executive's opinion: "Working from home has evolved from makeshift workspaces using countertops and barstools to more thought-out home-office setups that rival even the best corporate office spaces," said Kevin Moffitt, president of Office Depot. "As fully remote and hybrid work models continue to gain momentum, we expect people will continue to invest in optimizing their home offices."

 
Create a list of your top priorities for the day 
When working from home, it is extremely important to hold yourself accountable and stay on track to meet deadlines. This can be more difficult when you are working from home, but setting aside time to list your top to-do's helps you organize your day and complete tasks on time. You can create this daily list as part of your routine at the end of each day in preparation for the following day, or you can make your list early in the morning during the time you save by not having to commute to an office. 

 

For example, one of my top priority items is checking the performance of social media posts to see what is performing best. Another top priority that's always on my to-do list is setting aside time to go through my emails and phone calls and respond to them or clear them out. Doing this on a consistent daily basis ensures emails and phone calls don't build up in my inbox and voicemail and that I am timely with my responses.

 
Take a routine lunch break – away from your desk 
While it can be easier to just eat lunch at your desk when you work from home, especially when you get into a rhythm in your work mode for the day, it is always a good idea to get away from your workspace and enjoy your lunch break and some down time in a different place – in another room, a coffee shop, café, or park.

 

Getting out of your office for lunch creates a better work-life balance by keeping the two separate. It also relieves stress, prevents burnout, and lets you return to your workspace refreshed, more focused, and ready to take on the rest of the day.

 

This important routine also gives you the opportunity to objectively reflect on the first half of your day. And when you get back to your office, look at your list of top priorities with fresh eyes to make sure you're on track. 

 
Clean up your workspace and tie up loose ends each day
Nobody wants to walk into their office in the morning and find scattered papers and miscellaneous items lying around from the day before. Chaos is stressful!

 

When your workday is almost over, prepare for the next day by taking a few minutes to tidy up your workspace, clear away completed tasks, and neatly organize work that is still in progress.

 

Upholding this end-of-the-day routine accomplishes two things: It helps you unwind and enjoy the rest of your evening and it makes your work environment a welcome place the following morning. 

 
Are you looking for a great remote work opportunity?
While working from home requires you to be more organized and mindful about how you structure your days, it's certainly worthwhile and very rewarding.  
If you're looking for a home-office job opportunity of your own, check out the Goodwin Recruiting job board. Another compelling career choice is talent recruiting. Our expert recruiters work remotely, run their own talent recruiting businesses, and have unlimited income potential. Let us know if you're interested in joining our team!