How to Look Good on Zoom: Tips for All Ages, in the Office and From Home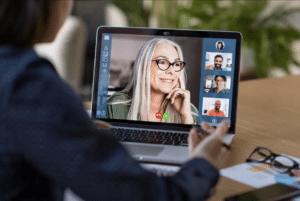 Nearly everyone has been dragged, kicking and screaming, into the modern world of webcam communication instead of face-to-face. Webcams have been popular in the recruiting industry for a long time, and Zoom has managed to come to the forefront for both business and personal use.
If This Were a Movie, the Director Would Be Fired!
There are a variety of pitfalls to Zoom meetings that include everything from poor lighting to messy backgrounds, and from staring off-camera (at the monitor) to getting a not-so-attractive view up at the neck, nostrils, or the ceiling. The main trick is to remember that you are the producer, director, actor, wardrobe consultant, and make-up artist.
Here Are Five Tips to Help You Maximize Your Zoom Presence.
1. Lighting: Be sure the strongest light is coming from behind the camera (in front of you) – move lamps around if you have to. If bright light is behind you, in view of the camera, the aperture will let light in, and you will appear dark. Facing a window is great, if not in direct sunlight, but having one at your back is the worst.
2. Camera angle: Have the camera stable and slightly above eye level. No matter your age, looking up, just a bit, is more flattering than the camera looking up at your neck and nose. And if you look down at the camera, you might discover chins you never knew you had! Elevate the device you are using so the camera is at the right height using books or boxes. If you do webcam meetings frequently, there are stands available for laptops and tripods available for cell phones. 
3. Grooming: Put the same effort that you'd put into an in-person meeting. Style your hair, trim facial hair, and pay attention to your fingernails. 
4. Attire: Dress as if you are in person – especially for an interview! Look appropriate for the meeting. For interviews, dress a step above what you would wear on the job — if jeans and a polo, wear a button-up shirt or blouse; if slacks and a button-up, add a tie or nicer blouse; and if a tie, wear a suit. While it's true you might not actually have to have pants on, plan for the worst. Something, out of your control, might force you to jump up, and there you are in a nice top and underwear. 
5. Distractions: Distractions come in many forms: visual background distractions, unexpected intrusions, things outside of your control (like the neighbor deciding this is a good time to mow the lawn), and things you might do unconsciously.
Visual Background Distractions: Movement, people, and clutter. Control your environment as much as you can. A plain wall is better than a cluttered kitchen.
Unexpected Intrusions: Again, control your environment to the extent you can. If possible, close off your space to dogs and kids.
Outside of Your Control: Mainly, just be aware and don't get flustered. When the toilet flushed during the Supreme Court aural arguments, the participants kept on trucking. With so many working from home now, the occasional interruption by a child, barking dog, or cat meandering across the desk are not big surprises.
You: It's actually distracting when you appear to be staring off-camera because you're looking at the monitor instead of the camera. Look at the camera as if it is the person. When in a meeting with a lot of others, we tend to forget that while we might not be the center of attention, we can be watched by everyone in the meeting. Watch your hands anywhere near your head – don't pick your nose, finger your ear, play with your hair, etc.
YouTube Resources:
Hot & Flashy on How To Look Good on Video Calls for Zoom, FaceTime, or Skype: Don't let the YouTube moniker fool you! Overall, this is an outstanding overview for all ages and both sexes. Her target market is more mature women, but she offers spot-on demonstrations on how to get the lighting and camera angle right, as well as excellent grooming and other tips.
Hot & Flashy on Stay at Home Make-up: Tip and tricks to look your best on video.
Career How-To by Andrew LaCivita on Tips for Your Video Job Interview: Solid tips EXCEPT that he has his back to French doors, which are distractingly bright.
The Recruiting Company of Choice
At Goodwin Recruiting, we want to be the recruiting company of choice for our partners, clients, and candidates. One of the ways we do that is by providing one-on-one support. We train our partners to do Zoom interviews rather than phone. If in-person is not practical, we coach our candidates on best practices for webcam interviews. And, should a client need coaching on this topic, we are at your disposal. Let us help you cross that finish line — to successfully become a recruiting partner, candidate, or client. Our team is here for you, every step along the way.