Are Your Employees Happy? How to Get The Most Out of Your Restaurant Staff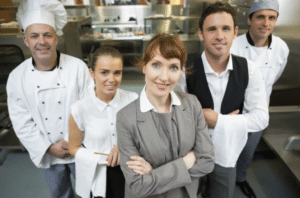 Good hospitality managers know how important morale is for their restaurant staff. All teams must stay motivated in order to perform well, and leaders are responsible for keeping spirits high.
Employee happiness directly correlates with morale. Read on for five management techniques proven to get the best results from restaurant staff.
Provide Incentives For Your Restaurant Staff
One of the most difficult challenges for entry-level restaurant workers is looking beyond the present and toward the future. Those early days of dishwashing and bussing tables can be grueling. Good managers find ways to help newer employees envision future success.
Hospitality leaders should make the time to discuss career goals with all team members from top to bottom. If a dishwasher aspires to be a head chef, their manager should clearly outline the path to success. Doing so shows the employee that management truly cares, which helps with personal motivation.
Encourage Transparency

Many workplace issues are caused by gossip, and restaurants are no exception. Managers who establish a clear policy of direct communication help to create a relaxed environment free of paranoia. The expectation should apply to everyone, regardless of position.
Once team members know all feelings will be shared in the light of day, they can work free of anxiety and will perform far better. An open-door policy with restaurant management also means employees can voice their concerns without fear of retribution.
Foster Equality
Restaurants will always have an order that is maintained through structured management. However, equality should be expected and facilitated whenever possible. Employees should never feel subordinate to a co-worker who isn't a supervisor or manager.
If a restaurant manager finds it necessary to grant authority to one employee over another, they should do so officially. It is not productive to have unstated seniority among employees of the same rank. Inequality inevitably hurts team morale.
Show Loyalty

Employees want to know loyalty is a two-way street with restaurant management. One way leaders can demonstrate good faith is by promoting from within whenever possible. Nothing is more demoralizing for a team than having an outsider "steal" a management position.

Restaurant managers also demonstrate loyalty by giving employees the benefit of the doubt in times of disputes. It may be necessary to occasionally appease an angry customer and address staff behavior issues, but the best leaders are cautious to never humiliate team members.
Lead by Example
Restaurant staff members love to work with bosses who get their own hands dirty. It's true that managers should spend most of their time managing. However, leaders who demonstrate hands-on skills earn their team's respect.
Restaurant managers also set a good example by reflecting the company's values. Leaders who don't live up to their own expectations for employees create feelings of resentment that hurt team morale.
Ultimately, employee happiness is the key to a restaurant's success. Positive workers will always perform the best. Hospitality managers must accept their responsibility for setting the tone among team members.
If you're a restaurant seeking top-notch managers, be sure to enlist the help of Goodwin Recruiting, an industry-leading hospitality recruiting agency!
The Top Industry Professionals are Just a Click Away!
If you are looking to hire and need help sourcing great candidates quickly, connect with Goodwin Recruiting.