How Cruise Lines Are Meeting Growing Demand for Top Talent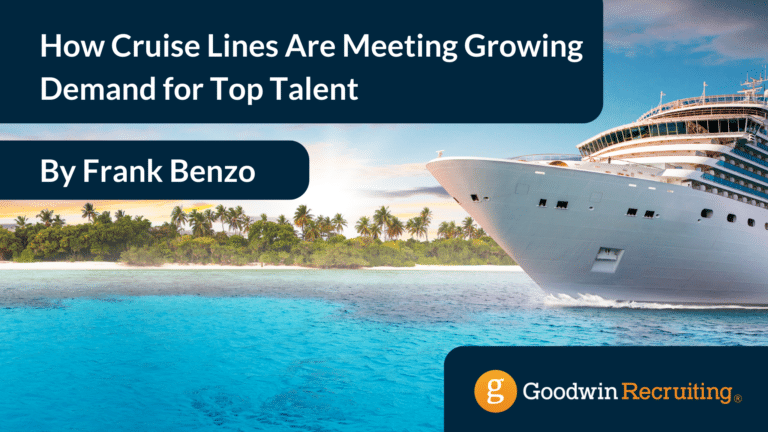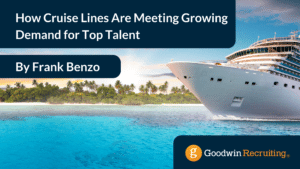 Cruise lines are a unique and growing industry providing travelers a unique experience of adventure and luxury on the open seas. The cruise line industry generated $18 billion in revenue in 2022 and in our post-pandemic world, it is projected to exceed $25 billion by the end of 2023 and grow to $30 billion in 2024.  
With the industry's resurgence and the expanding popularity of cruise line vacations and corporate cruise events, the industry is experiencing explosive demand for cruise ship team members on all levels. This is placing pressure on cruise line operators to recruit and retain a large and diverse workforce to meet the demands and expectations of their seafaring passengers.  
In the wake of the pandemic, the cruise industry has been reborn – and so have cruise operator strategies for sourcing, staffing, and retaining top talent. Better talent management programs and new talent acquisition initiatives have become a priority to keep shortages at bay.  
Here's one strategy that's working for today's cruise operators. 
Recruiters are sourcing qualified talent for the cruise sector
Globally, the cruise industry supports more than one million jobs – and growing. To meet the rising need for talent, many cruise operators, including small, mid-sized, and major cruise lines, are turning to external recruiting agencies to source, interview, and help onboard the best talent for specific roles on their ships, as well as in the executive suite and in manager and senior-level roles within a cruise operator's organization.   
While companies in every industry have competent internal human resources and talent recruiting teams, external recruiters bring shipboard advantages that internal methods and resources are not equipped to provide. Such advantages are important in meeting today's time-sensitive cruise line hiring needs, and they're especially useful to cruise lines wanting fast, proprietary access to the industry's top talent.  
Here are six of those major benefits for today's cruise companies.  
1. Tap into an evergreen pool of highly qualified candidates: First and foremost, external recruiting agencies that specialize in the cruise industry have relationships with large networks of qualified, pre-screened candidates who are either experienced or interested in working in the cruise industry. Going straight to a qualified talent network allows cruise line operators to save time and resources in the recruitment process and instead focus on choosing the right people for their open positions.
2. Work with people who have cruise industry proficiency: Another advantage of using an external recruiting partner is that many recruiters have expertise in the cruise line industry. These specialists understand the unique requirements and demands of the sector and stay up to date with industry best practices that can help cruise line operators succeed.
3. Minimize risks in the hiring process: In addition to quickly identifying great candidates for specific roles, external recruitment specialists also help cruise lines avoid costly mistakes in the hiring process. Job seekers who work with recruiters are moved through a comprehensive interview process with the recruiter, in which experience, skills, references, and track records are thoroughly vetted. Recruiters also aim to ensure the select candidates they present to a cruise line are good cultural fits for the organization.
And when it's time for cruise operators to meet top talent in person, recruiters know the importance of well-planned itineraries! Recruiters take the initiative to arrange interviews between the parties, support cruise lines in extending job offers, and assist in the new hire onboarding process. The many critical talent management and staffing functions recruiters perform for cruise lines not only take a lot of pressure off cruise lines but also result in far more committed new hires who are likely to stay.
4. Enjoy an accommodating and confidential recruiting partnership: External talent staffing and recruiting firms offer flexible, customizable recruiting solutions for cruise lines. Services can be tailored to meet the specific needs and requirements of each cruise operator. Recruitment specialists also manage talent searches confidentially, making sensitive searches easy and secure for the cruise line, as well as passive cruise sector candidates who are currently employed but willing to consider the right offer from another cruise line.
5. Control costs while staying competitive in the hiring market: Using an external recruiting company provides talent acquisition cost savings for cruise lines. Recruiters' established relationships with large numbers of potential candidates place them in the right position to negotiate competitive salaries and benefits packages on behalf of a hiring cruise line. Today's leading executive and professional talent recruiters also use cutting-edge technology and resources that streamline the recruitment process, making it faster and more cost-effective for a cruise company to partner with a recruiting agency.
6. Gain an enthusiastic brand ambassador! Expert talent recruiters do more than help cruise operators sell and fill job openings. When communicating with candidates about available positions in the cruise industry, they are thorough in providing details about the hiring cruise line's organization, including the cruise brand, cruise ship information, the cruise company's values and culture, and the unique benefits of becoming a member of the organization.  
Where finding the right crew members is smooth sailing
At Goodwin Recruiting, we know the cruise line industry faces challenges in attracting and retaining a diverse and talented workforce. We also know your leadership, crew members, and administrative teams are the heart of your operations in providing passengers with exceptional cruise experiences. They keep your cruise line on course for continued growth and success.  
Let our expert talent recruiters help you save time, resources, and money while ensuring that you stay competitive in the hiring market and onboard the best candidates for jobs on your cruise ships and across your organization. Contact us today.