How Can My Company Better Support Disabled Workers?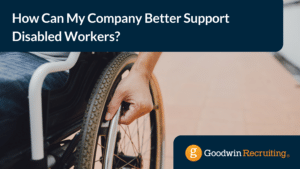 With July 26th being National Disability Independence Day, it's the perfect time to connect on ways to better support disabled workers. National Disability Independence Day commemorates the anniversary of the signing of the Americans with Disabilities Act, or the ADA. It prohibits discrimination against individuals with disabilities and works to ensure equal opportunities for those with disabilities. According to the CDC, "up to 1 in 4 (27 percent) adults in the United States have some type of disability." You can learn more at: Americans with Disabilities Act of 1990
When thinking about what your company can do to better support disabled workers, whether you're a large or small business, there are many items to consider. The following are some helpful ways you can create an inclusive and accommodating work environment at your company:
Equal Employment Opportunity & Disability Inclusion: Make sure disabled workers have the same opportunities as everyone else, from the very beginning. With your hiring process, job descriptions, interview process, onboarding, training, and long-term promotions.
Workplace Accommodations: Employers should provide reasonable accommodations to enable disabled workers to perform essential job functions. For example, flexible work schedules, modified equipment, accessible facilities, and assistive technology. Offer remote work, if possible, and flexible hours to support disabled employees who might have unique challenges or medical needs.
Accessibility: Make your workplace easy for individuals with disabilities to navigate. This could include adding wheelchair ramps, accessible restrooms, and getting rid of anything that blocks their movement.
Training: Train your team to be aware and sensitive to the needs and rights of disabled workers. It's important to build a work culture that's inclusive and supportive.
Hiring Practices: Actively seek to hire individuals with disabilities through inclusive hiring practices. Team up with disability organizations or trusted recruiting firms like Goodwin Recruiting to find the candidates who are a great match for your business.
Communication: Keep communication lines open with your disabled workers. Provide career development opportunities, like training programs and mentoring. And work to understand their needs, preferences, and challenges, in order to make the necessary adjustments to support them better.
By implementing these measures, your company can demonstrate a commitment to supporting disabled workers, foster a diverse and inclusive workforce, and comply with legal obligations under the Americans with Disabilities Act. Not to mention you'll be creating a more positive and inclusive workplace for all.
Cheers to the companies out there who are making a difference and paving the road for others to follow. If you'd like to explore ways to better incorporate diversity and equal opportunities for all into your recruitment process, reach out to the recruiting experts at Goodwin Recruiting today.