Employee Recognition for the Win!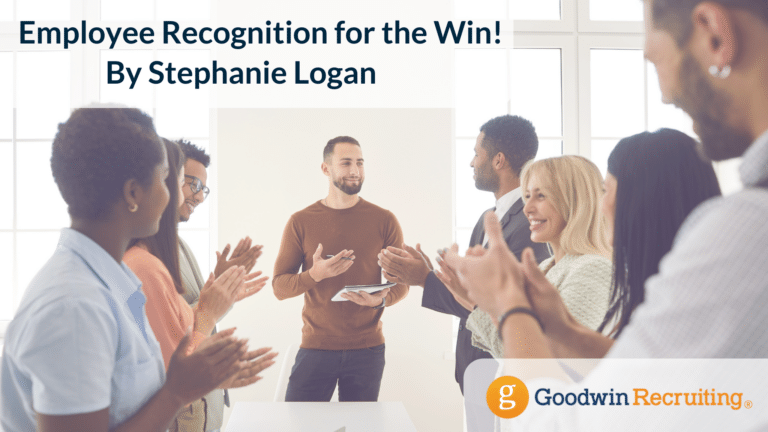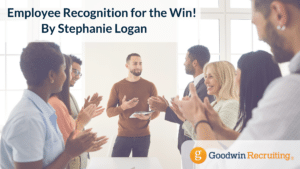 Over the last 8 years, my recruiting career has led me to speak with job seekers every day. In those conversations, I always ask what's most important to them outside of salary and benefits; not because those aren't important factors, but because as recruiters, we like to dig a little deeper into the intangibles. Obviously, answers vary, but in some way, shape, or form, being appreciated by their employer is in the top 5 consistent answers. Employee recognition goes a long way in creating a positive company culture and a place where people want to be for the long-run.
Show Appreciation to Team Members
In any relationship, feeling appreciated is an important factor; and within the workplace it is no different. As an employer, your team is the key to your organization's success. Are you experiencing higher turnover than usual? Is the team's output not as high as it used to be? Are there rumblings of dissatisfaction? We all know that turnover is expensive and losing members of a team can hurt employee morale. However, there are immediate steps in the right direction that can be made through (you guessed it!), Employee Appreciation!
It just so happens that today, March 3rd, is Employee Appreciation Day. This day of recognition was created by Dr. Bob Nelson, who focused on creating a Culture of Recognition within companies. For many, this may seem like the Valentine's Day of the workspace, an invented holiday when this should be every day. I would tend to agree, your team should feel appreciated every day; but is there really any harm in going a little above and beyond to make them feel extra special once a year? I remember my first Employee Appreciation Day working in an office and coming in to a desk filled with flowers, my exact usual coffee order, and a personalized note inside a card. I was blown away! Someone had taken the time and made the effort to make me feel special. Immediately, I felt seen and cared for which not only gave me a little pep in my step for the day but also for weeks to come.
It Starts from Day One
Creating a positive environment of appreciation for your team starts at day one, and should continue throughout someone's entire tenure with an organization. As an example, a candidate of mine recently had two competing offers. On paper, they were very similar when it came to salary, benefits, bonus, and schedule. The difference was made by gummy bears! Does this sound crazy? Sure, but is it? No! During the interview process, this candidate mentioned gummy bears being her favorite candy. When she showed up for her next in person interview, one of the owners of the company had brought her a bag of gummy bears! What this showed her was that even at the highest level, this company cared about their team, actively listened, were kind, and would go above and beyond. This gesture was the difference maker because of the bigger picture it painted, and they now have an employee who is excited to join their team.
Simple Ways to Show 
Employee

 Appreciation

The best part is that, no matter where you fall in the Org Chart of your company, you have the power to make those around feel valued and it does not take grand gestures to do so. Here are a handful of employee appreciation day ideas to try with your team:
Saying thank you
Recognizing extra effort
Sending company swag
Taking your team out for ice cream or a field trip
Giving an afternoon or even a full day off
Writing a quick note, email, or LinkedIn message
Remembering milestones or something special going on in their personal lives
Sending a fun gift to remote 

employee

s
The ideas are endless of how to keep your team engaged. The little things that show you pay attention will lead to happier employees, a better work-life balance, and a team that has a stronger bond – which in turn makes the work environment and culture skyrocket.
I'd like to challenge you to recognize one person a week, whether in a big or a small way. Just imagine if each of us accepted this challenge and what a difference it would make in a month, let alone a whole year. On Employee Appreciation Day and every day – we each have the perfect opportunity to spread positivity.