Could Working With Hospitality Employment Agencies Give You a Leg Up in Your Restaurant Management Candidate Search?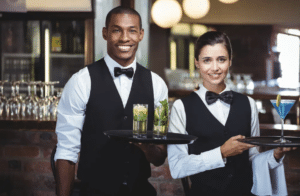 As 2020 is in full force, many hospitality leaders have found little relief in the way of filling restaurant management positions. The economy remains red hot! Great job candidates enjoy many career options, both within the industry and elsewhere. So, hospitality organizations face tremendous competition on multiple fronts. With that said, companies do have options. One of the best solutions is to enlist the help of hospitality employment agencies.
Here are great reasons why organizations of all sizes can gain an advantage in their restaurant management candidate searches by partnering with hospitality employment agencies. 
Speed to Market
When great candidates are scarce, it's critical to identify jobseekers ASAP. And, those with management experience are swooped-up even faster than entry-level workers! Hospitality companies don't have the luxury of waiting for restaurant management applicants to come to them.  
Similarly, online job postings and other advertisements are far less effective in competitive job markets. Great hospitality leaders are approached regularly by third-party recruiters. It's hard for internal HR departments to compete with the robust databases of established hospitality employment agencies.  
Top-Notch Talent
Famous actors and sports stars don't represent themselves. They usually have agents who work on their behalf in order to secure lucrative contracts. While restaurant managers certainly aren't as high-profile as celebrities, they are in demand at the moment. Regardless of industry or status, the best workers within any industry seek-out representation. 
Third-party recruiters are the "agents" of hospitality leaders. These professionals like to have representatives who work on their behalf. In other words, the best candidates aren't usually the ones responding to online job postings or advertisements. It's hard for restaurants to locate the best manager candidates without the assistance of hospitality employment agencies.  
Hospitality Employment Agencies offer access to Passive Candidates
In addition to working through third-party recruiters, the best restaurant managers are often "passive candidates." Or to put it another way, they're currently employed but open to better career opportunities. Hospitality companies are unlikely to identify these folks since they're not actively seeking new jobs.  
Hospitality employment agencies, however, can access their vast databases to solicit "passive" candidates. They periodically check-in with great workers just to see if they're open to new opportunities. Internal HR professionals at restaurants and hospitality companies simply don't have access to these same candidate pools.   
Third-Party Endorsement
Many people view recruiters as "matchmakers." And to some extent, they are. However, they also serve other critical functions and play to the psychology of jobseekers. Effective hospitality employment agencies serve their clients' (companies) interests by "selling" candidates on their value as employers.   
Restaurants that work through a third-party recruiter gain a committed advocate. She can sing the company's praises and convince great candidates that the job is a terrific opportunity. Staffing companies also serve their candidates' interests, but ultimately they know that delivering for clients (companies) is of utmost importance. 
Closing Thoughts
Companies are sometimes reluctant to leverage outside help when searching for restaurant manager candidates. But that way of thinking is flawed. In reality, hospitality employment agencies are high-ROI resources that enjoy huge recruiting advantages over internal HR teams. 
If your company is in need of top-tier hospitality professionals and restaurant managers, you should check out America's best staffing agency.
Reach out to Goodwin Recruiting to get started!