An Interview with Tor Stave: Master Carpenter and Senior Recruiter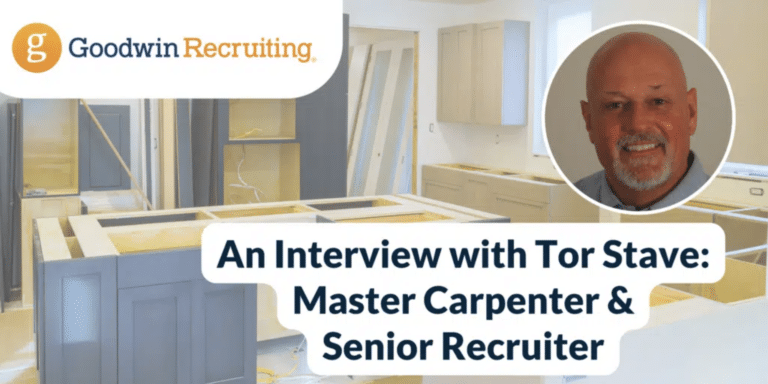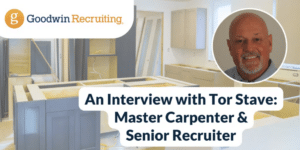 Senior Recruiting Partner, Tor Stave, talks through why he traded the construction business for recruiting.
Tor, what made you want to pursue a career in construction?
I had a summer job working with an electrician and quickly discovered I had good mechanical abilities. I eventually started doing cabinetry, working with all types of beautiful materials. I'm a very detail-oriented person, so this was a fun and challenging career choice for me. 
What made you decide to join Goodwin Recruiting?
As much as I enjoy construction and cabinetry work, I couldn't see myself being able to do it forever. Construction can be physically tough on a person and I was ready to try something new. At Goodwin Recruiting, I can use my background and experience to help others and I genuinely enjoy it! 
What was difficult about the transition from working with your hands to the work from home life?
Technology wasn't my strength and certain parts of the job took me some time to figure out, so it was a bit of a challenge in the beginning. You have to be willing to make some changes to your lifestyle, but it's been incredibly rewarding! The refrigerator is only 40 feet away, so that's a temptation. 
And the coffeepot?
Oh yeah, that too.
I'm so impressed by all the candidates I represent. They have impressive backgrounds and have worked on some really amazing projects, so getting to know more about what they've accomplished is one of my favorite parts of the job!  
You seem to have a lot of respect for people who work in these industries, clients and candidates alike
.  
A lot of manufacturers are trying to bring jobs back to the US from overseas and I really appreciate that. I love talking to Project Managers, Plant Managers, and all types of leaders and am constantly amazed at what they can do. One candidate recently told me that his plant can push out 2,000 cans of beer per minute! It's just incredible what some of these companies are able to produce.
Is there a particular placement that's been memorable or a candidate who's really impacted you?
That's easy, it would be my first placement. It wasn't just because it was my first, but it was because he was such an interesting guy: professional, humble, intelligent. I just enjoyed getting to know him and I'll never forget when he said, "I look forward to the day when we don't have to talk anymore". It wasn't because we didn't get along, but it meant that he looked forward to being placed and not needing a recruiter anymore. That's exactly what happened too! I miss talking to him. I think I'll give him a call this week and say hello!
We noticed that you are a member of the Screen Actors Guild. How did that come about?
When I was younger, I was living in New York and had a friend who was a film student. He was putting together a project and he asked me to act in one of his films. I ended up being pretty good at it, so I started participating in community theater and off-Broadway productions. I even did some commercial print work; I was frequently portrayed as "the young dad". 
We have to ask…what's your favorite movie?
That's easy: The Shawshank Redemption. The cinematography is beautiful and it's an incredible story.
What advice do you have for someone who's thinking about starting their own recruiting business?
Definitely choose to affiliate yourself with a good company like Goodwin Recruiting! It's one of Forbes picks for "America's Best Recruiting Firms". That says a lot to me. The training is intense, but fantastic. At times, it was like drinking water from a firehose but when you're done, the training doesn't stop. The Extensive Support team was always there. There's a lot of work that goes on behind the scenes to make sure that the recruiters are successful. We find great candidates for our clients, so it's a win-win across the board!
If you'd like to benefit from Tor Stave's recruiting expertise (and talk about your favorite movies), you can reach out to him anytime. And if you'd like to learn more about becoming a recruiter here at Goodwin Recruiting, our internal recruiting team would love to hear from you.